Hi! I'm Samantha Young, Class of 2020 graduate with a degree in Electrical and Computer Engineering. And I'm Anusha Datar, Class of 2021, majoring in Electrical and Computer Engineering. In these physically distant but emotionally close times, we remember what it was like to be on campus. 
At about 10:50 AM every Tuesday and Friday for the past (in-person) year, we would meet up before heading to our cross-registered classes at our preferred spot: the geometric center of the Olin O.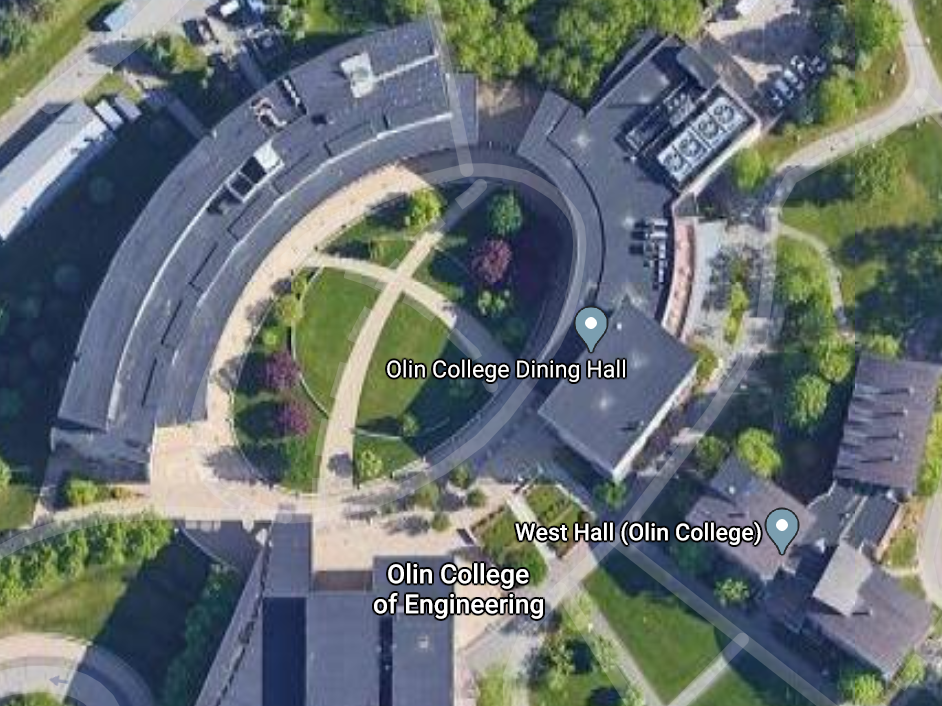 The Olin O is a grassy lawn area connecting the Academic Center, The Campus Center, and Milas Hall.
Something about the geometric center of the O inherently drew us to meeting there. The O was always a place on campus that brought people together and it seemed only fitting for us to use it as our rendezvous point before driving all of three miles to Wellesley College. 
The O is located in between the Academic Center, Milas Hall, and the Campus Center, making it a prime walking location for everyone: students, faculty, staff, and random Needham residents alike. On nice days, the community converges on the O as professors hold classes, people eat meals, and staff members hold office hours on the lawn.
The O is greater than just a stereotypical grassy quad or a glorified outdoor hallway - rather it is the true center of activity on campus. It's a place of celebration for both academic and personal milestones. We have held everything from birthday parties to fauxmencement in that grass. Performing groups like the Olin Conductorless Orchestra hold performances there ("OCO in the O"), and every year for the club fair, the O transforms, as student groups line the lawn with tables to recruit new team members. One of our favorite O transformations was for Spring Formal, where we all dressed up in our formal attire and had a dance/rave in a giant tent right there in the O!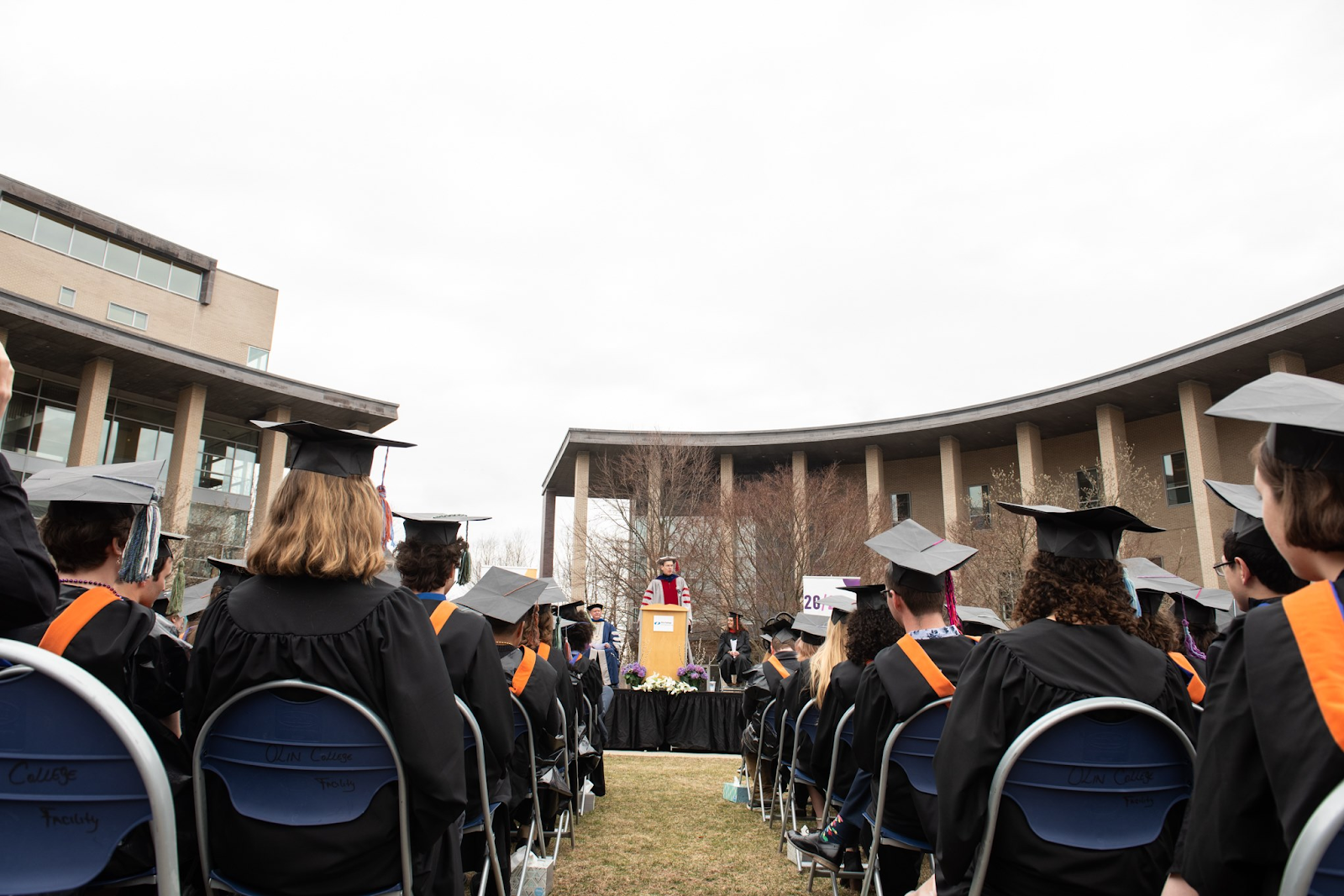 The O offers an exciting mix of both academic and student life. Most nights the O provides a glimpse into the lives of students bustling about the Academic Center, working on projects together. However the view is very different the night of the first snowfall of the season when the O is very occupied - as per campus tradition - by students running around and having snowball fights in beach attire. Very few places on campus are as ingrained in both academic and student life as the O is. 
Our Olin student experiences began and ended in the O. We can directly map many milestones in our Olin experiences to this central location. We remember meeting our future classmates through first-year orientation activities there like the SIBB barbeque, where the rest of the Olin student body welcomes the new students through a "family dinner" together. Final events, like parts of Expo and the post-graduation celebration, happen in a tent in the O. 
Our fascination and appreciation for the O led us to map its geometric center on one of our final days on campus this semester. We could have done this using math (we are engineering students after all) but we opted to use yarn and tape to find an approximate center point. Some of our classmates who were just walking by at the time even joined us and helped out, and at the end we created this short film to document our process and experience (complete with an advertisement for a zen chanting session there that night!):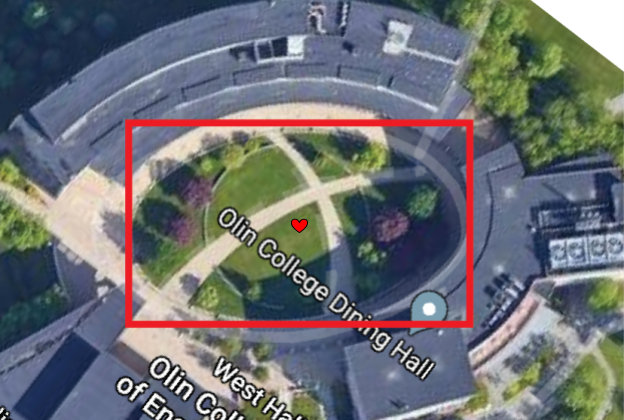 Flexing our graphic design skills and using our Olin-issued Adobe Illustrator license to find the geometric center of the O.
The O is large enough to never feel cramped and intimate enough to feel shared. Like most spaces at Olin, it's a collective enterprise: it does not particularly "belong" to anyone, and we make it our own. The geometric center of the Olin O may not currently be the physical center of our lives, but it is still at the center of our hearts.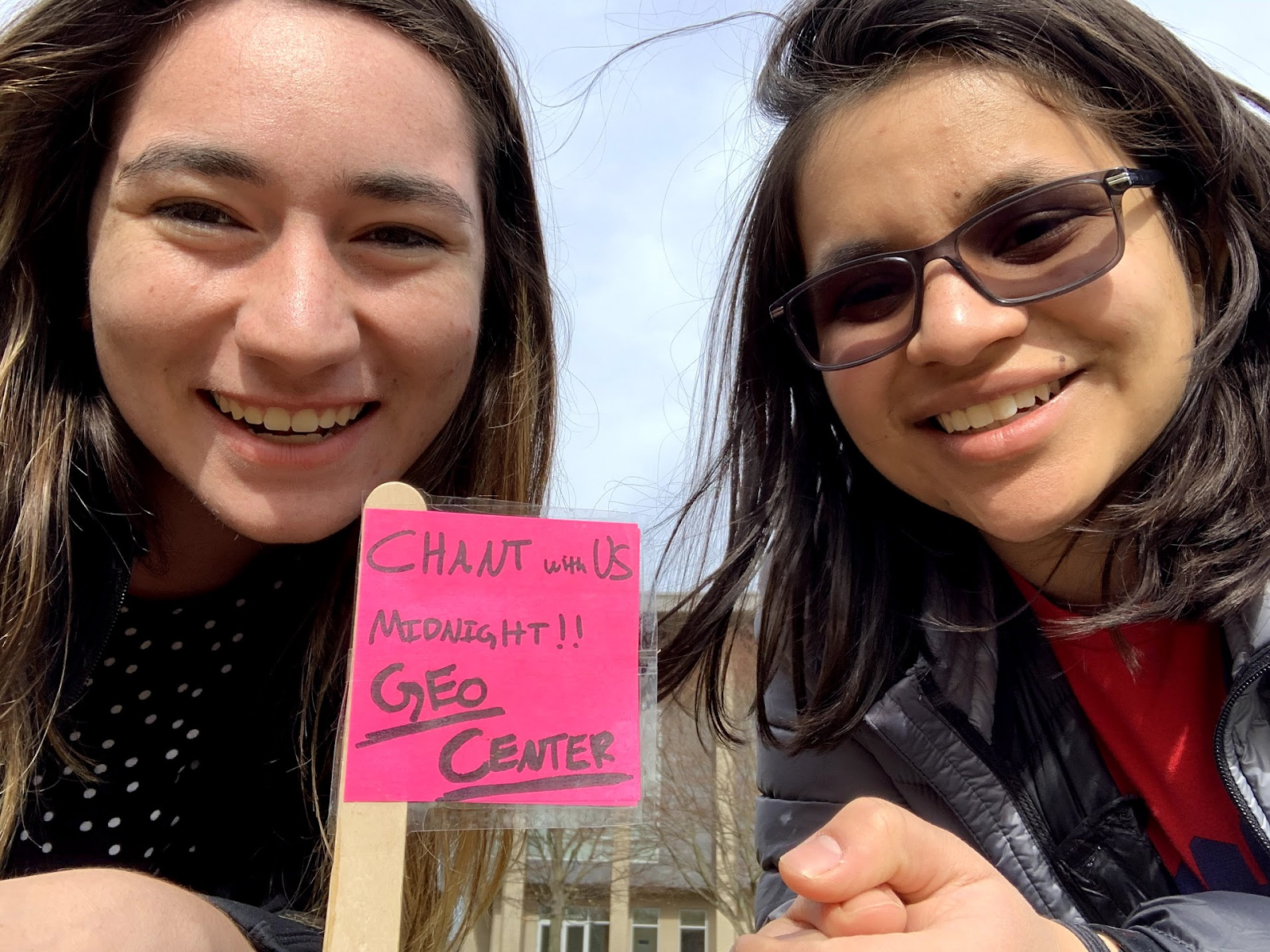 We love the Geometric Center of the O! Here is a selfie of us after finding it. That popsicle stick marks the place of our approximation of the real-life geometric center.
Samantha Young is a 2020 Olin graduate with a degree in Electrical and Computer Engineering. Anusha Datar '21 is also majoring in Electrical and Computer Engineering.