Hi! I'm Zachary Sherman, and I'm a first-year student here at Olin. As a conservative Jew who went to a Jewish high school, staying connected to the Jewish community while in college is very important to me. During the college search process, I strongly considered available religious opportunities, and ultimately decided that opportunities for Jewish involvement at and around Olin would support me well. In this blog post, I'll talk about a couple of the options Olin students have for practicing Judaism and tell you about how I've gotten involved in the past few months.
The easiest way to stay regularly engaged with Judaism on campus is to go for Shabbat dinners at Babson. Although Hillel doesn't have its own building, Glavin Chapel (pictured below) is beautiful and perfectly sized for the 40-50 Jewish and interfaith students who enjoy spending their Friday nights together. Rabbi Neal Gold is a truly special, caring rabbi who makes sure to greet everyone individually each week. The food (from Jake's Falafel Corner) is excellent, and certainly a little different from the food at Olin, which can be fun. I know many Babson students enjoy Shabbat dinners at Babson specifically for the food! Plus, Glavin is only a five-minute walk from Olin's campus, so it's very easy to access.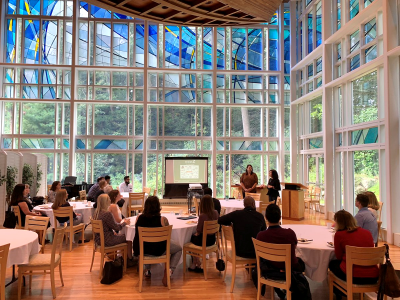 Babson's Glavin Chapel, where Shabbat dinners are hosted. Source: https://pbs.twimg.com/media/EDyUAUaX4AAf02o.jpg
Neal begins with a short sermon, usually about letting go of the challenges from the week and focusing on being together. We sing Shalom Aleichem, followed by candle lighting, kiddush (the blessing over the wine), and the motzi (the blessing over the challah bread). Although many students appear to know the prayers, few tend to recite them out loud, which can be a bit awkward. Just after the blessings are recited, dinner service begins. I became friends with a few Babson students pretty early in the semester, so I enjoy sitting with them, but there is usually also a table that Oliners like to sit at. I enjoy dinner and chatting with friends for about an hour, then head back to campus. If this sounds like your ideal way of celebrating Shabbat, great! You'll feel very at home at Babson on Friday nights and you'll meet a really nice community of caring Jews who enjoy welcoming in the holiday each week.
Personally, I wish Babson Hillel offered a Kabbalat Shabbat service or Shabbat morning service. Unfortunately, there just aren't enough interested students to get a minyan (a group of ten Jews older than 13, also informally meaning daily prayer services) each week, which is understandable, but for students like me who are looking for more, the Wellesley-Weston Chabad is another great option.
Just over four miles from campus, the Wellesley-Weston Chabad hosts many students for Friday night and Shabbat morning services each week. Rabbi Moshe Bleich is very nice and fun, and many Babson students are involved with Chabad. I'm still working on finding transportation to and from the Chabad house, but as soon as I do, I'm looking forward to davening (praying) there. As Chabads are, the Wellesley-Weston Chabad is super welcoming and encouraging of student participation, so it was easy for me to join the WhatsApp group chat and learn about upcoming events.
Although these two options are the most accessible to Olin students, Needham has a rich Jewish community of its own. Jewish community resources nearby include Needham's Chabad Jewish Center (1.9 miles away but less attended than Wellesley-Weston Chabad), Temple Beth Shalom (reform, 3.3 miles away), and Temple Aliyah (conservative, 2.6 miles away). While I haven't been in direct contact with these organizations, I'm sure they would be happy to host Olin students for services and holidays.
So overall, being engaged with Judaism at Olin is very possible, but it might require a bit of work to organize. If you have any questions or if you'd like to speak with me personally, please feel free to send me an email at zsherman@olin.edu. I look forward to talking with you and meeting you next time you're on campus!