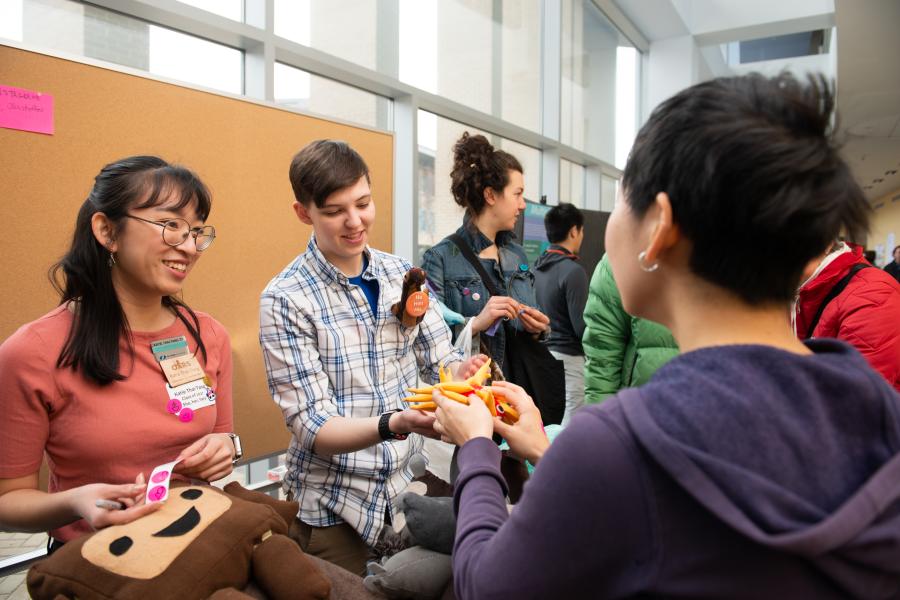 Date
Friday, December 17, 2021 - 9:30AM EST
Location
Miller Academic Center (MAC)
Fall 2021 Expo
December 17, 2021
9:30 a.m. - 3:00 p.m. (ET)
What is Expo*, you might ask? It is an end-of-semester event that provides the Olin community with a chance to celebrate what our students have done each semester. 
Students — are invited to all share something from a class, passionate pursuit, extracurricular activity, co-curricular, or any other activity (Olin-related or personal) - see below for some additional fine print. Please use this Form to sign up for a presentation slot and to let us know what you will be sharing at the Fall Expo. Want to check out what other students are presenting? Check out the gallery of submitted projects. Please submit your projects by December 10th.
Faculty & staff — are encouraged to participate for as much of the day as possible. Let's come together to celebrate and share in the work of our students.
First-years and sophomores — we recognize that you haven't yet participated in an Expo and maybe haven't had the chance to learn about these events from juniors (who actually only experienced one Expo) and seniors. Fear not! We're coming to SLAC, 12/1/21 to chat about all things Expo. We'll bring snacks!
This day-long event will be for the Olin community only.
The schedule for the day is below.
| | | |
| --- | --- | --- |
| Time | Activity | Location |
| 9:30a – 10:00a | Welcome breakfast with bagels, coffee, tea, juice  | CC first floor hallway in front of the dining hall |
| 10:00a – 11:00a | Exhibition Session One | Dining Hall, Library, MAC  |
| 11:30a – 12:30p | Wired Ensemble Event | Mac 3rd Floor |
| 11:30a – 1:00p | Community Lunch | Dining Hall |
| 1:00p – 2:00p | Exhibition Session Two | Dining Hall, Library, MAC  |
| 2:00p – 5:00p | Winter Unwind drop-in party | Library  |
| 2:30p – 3:00p | OCO Concert | Milas Hall Mezz |