View updates, news and milestones submitted by Olin College alumni and help us celebrate Oliners as they mark these major life achievements + events!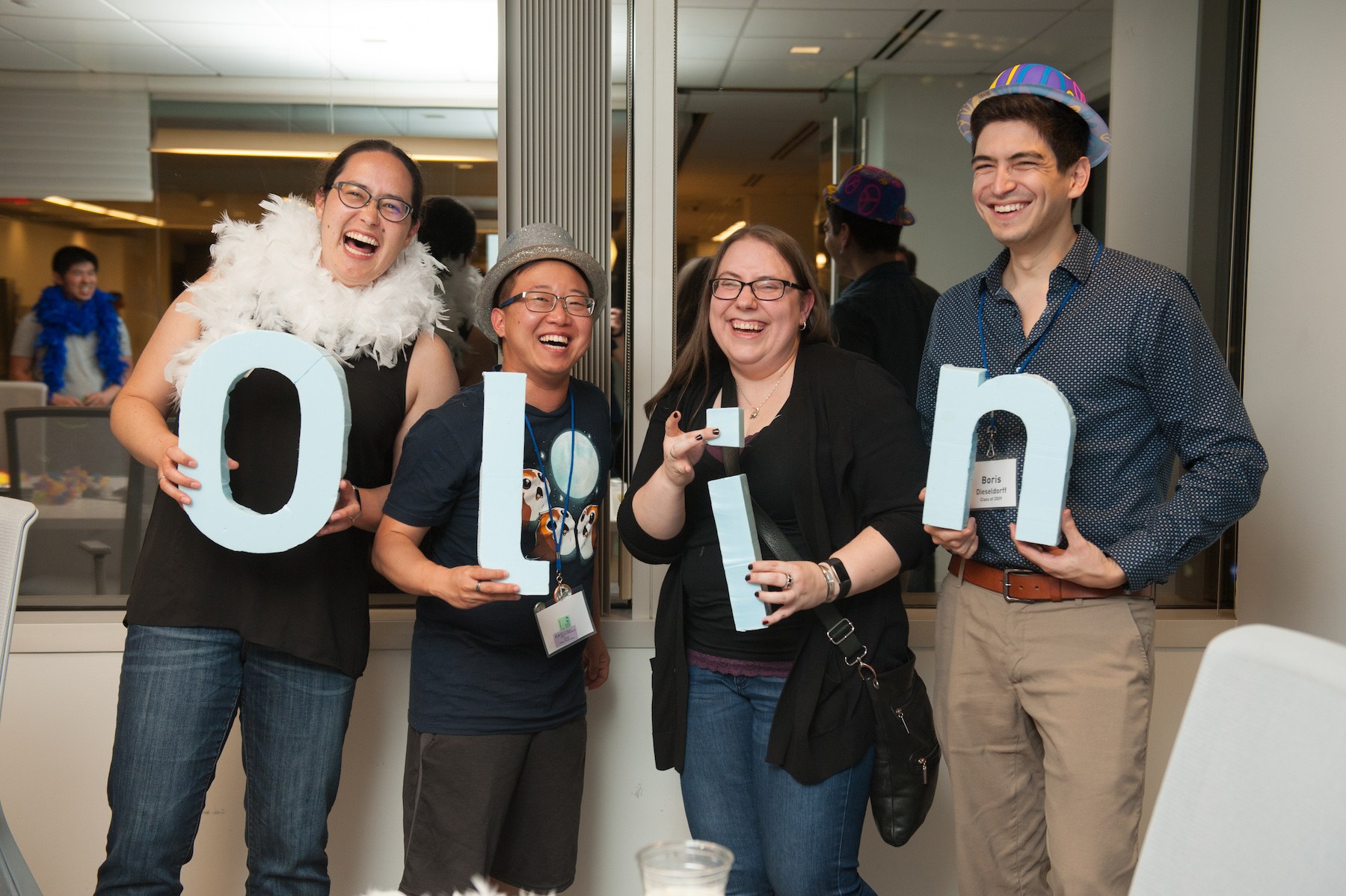 Inauguration 2022
President Barabino's Inauguration was on Thursday, May 5, 2022 and for the milestone day we decided to celebrate 16 years of Olin Alums with a special edition of Class Notes!
View the new notes below.
Aaron Greiner '18
I am now in my 4th year of running CultureHouse, an urban design nonprofit that I started while at Olin. The other day, without knowing who I was or that I went to Olin, someone described the organization as "very Olin-y!"

Bonus note: "My hope for Olin is that it encourages and supports all its students to be activists for sustainability, equity, and justice both while at Olin and after."
Photo caption: Aaron Greiner '18 at his house in Somerville.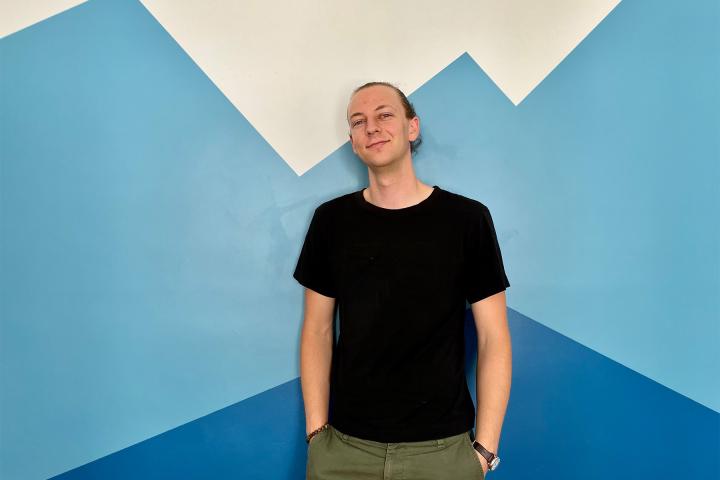 ---
Mandy Barrett Korpusik '13
Just moved to Hermosa Beach, California last August and am almost halfway to tenure as a computer science professor at Loyola Marymount University! In my spare time, I enjoy running on the beach boardwalk, swimming, and attending LA Philharmonic concerts.

Bonus note: I remember most the people--classmates, professors, and even the dining hall staff! When I'm designing LMU's computer science curriculum or coming up with in-class activities and final projects, I'm reminded of our hands-on, collaborative, project-based approach to education at Olin.
Photo caption: Mandy Korpusik '13 with Mandy's sister Angie Korpusik in Malibu, California in January, 2022.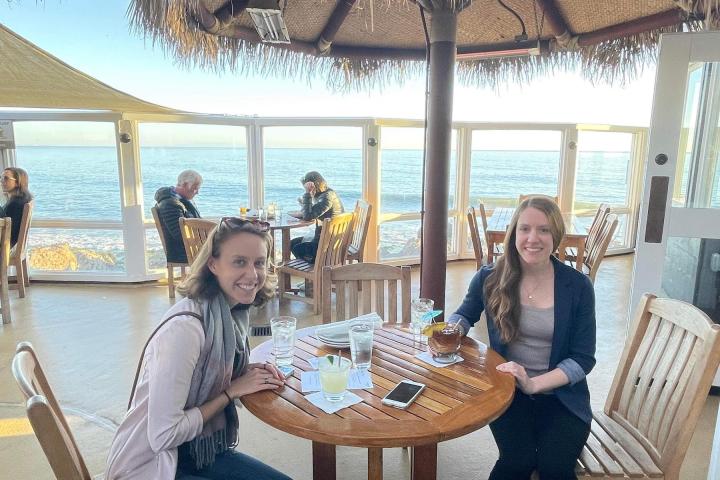 ---
Jaime Marijke McCandless Curtis '12
In the last few years, Jason and I moved to Bellingham, got new jobs at Facebook and Convoy, planned and cancelled a wedding (covid), eloped in the mountains of the North Cascades, learned to paraglide as a honeymoon, bought a house, and had a baby girl (Cedar). We're still mountain climbing, rock climbing, mountain biking, and skiing, though not as much as we used to. It's been a wild ride!

Bonus note: Building sailbot in the project building, staying up way too late on homework and projects and shenanigans, working on so many teams, eating together in the dining hall, learning to be confident in myself, california day, mann hall, OFAC, slacklining, blues dancing...
Photo caption: (L to R): Jaime Curtis '12 with daughter Cedar Curtis (7mo) attempting to ski at Mount Baker in 2022.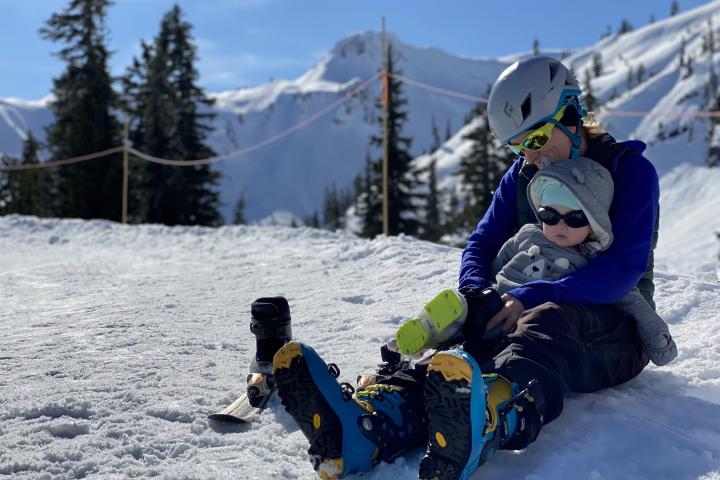 ---
Andrea Cuadra '13
Andrea Cuadra, Class of 2013: I will soon graduate from my Ph.D. program in New York City and move to Silicon Valley to pursue postdoc at Stanford in their Computer Science Department. I recently learned how to wing foil and look forward to continuing practicing the sport. I love keeping in touch with my Olin lifelong friends!

Bonus note: I remember enjoying being involved with the surrounding communities by attending hackathons or volunteering at maker labs in the city. I hope Olin continues to broaden its impact and become more inclusive. I was introduced to values in design at Olin, which has affected how much I consider how human values are reflected in the products, services, and environments we interact with on a daily basis.
Photo caption: (L to R): 2013-ers Rachel Bobbins, Jessica Bethune, Andrea Cuadra, Teddie Vidolova, Alison Shin, and Aiswarya Kolisetty reunited in Amsterdam in 2019.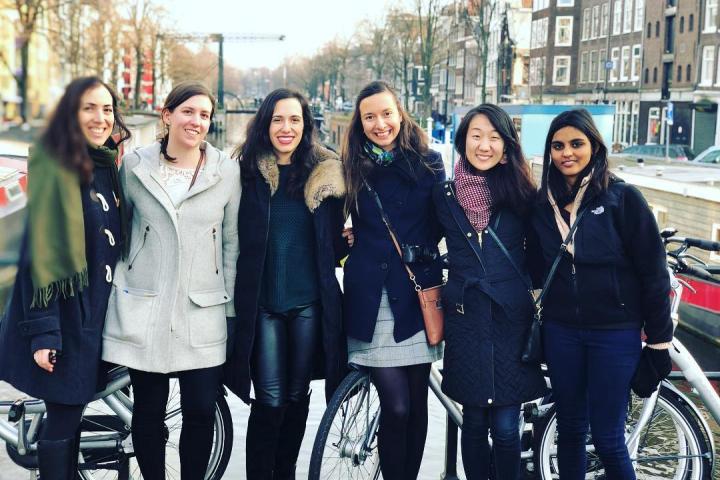 ---
Jessie Oehrlein '16
I started a new job this year as an assistant professor at Fitchburg State University (35 miles northwest of Olin), where I'm teaching statistics and math, starting a data science program, and doing atmospheric science research. Outside of work, I read picture books and queer YA, watch dance, go to my students' baseball and softball games, and do too many cross-stitch projects in parallel. I am dearly hoping that this summer I get to ride roller coasters again.
---
David Gaynor '13
Moved to Geneva in September with my partner, after living in Japan and Nairobi during most of the last 3 years. Loving the city, meeting lots of new friends, and looking forward to exploring Europe more over the next few years! I'm working on a small enterprise of my own, building professional tools for junior software engineers, while doing remote advising and consulting for startups in the US to pay the bills.

Bonus note: I remember and miss being with all my classmates!
---
Karl Schults '11
Since leaving Olin, I've been developing Android apps, currently working for Scribd while living in Florida with Jenn Simonovich ('12). In 2015 I hiked the Pacific Crest Trail, and by President Barabino's inauguration, I'll have departed to start the Continental Divide Trial, hoping to finish the Triple Crown of Hiking. In between, I've been riding my bike, playing frisbee, scuba diving, and knitting!
---
Jay Gantz '06
My spouse, my two daughters, and I are living in Iowa City ready to move to Portland, OR this summer where I will start my first faculty position at OHSU. Since Olin, I just couldn't stop getting student discounts, so I've spent the last 16 years pursuing medicine, a PhD in Bioengineering, ENT residency, and a fellowship. With the light at the end of the tunnel finally visible, I smile when I think of move-in day at Olin back in 2002, and how I had no idea what the future would bring.

Bonus note: I remember the people; everyone from the staff, to my fellow students, to the amazing faculty. I hope Olin continues to refine its goals and vision. Never become stagnant! I always think of Olin when I'm confronted with something someone hasn't done before.
Photo caption: (L to R): Lilah Gantz (Olin 2042?), Jay Gantz '06, Maya Gantz (Olin 2037?), Aura Gantz in 2021.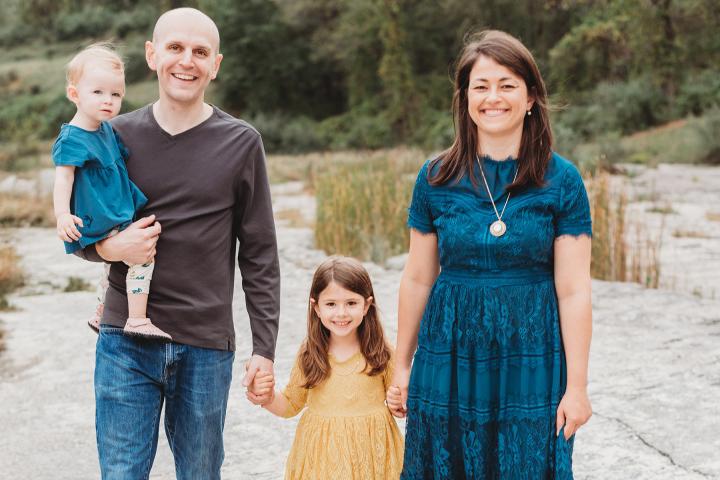 ---
Jennifer Elizabeth Anderson '16
Spent the last four years building my own house (almost done! Mostly just working on landscaping now), and currently teaching 6th grade math in a rural district in Colorado and it's an...adventure. That's a word for it. I am currently volunteering for both ColoRail and the Colorado Railroad Museum, and I am thinking about changing professions to something more train related because trains are awesome and then I can be both types of engineer simultaneously!

Bonus note: I keep thinking about all the silly clubs I was in at Olin. Film Club was a big one--the movies were so weird but the food was so good, and watching stuff on the big screen was fun when I couldn't drive to a movie theater easily. Also always miss PowerChords--been arranging music for my church choir recently, and missing singing acapella. I hope those fun things don't go away forever--Olin should be about exploring different random fun activities as much as it is about engineering excellence.
Photo caption: Jennifer Anderson '16, December 18, 2021, at Colorado Railroad Museum's Polar Express.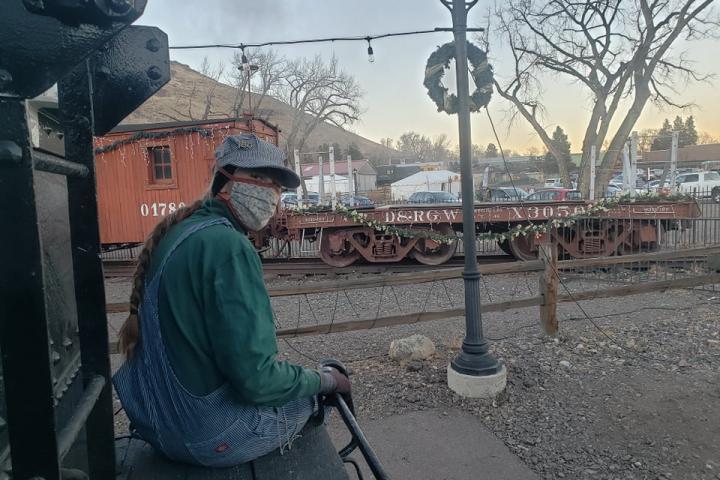 ---
Tiana Veldwisch '08
After moving to Wakfield, MA, a couple of years ago, we've gotten into a greener lifestyle - adding rooftop solar to our home, composting, and growing our own summer veggies. I'm working in sustainability as well, as a Director of Product Management at Indigo Ag, helping farmers earn financial incentives for adopting sustainable practices. Our 3 cats and one 3-year-old keep us busy at home, where we play with toy trains and recycle trucks and sing a lot of songs. I recently returned from an all-women trek through the High Atlas Mountains of Morocco where I learned about Berber culture, ate delicious food, and hiked in amazing scenery.
Photo caption: Nancy Doremus '08 and Tiana Veldwisch '08 hiking in Morocco March, 2022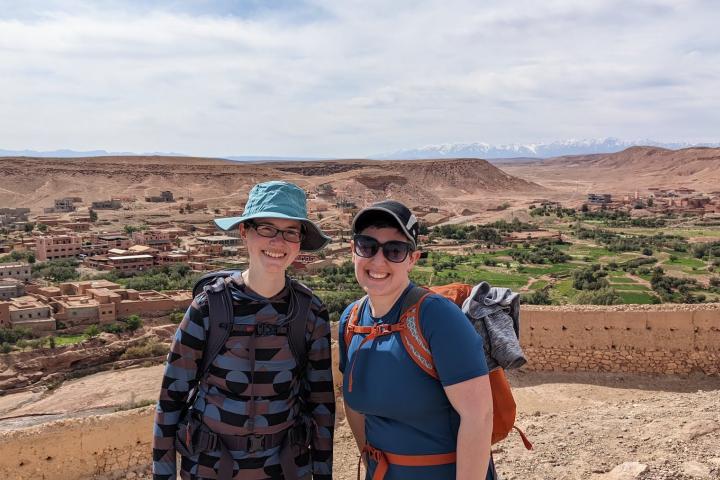 ---
Claire Kincaid '19
My partner and I moved to Sweden last year with our giant kitty, and I work my dream job at a company called Epiroc, where I help underground mines adopt battery electric vehicles and automation tech. In my spare time, I still collect hobbies.

Bonus note: I still go through sticky notes and sharpies 3x faster than anyone else I know. Thanks, Olin.
---
Tim Smith '09
Since graduating from UC Irvine in biomedical engineering in 2017 I've been living in Vancouver again. I'm expecting to become a Canadian citizen as soon as the ceremony is scheduled. Swearing allegiance to the Queen will feel very strange! My partner Liang Ding and I were wed in August 2020 in a pandemic-sized ceremony in a public garden. I worked on data science for Firefox for a few years and now I'm back in biology, building software to help discover therapeutic antibodies at AbCellera. My extremely cool new hobby is bookkeeping; I'm treasurer of my swim club and of Democrats Abroad Canada. Community organization finance is important and overlooked! This summer I'm looking forward to bagging more peaks on Vancouver's North Shore, which is considerably steeper than Boston's.
Photo caption: Liang Ding and Tim Smith '09 reprising their wedding photos with feline companion Molson in Queen Elizabeth Park, September 2021.
---
Matt Ritter '10
I only have 150 words, but body language is 80% of communication: *wink* *nod* NewtonMassMachineLearningHealthCare *spin move* Negotiated job down to 3 days per week, consulting on the other two days; it's been awesome. I've gotten really interested in the 80,000 Hours movement, and figuring out how to use my two-part workweek to do super interesting projects while maintaining a sustainable base income. Thrilled to talk to anyone else who's interested, and/or wants to join my toddler and I at the park.

Bonus note: Sometimes I'm thinking about all the ways a work project could fail, and I miss when we were all so young and naive. Even if most things did, in fact, fail to live up to their potential, we were so excited and positive most of the time! The world seemed like a magical place.
---
Sarah Mathew '13
I work on behalf of the EU Commission to assess the safety and performance of medical devices. I love to see patients receive products to help them lead more confident lives! During the week, I love kicking the bag at my local Muay Thai gym and then finishing it off with a good cup of tea.

Bonus note: My hope for Olin is that its students, staff, faculty, and families take bigger risks in the hopes to make the world a better and kinder place.
Photo caption: Sarah Mathew '13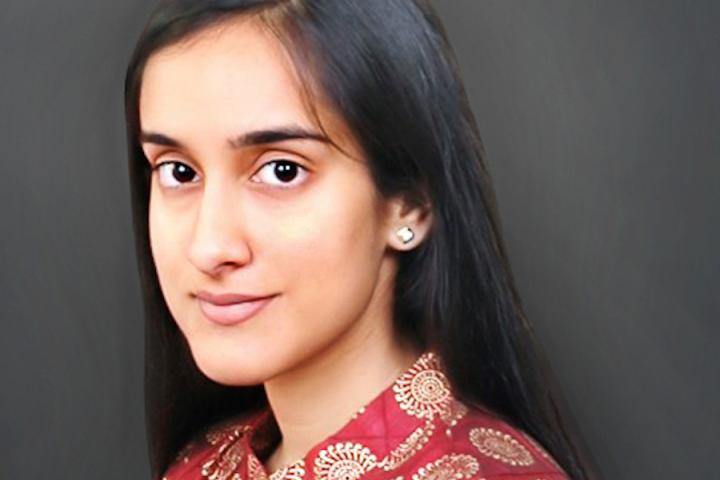 ---
Tom Cecil '06
Tom has been practicing law since 2009 and in the fall of 2020 decided to open his own law firm, focusing on intellectual property matters for entrepreneurs. In additional, in 2021 he began teaching a clinical course in patent law at Texas A&M University School of Law. He and his wife (Katy) are expecting twin boys in early June.
---
Lydia Zuehsow '19
I work from home and quarantine hit me hard: I now own one house, two rabbits, and nineteen-going-on-twenty houseplants! My goal for the year is to cultivate a bumper crop of vegetables and graduate school applications.

Bonus note: My friends and I missed Olin collaboration and lounge culture so much that we now meet weekly to keep company while we work!
Photo caption: Nora + Lulu, partners in chaos.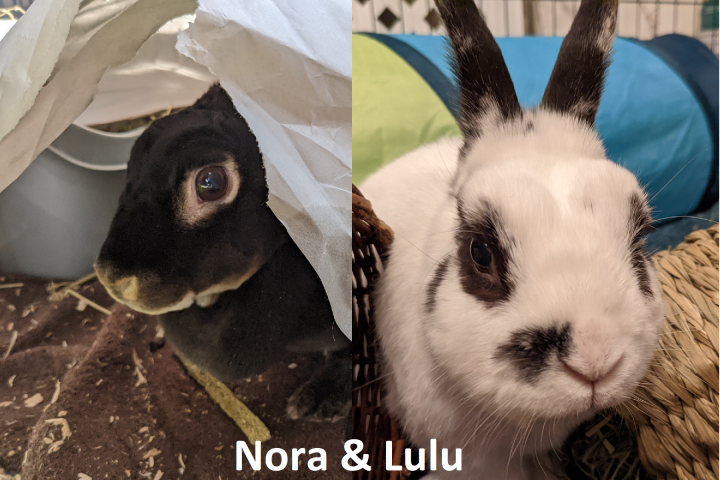 ---
Emanuel Alexander Towns II '10
I completed my tour on PCU MONTANA, SSN 794, the newest Block IV Virginia Class submarine, in February of 2022. During the first of two years on the MONTANA, I conducted and supervised periods of dynamic engine room and nuclear testing, verifying propulsion plant safety and uninhibited operability. Once PCU MONTANA was christened, I coordinate PCU MONTANA's placement into the drydock and deployment pier-side. I coordinated ship's training and preparations for PCU MONTANA's Sea Trials, as the principle Sea Trials Coordinator. Just as I was walking out the door, I was honored with being one of two officers directing PCU MONTANA's at-sea testing during its Alpha Sea Trials, which took place under the watchful eye of ADM Caldwell, Jr., NAVSEA 08. PCU Montana finally got underway in February of 2022. I am now proceeding onto my next milestone in the Navy, my Department Head tour on a nuclear submarine.

Bonus note: ICB and the late nights with NINJAs. I'm pretty sure students are not called that anymore. UOCD and the introduction to understanding users. Every time I look at some of the screens I utilize on watch, either for engineering or ship driving, I think about the key collaborative questions that could be asked. Leadership and Ethics was an exciting course. It was interesting to hear from those in industry as well as to hear the opinions of seniors from Wellesley and Babson Colleges as we wrapped up our senior years. I hope to see Olin prove transformative and good engineering can be when implemented with understanding, driven by technical curiosity, and guided by introspection for how people, environs, and systems will be impacted.
---
Michael David Taylor '10
I'm currently an Assistant Teaching Professor at Carnegie Mellon University. After finishing Olin as an ECE, I moved to Pittsburgh for my M.S. and Ph.D. from CMU's Robotics Institute, where I got to do a bunch of fun research and traveled to places like Uganda, Haiti, India, and Spain with the CMU CREATE Lab. My research became a startup (Airviz Inc.) and my experiences in Uganda prompted my family and I to start Sylvia's Sisters, a non-profit which addresses period poverty in schoolchildren abroad and in underprivileged communities in the US. I've been teaching 15-112 Fundamentals of Programming and Computer Science full-time to around 500 students each semester since 2018. Fortunately I have an amazing staff of 50 TAs to ensure that each student gets a personalized project-based learning experience, largely inspired by Olin. In my spare time, I repair old synthesizers and hang out with my beloved axolotl Kimchee.

Bonus note: I enjoy telling my students about all the trouble we got up to at Olin (giant slingshots between the flagpoles, bouncy ball cannons, unicycling through Wellesley with the Midnight Riders, etc.)
Photo caption: Mike Taylor '10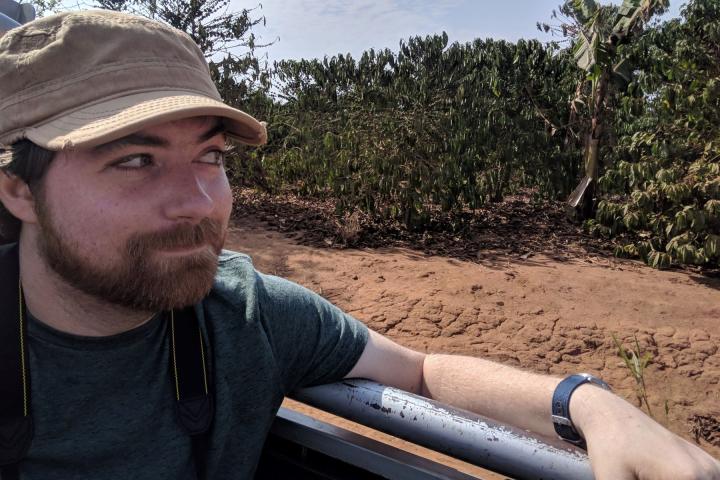 ---
Jeffrey Hearron Moore '10
Decided to give my life to the Church as a priest. After Olin, 1 year of parish internship (Seattle), 2 years learning philosophy (Portland), 4 years learning theology (Chicago), 2 years as an associate priest (Burlington, WA), and now 3 years as a head priest (Bellingham, WA). Some of my most enriching friendships remain with Oliners, and I would not trade my time in Needham for anything. I would chat with any Oliner at any time for any reason. I cannot believe I am saying it, but I really miss team projects.

Bonus note: I remember the spirit of adventure. I hope we take human formation seriously, especially the gift that is the Honor Code. I call Olin to mind every time I get bogged down by the boredom of daily life and need to remember that every day should be an adventure.
Photo caption: (L to R): Theresa Kennedy, Erik Kennedy '10, Evelyn Kennedy, Zelie Kennedy, Thomas Bainbridge, Liliana Kennedy, Megan Bainbridge, and Fr. Jeffrey Moore '10 at Liliana's baptism in April 2021.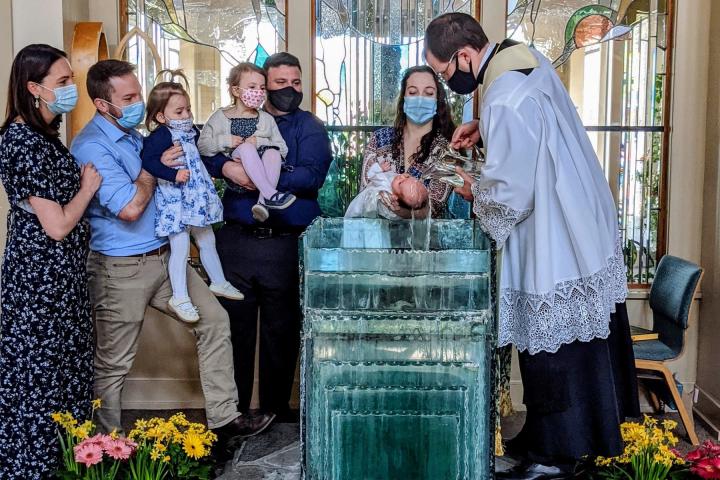 ---
Jason McCandless Curtis '12
Left Meta to be a full-time dad! Planted a cherry tree in the backyard, it's blooming.
---
Graham Hooton '14
I've been teaching high school science and math at a wide variety of schools around Vancouver, BC for the past 5 years. This past fall, I started working at the University Transition Program. I'm the Chemistry, Physics, and Biology teacher for the province's most highly gifted 13 year olds as they undertake an accelerated university prep/high school experience, to enroll at UBC at 15. There are 4 teachers and 2 cohorts of 20 students. It's the perfect mix of challenging and rewarding, and it reminds me a lot of Olin!

Bonus note: I remember the palpable creative energy that comes from intrinsically motivated peers and deeply caring professors and open-minded staff. "Do Something" and marveling at what people have done: a tight-knit community; jokes and games and pranks; feeling at home. I hope Olin leans into unpacking the definition of what a successful candidate looks like, reinventing itself to inspire innovators within the community and without, and encouraging students to be the authors of their path. My banter matches remind me of Olin, as does my risk-taking, problem-solving do/learn attitude that I got there. I'm following many Olin feeds, and am still in touch with a good number of my friends.
---
Adam Selker '20
"I sometimes suspect that responsibility is a trap and that the most virtuous route would be to shirk it" -Paul Graham, "The Power of the Marginal" "To get paid vast sums of money for wasting one's life, in her view, only added to the cosmic tallying of wastefulness." -Michael Chabon, "The Amazing Adventures of Kavalier and Clay"

Bonus note: At Olin, people are curious and intellectually playful. Nowdays I try to find folks like that, and they always remind me a little of Olin.
Photo caption: Adam Selker '20 dropping into a cave in California.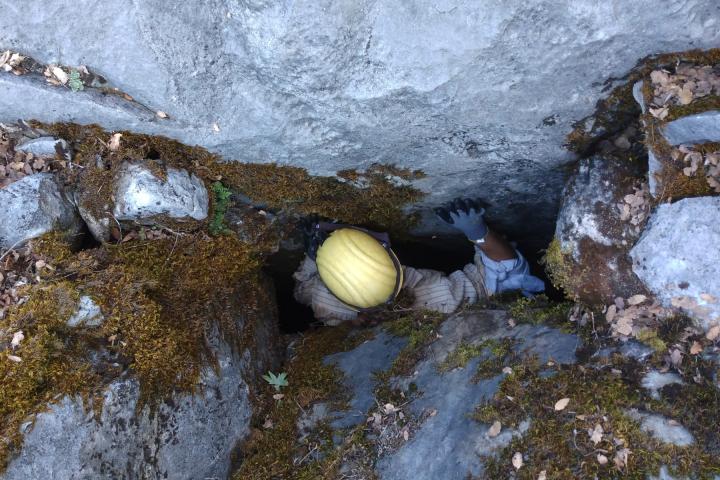 ---
Kevin Tostado '06
Doing our best to stay sane with three young kids while trying to avoid getting COVID. Please message and say hello if you find yourself visiting San Diego!
Photo caption: Kevin Tostado '06 with Francys Scott and kids Elizabeth, Sam, and Luke (L to R) in San Diego in 2021.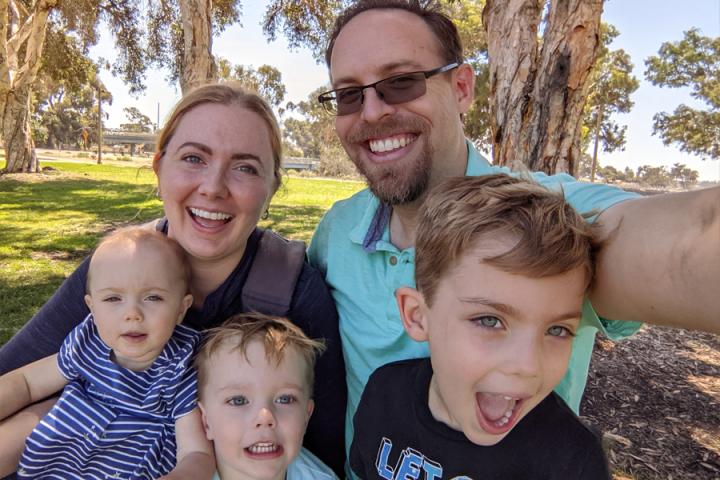 ---
Alison Wu '14
Dental school, general practice residency, chief residency, and implant fellowship complete! My latest adventures include joining a new practice (Gold Coast Prosthodontics of Long Island) in Roslyn, NY and working with 3D printing applications in dentistry at my former residency/fellowship program. In my free time, I have been exploring as many parks in my area as possible and have gotten back into tap dancing.

Bonus note: Choosing oddball positions that go against the traditional route in the dental field and fit my own unique skillset reminds me of Olin. I use the moment I knew Olin was the right fit for me, which was the second I set foot on campus during Candidate's Weekend, as a reference point for feeling out my choices. It is one of my core memories.
Photo caption: Alison Wu '14 with her best friend, Juliet Tchorbajian, working together to expand 3D printing capabilities in dentistry.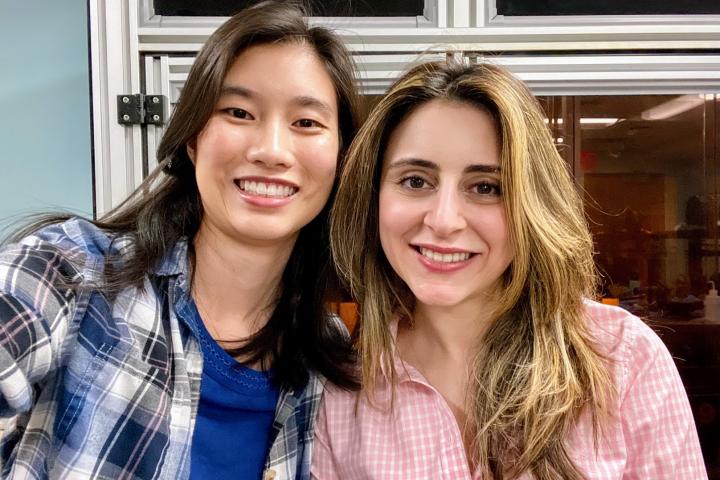 ---
Sean Munson '06
I'm an associate professor in Human Centered Design & Engineering at the University of Washington, where we're working on some of the same challenges that inspired Olin College's launch. In my research, I design and evaluate systems that support use of personal data in health collaborations and redesigning mental health interventions to increase their reach and efficacy. I also take advantage of the academic calendar to hike and backpack in the Pacific Northwest as much as possible in summers.
---
Lee Edwards '07
Lee lives in San Francisco with his partner of 3 years, Nicole. He has been serving on the Olin Board of Trustees for the last two years, on the Investment and Development Committees, and working with students and alumni who are trying to start companies. He's a Partner at Root Ventures in SF, and an avid wine drinker.

Bonus note: In April of this year, Lee got engaged to his girlfriend of 3 years, Nicole Wilke (who it turns out is from the same small island town of 2,000 people as Keoni Mahelona '07.)

Photo caption: Lee Edwards and Keoni Mahelona both '07, meet up on Keoni's hometown of Anahola, Kauai, Hawaii. Olin Challenge in a town of 8,000 people on an island of 60,000.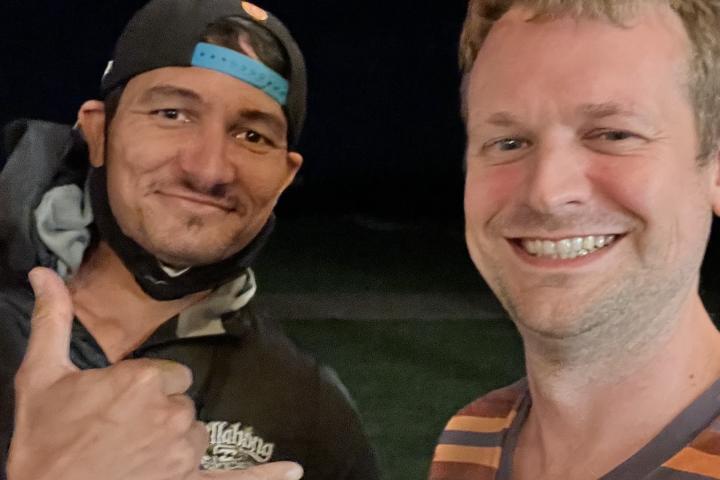 ---
Juliana Bernalostos-Boy '07 / David Boy '07
We are about to move to NJ from IL; our 6th home in 10 years! We're excited to be moving back East, closer to family and friends! David has been working in healthcare data science for a while now, and is currently working at Pfizer (with other Oliners!). Juliana left DSM after almost a decade, did a short stint at a Bay Area biotech start-up, and will soon be moving to Ingredion. She's looking forward to learning about the food industry. Whenever we're not working, we're "hanging out" with our two-year-old daughter!
Photo caption: (L to R) David '07 with Aurelia and Juliana '07 at a friend's wedding, April 2022.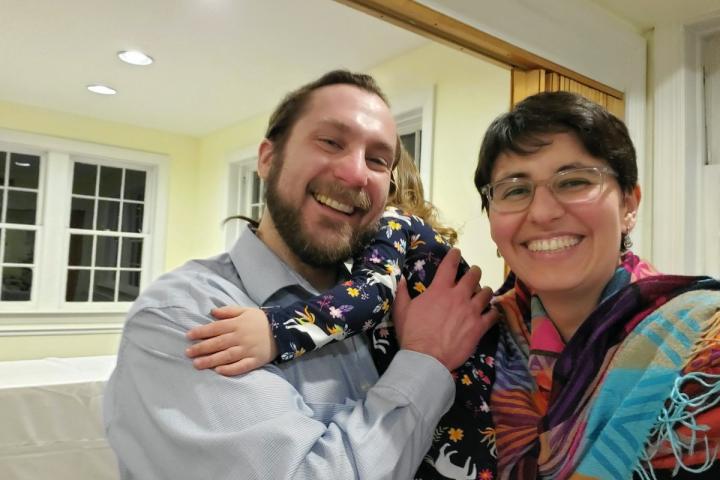 ---
Brittany Strachota '13
Michael Heyns (2013) and I are still in Seattle and still loving on our rabbit friends, Philip and Far Side. We reproduced last year, welcoming Arthur in September (On his due date! He's far more punctual than either of us.). I developed a virtual summer camp in 2020 all about designing things for others. The name I provided -- that the marketing folks accepted and subsequently promoted in official materials -- was Chummy Creations, and I'm proud of that.

Bonus note: Oliners are still my best friends. Some receive vents and solicitations of advice from across the country, some feed us their home-brewed goods regularly, and some simply star in fond memories.
Photo caption: Brittany Strachota '13 with Michael Heyns '13 and their offspring, Arthur celebrating the beginning of 2022.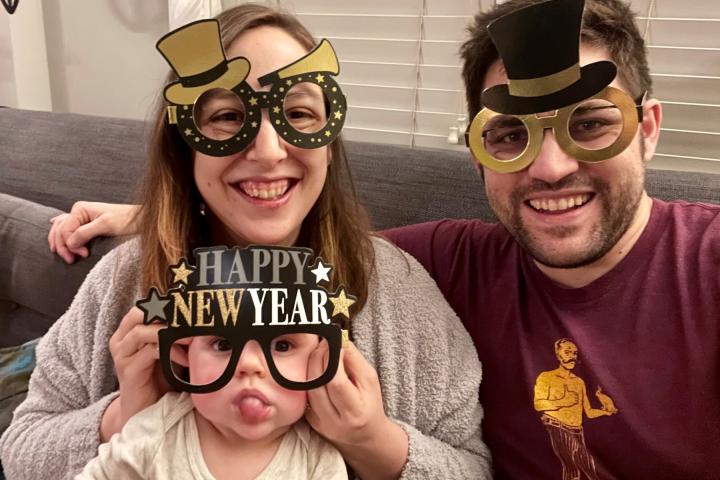 ---
Leif Jentoft '09
Strategy at RightHand Robotics - there are robots to build, and people to build them for. Excited about a growing team, including a bunch of Oliners! My wife and I welcomed a son last year - sweet to have a year at home with him during the COVID lockdown craziness. Hiking and biking on the weekends around teething, belly laughs, sleep regressions, messy breakfasts, and the rest of parent craziness. Living near Davis Square.
Photo caption: Hiking Great Brooks Farm.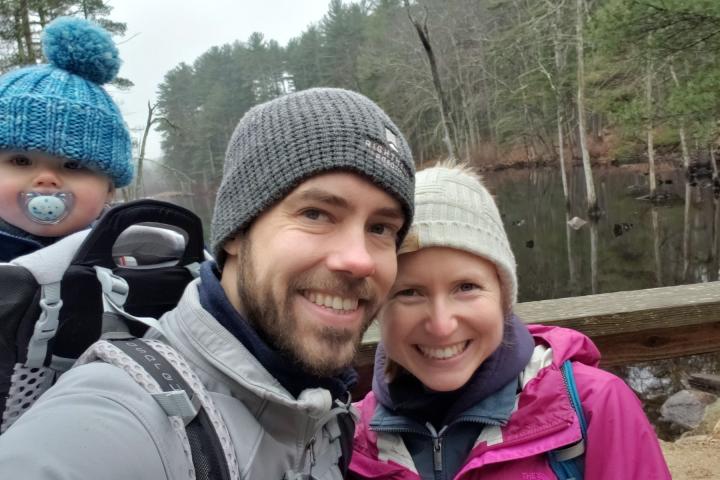 ---
Kate and Dylan Garrett '06
We have been living in the San Francisco Bay Area since 2011 and moved into a *very* familiar setting a few years ago when we bought Kate's childhood home. We have two daughters, Lily (4) and Annie (2) and a baby brother on the way. Kate is a Managing Director at Sonder Capital, investing in early stage health technology companies, and teaches part-time at Stanford Biodesign. Dylan runs business development for Synapse Product Development (where he has worked since graduating from Olin, along with many other Oliners, including classmates Kate and Bret Richmond). We spent way too much time during Covid on house projects (grey water systems, backyard remodel, painting projects, learning to hem curtains), dreaming of travel again (London here we come Summer 2022!) and experimenting with new recipes.
Photo caption: (L to R): Dylan '06, Lily, Kate '06 and Annie celebrating Easter.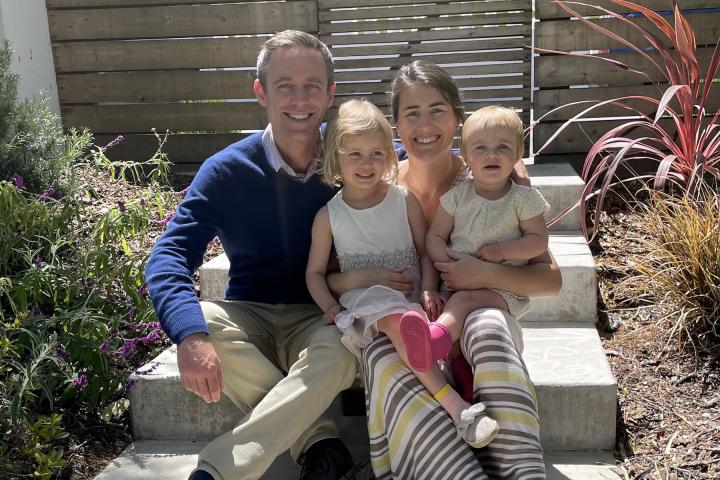 ---
Chelsea Nayback '14
I've been working at Michigan State University as a research assistant/lab manager for the past 3.5 years and loving it! Our lab focuses on using radioisotopes for imaging and therapy, and we just finished building a radiopharmacy to take our research even further. Personally, I bought a house in summer 2020 and that was an adventure!
Photo caption: Chelsea Nayback '14 in front of a backdrop of colorful squares.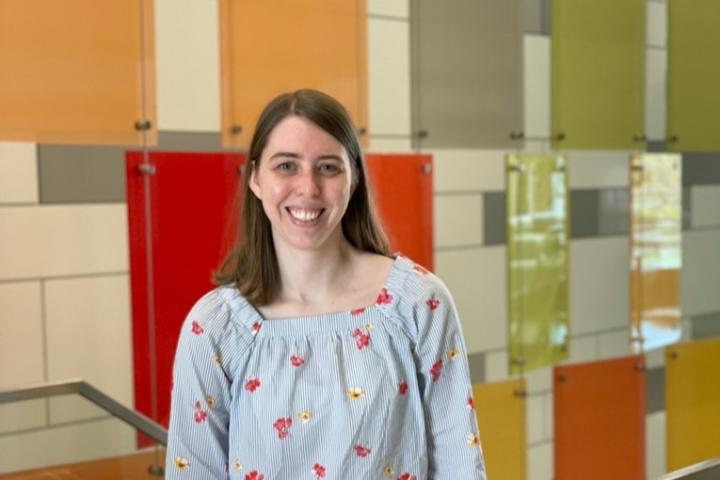 ---
We want to hear from you!
Wondering what's new with your classmates? Want to tell us about your latest achievement? Whether it's about family, friends, career, or life in general, we want to hear about your successes after Olin.
Fill out the form here and your class note may be published in upcoming Olin digital materials. Note: Submissions may be edited for length or clarity.
---