New Course Focuses on K–12 Outreach, Community Impact
April 13, 2023
Sarah Spence Adams's new research focus culminates in "Math and Engineering for Everyone."
One of Olin's first faculty members, Sarah Spence Adams, professor of mathematics and electrical and computer engineering, has recently transitioned her externally focused work from technical wireless communications research to K–12 education and STEM outreach.
"Access to high-quality STEM experiences is a social justice issue: cultivating an interest, sense of belonging, and confidence in STEM can lead to well-paying STEM jobs which are known to be a vehicle for socio-economic mobility," says Adams.
As part of her early efforts in this new vein, Adams spent several summers working with Olin students to investigate outreach models to help younger kids feel more confident and excited about STEM while also building on the Olin students' strengths and interests. Outcomes included creating one-day pilot events such as "Engineer for a Day" and an "Ethics in STEM" workshop, as well as an online course in which Olin students designed online STEM workshops for middle school and 9th grade students in four partner programs in Massachusetts, Oregon, and New York.  
Field Work in a 9th Grade Math Class
During her sabbatical in spring 2022, Adams dove even more deeply into this area of study: She volunteered every week in a 9th grade mathematics classroom in an under-resourced community, serving as a classroom assistant and sometimes as a substitute teacher.
"It was eye-opening to see the challenges that teachers are facing on a day-to-day basis," says Adams. "The post-pandemic transition back to classrooms has been very challenging for a lot of students, especially in terms of their math confidence and knowledge."
With the combination of her previous outreach work and the knowledge gleaned from her spring 2022 sabbatical, Adams returned to Olin with a new course: "Mathematics and Engineering for Everyone." In it, six teams of Olin students developed hands-on STEM workshops for elementary and middle school kids at four YMCA and Boys & Girls Club after-school programs in low-income neighborhoods.
In the course, Olin teams created custom STEM workshops based on what they learned about their younger partner students during initial visits. After teaching their curricula for two weeks, teams evaluated and improved their plans to maximize their positive impact with different students in a new location.
Oliners Teaching STEM Workshops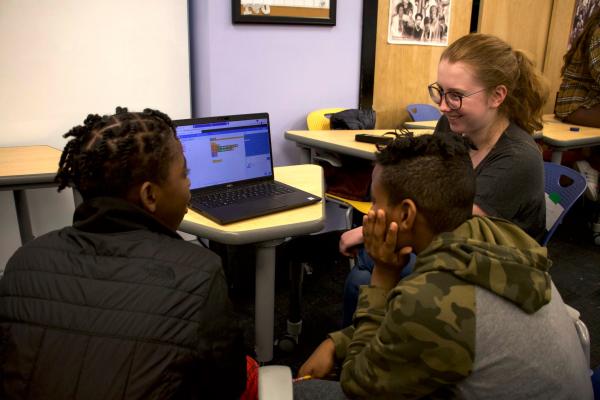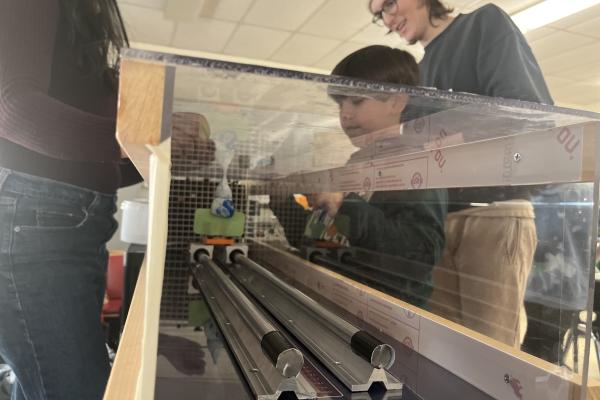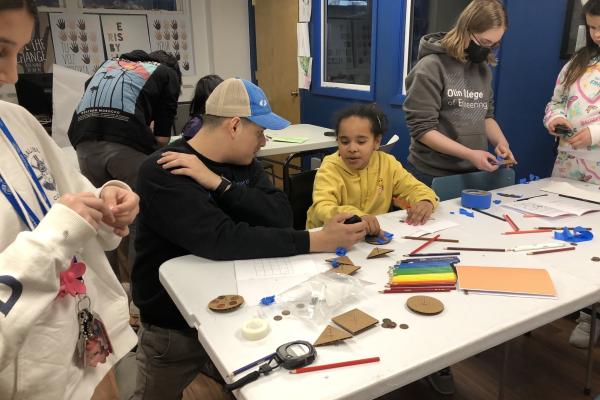 "By iterating and teaching their workshops again with a new group of students, the Olin students are able to enhance their own learning of the educational design process, while also reaching more children," says Adams.
Teams utilized a variety of pedagogical practices, such as universal design for learning and the use of bilingual materials to ensure every child felt welcome and confident in the workshops. 
"'Math and Engineering for Everyone' is the culmination of several years of small outreach pilots and professional development for myself to more deeply understand the issues facing K–12 students and teachers today, and then bringing in Olin students as crucial partners," says Adams.
"The Olin students are doing a fantastic job learning about the engineering design process, how to work with different stakeholders, and how they identify as engineers. They are also forming strong bonds and mentoring relationships with their partner students, which has been an absolute joy to witness."
The class culminates in late April when all K–12 participants will visit Olin for a day of STEM activities, campus tours, and dinner in the dining hall. For most of these students, it will be their first time on a college campus, and—just as they do throughout the entire program—the Olin students are working hard to make sure it is a positive, memorable experience.
"The program directors tell us that our work with their kids is making a big difference in their lives," says Adams. "The 'STEM cliff' is usually around middle school, so we are trying to catch kids early to help them see themselves as future engineers, scientists, or mathematicians.  Having access to STEM mentors and engaging STEM activities can be a life-changing experience for young students, so we are aiming to provide this for kids who may not otherwise have similar opportunities."
---