Olin embraces radical forward thinking
As an ever-evolving, dynamic college, we embrace a model of teaching and learning engineering that is forward-thinking, project-based, and centered on collaboration between faculty, and between faculty and students.
We leave behind traditional structures like departments and tenured faculty with the goal of creating innovative, integrated learning experiences.
Olin's vision
Engineering for Everyone
---
Olin's mission
Transforming engineering education toward a world
in which engineering serves everyone
---
Our Values
Engineering for impact: thriving for all.
At Olin, we are engineering for impact: we strive to create a community and contribute to a world in which all can thrive.
As we pursue our vision of Engineering for Everyone, we work intentionally to reinforce the values to which we aspire. We reflect on who we are now and who we want to be and strive to embody the ideals we embrace.
We commit to serving the Olin community and society at large by enacting our values of equity and justice, trust, learning and growth, sustainability, and collaboration for the benefit of others, especially those who are most in need.
As a community, we:
Fight for equity and justice.
Offer our trust and earn the trust of others through our words and actions.
Continually strive to learn, to grow, and to share what we have learned.
Protect and sustain our natural, built, and financial resources so that they might equitably benefit future generations.
Collaborate; find meaning and joy in connection with others.
---
Learn more about Olin's 2022-2027 Strategic Plan: Impact-Centered Education
2022 Annual Report
In these pages, you will read about how we have taken steps to strengthen our finances; how our faculty and staff shifted to meet the demands of the pandemic; and the innovative curriculum and exciting projects that resulted from that work. You will also read about our vision for the future.
Read the full 2022 Annual Report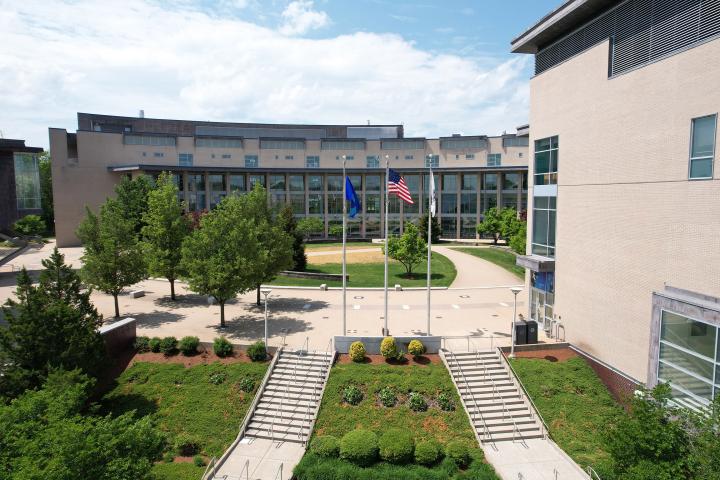 ---
Olin faculty
Our faculty drive Olin's goal of transforming how engineering is taught and learned. They come from diverse backgrounds, and bring unique knowledge and experience to Olin's provocative educational experiment, and to the lives of our students.
Unlike faculty in a traditional engineering school, Olin faculty have the freedom to embrace interdisciplinary, innovative approaches to learning that don't exist anywhere but at Olin.
Learn more about our faculty
---
Olin is situated on 75 acres in Needham, Massachusetts.
Our partners and collaborators at Babson College, Wellesley College and Brandeis University are easily accessible from our campus, and we're just minutes from the renowned educational and technological hubs of Boston and Cambridge.
Our seven buildings curve around a welcoming central green space, forming what we call the "The Oval." This thriving living and learning hub is defined its communal spaces, where students and faculty can engage in hands-on, team-based experimentation. From our design studios, to the robotics labs, to the library, every learning facility is optimized for interaction and exploration.
We are a close-knit community by design: nearly all Olin students live on campus, in one of our two residence halls, both of which offer exceptional amenities:
Each of the double rooms in West Hall has a private bath, air conditioning and cable.

East Hall has 19 suites, each containing six single occupancy bedrooms, a small living room, two bathroom areas and a suite-sized micro-fridge. There are also 32 double-occupancy bedrooms.

Both offer Ethernet connections, fiber-optic capability and wireless access
From the moment you step on campus at Olin, you feel a buzz of energy and activity—and once you experience it, you want to be a part of it.
Olin's History
The Franklin W. Olin College of Engineering received its educational charter from the Commonwealth of Massachusetts in 1997, the same year the Franklin W. Olin Foundation announced its ambitious plans for the college. Planning and architectural design work for a state-of-the-art campus began almost immediately. By the end of 1999, the new institution's leadership team had been hired, and site development work commenced on 70 acres adjacent to Babson College. Leadership developed a set of founding precepts to guide the College's work. Olin's first faculty members joined the college by September 2000.
The founding faculty came well qualified to their task of inventing the new curriculum, but at a college dedicated to being student-centered, they could not do it alone. The college recruited student 30 student "partners" for a special pre-freshman year (2001-02) during which they worked closely with the faculty to create the curriculum and a framework for the student life programs.
In August 2002, the Olin Partners were joined by equally well-qualified classmates to form Olin's inaugural freshman class of 75 students. Other institutional milestones since the opening of the college include the first Commencement (2006), accreditation (2006-07), the establishment of the Babson-Olin-Wellesley collaboration (2009), the first Reunion (2011) and the 10th anniversary celebration (2012).