Olin's tight-knit and supportive community is one of our greatest strengths. As a community, we support one another in every way. As a college, Olin supports student success in the classroom and beyond.
Student Affairs + Resources (StAR) at Olin
The Office of Student Affairs + Resources (StAR) supports and celebrates students and their unique and intersecting identities through intentional and purposefully inclusive support, education, programming, resources, and opportunities. The team works with and for students on their continuous development of social awareness and cultural consciousness in service of preparing them to become exemplary engineering innovators. 
Student Life
As your home away from home we have a wide array of campus services to support life on campus. All students live on campus, dine in the dining hall, and have access to a bounty of support services.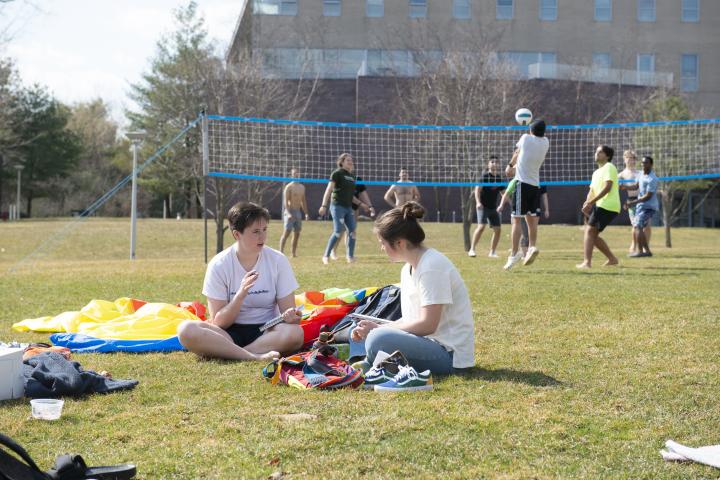 The Director of Wellness provides education and information to the Olin community about a variety of health and wellness topics. Students can also visit the Wellness office to learn more about the clinical resources available to them.
The Residence Life team supports the College's commitment to revolutionize engineering education by creating a seamless connection between experiences inside the classroom and life in the residence halls. 
Being involved on campus is an integral part of the college experience. Here at Olin, there are a number of ways for students to get involved –from participating in Student Government, to volunteer and service opportunities, to joining a club or organization.
One of the founding principles of the Franklin W. Olin College of Engineering is that each student should have the opportunity to have a learning experience "away" from the College. This idea was articulated early in the creation of the College with the expressed objective of having students learn to be citizens of the world. The Olin "Study Away" program was created to deliver on this principle and provides students with the opportunity to broaden their perspectives and views of the world.
---
Student Support
College can be a big adjustment and we believe there is a direct connection between what happens inside and outside the classroom. From the day students are accepted, we offer students guidance, resources and support to help them succeed.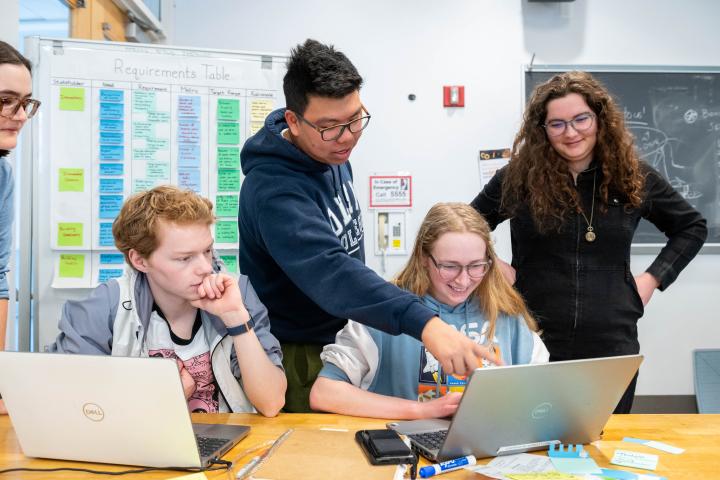 At Olin, the Academic Support team matches each student with an Advisor, offers tutoring and ARCs (Academic Resource Co-designers), in addition to one-on-one support.
The mission of Disability Services at Olin (DSO) is to provide equal opportunities and equal access to education, programs, and activities for all students with disabilities at Olin College of Engineering.
We support International students who have traveled to Olin for their undergraduate studies, F-1 International students, or who are here from a direct exchange partner universities for a semester.
The Office of Inclusion, Diversity, Equity, & Access (IDEA) is here to support your personal growth by providing education and event programming around identity, issues of equity, and how to ensure a culture of belonging for all students. 
The Olin College CARE (Concern, Assessment, Response, Evaluation) Team provides coordinated support for students in distress and addresses concerns about student behavior, academic progress, and personal issues, including mental health concerns. 
---
Resources and support to help Olin students learn, explore, and create their own paths
At Olin, we know that learning happens everywhere – and that college is more than a place to attend classes. It's where you live, discover and explore. Olin provides resources and support to help every student succeed in and out of the classroom.
Our goal is to ensure that everyone has the best possible experience at Olin. We do that by helping students experience learning not just in formal and technical settings, but as explorers and creators who design their own path.
College life can be a big adjustment as students transition from living at home to living on their own. The Office of Student Affairs and Resources (StAR) offers guidance, resources and support to help make that transition easier, and help students grow and succeed.
---
Resources to help students be healthy, well-balanced, and successful
Maintaining intellectual, physical, and emotional well-being is an important part of succeeding in college and in life.
Olin offers other resources and support to help busy, engaged students sustain a healthy balance in all parts of their lives.