Student Government, Clubs & Organizations
Student Government
Student Government at Olin is comprised of a governing body, known as the Council of Olin Representatives (CORe), as well as four Student Experience Organizations. The purpose of each Student Experience Organization is unique, as they individually have their own missions and functions, however, each of these organizations is deemed vital to the education and college experience of the student body as they all address aspects of Olin's central philosophies, founding precepts, and goals. The four Student Experience Organizations at Olin include the Honor Board, the Student Activities Council (SAC), the Committee for Clubs and Organizations (CCO), and the organization to Support, Encourage, and Recognize Volunteerism (SERV).

CORe is a student experience organization centered around two complementary mission areas. First, CORe is the representative body that acts as the student body government, helps shape continuous improvement goals for the student body, and works to amplify the value of student input in all change initiatives that occur at Olin College. Second, CORe is further charged with coordinating action initiatives where student input is involved as necessary, ensuring the realization of student body goals and change initiatives. CORe also helps to fund student clubs, organizations, and initiatives.
Mission Statement: The Council of Olin Representatives will work to amplify student input on issues under consideration by the administration and will support student initiatives. The Council will represent Olin's student body to help the administration, other colleges, and the outside world, while working to improve student life by supporting and developing solutions to issues facing the student body. 
The Committee for Clubs and Organizations, lead by a director and assistant director, oversees and distributes funds to all clubs and student organizations. CCO maintains and expands a continuous and diverse set of social opportunities for the student body with the help of the Student Activities Committee (SAC), club presidents, and student organization leaders.
Responsibilities
Ensuring that the student activities fund is fairly and reasonably distributed and used by SAC, clubs, and student organizations throughout the years.

Responsible for maintaining a current list of student clubs and organizations, as well as other issues of club administration. 

Via the Student Activities Committee, CCO is charged with throwing campus-wide events, facilitating club events as requested, and maintaining a public calendar of events.
The Olin College Honor Board administers the Olin Honor Code and ensures that it meets the evolving needs of the Olin Community.
Responsibilities:
To engage the Olin Community in the discussion and administration of the Honor Code and related policies (see appendices in the Student Handbook)

To use the resources available to the Olin Community to productively and effectively resolve reported violations of the Honor Code and related policies

To continually evaluate the efficacy of the Honor Board procedures and the Olin Honor Code and address shortcomings therein.
The Student Activities Committee (SAC) is one of the major programming groups on campus responsible for hosting a number of events throughout the year. Their team consists of a student director and assistant director, as well as general body members from the Olin Community.  Recognizing that there is more to college than just homework and studying, SAC strives to provide opportunities for socialization and entertainment at least once a week. Past events have included movie screenings, scavenger hunts, casino nights, pumpkin carving, paint nites, and an annual formal. New members are always welcome!
Have an idea for an event on campus? Want to know more? Email Student Affairs at studentaffairs@olin.edu
SERV is Olin's service branch of student government. SERV runs 2 big events per semester, and runs smaller weekend volunteering events. In the fall SERV runs a meal packaging event for Rise Against Hunger during family weekend and the SERV auction after Thanksgiving. In the spring, SERV runs an Alternative Spring Break trip and a packaging event during SLACfest. In the past year, SERV has partnered with local organizations like Boston Rescue Mission and Habitat for Humanity to provide volunteer opportunities for students!
As the umbrella organization for community service at Olin, we are here to Support, Encourage, and Recognize Volunteerism in every form in the community.
Clubs and Organizations
Being involved on campus is an integral part of the college experience. Here at Olin, there are a number of ways for students to get involved –from participating in Student Government, to volunteer and service opportunities, to joining a club or organization.
---
Passionate Pursuits
At Olin we encourage our students to pursue their personal artistic, humanistic, philanthropic and technical interests through our Passionate Pursuits program. Students choose a semester-long project, set their own goals and develop their interests with guidance of a faculty member and, in many cases, funding from the college. When they complete their project, they receive non-degree credit for their efforts.
How to Propose a Passionate Pursuit
Students wishing to enroll in a Passionate Pursuit fill out a proposal form containing the following information:
Title and description of project

Proposed learning goals and assessment process/deliverables

Email approvals from sponsor who will evaluate your work (this person must have the title of faculty or instructor as they will be asked to approve the credit for your work at the end of the semester) and your academic adviser so they are aware of your plan. An additional secondary sponsor, who may be staff with relevant disciplinary expertise, may also be listed.

[optional] Request for funding with details of fees/equipment needed. This request should be as detailed as possible and include any documentation that can be provided at the time.  Students should investigate using/sharing existing resources before requesting money; transportation costs and the cost of personal items such as shoes and gloves will not be reimbursed. Equipment left over at the end of the Passionate Pursuit will generally belong to the College.
Each proposal will be assessed for feasibility given our current limitations with the Shop and other facilities on campus. Students may be asked for more information about their proposals to make that assessment.
Proposals will be reviewed by the Dean of the College to evaluate whether the proposed activity has sufficient intellectual content to be credit-worthy and to appear on the student's academic record, and to decide on the funding amount, if any.  Funding decisions will be subject to the limitations of the total funds available for the program. Any proposal that is deemed insufficient to meet the above conditions will be reviewed by a faculty member and a member of the Student Government before a final decision is made. 
Passionate Pursuits are Olin-specific. The project outlined on an individual proposal must be able to be completed during a standard semester.
The deadline for submitting Passionate Pursuit Proposals is the last day of the add period. Late submissions will not be accepted.
Funding is provided via reimbursement. To request reimbursement, not to exceed the amount allocated for the Pursuit, fill out the Student Request for Reimbursement form; you will need to include itemized receipts showing amount and method of payment. This should be done as early as possible, but no later than the last day of classes of the semester in which the student is receiving credit for the Pursuit. All receipts should be submitted at the same time, if possible. If paying out of pocket and being reimbursed is a barrier to your participation in your Pursuit, please be in touch with the Dean of the College to discuss alternate funding plans.
Co-Curriculars
These are opportunities to explore non-credit activities combining fun and intellectual awareness, they are typically scheduled for a limited time (e.g., on semester), are led by staff or faculty members or by a student working in concert with faculty/staff member, and are funded by Student Affairs and Resources.
They differ from curricular offerings in that they are not graded and attendance is not strictly enforced. They differ from extra-curricular activities in that they have an intellectual component, faculty/staff leadership and limited lifespan.
Students can register for co-curricular offerings during our class registration process.
View the Fall 2023 Co-Curricular offerings.
---
Sports & Recreation
Olin recognizes that there is a direct relationship between one's well-being, learning and regular exercise. In order to support these relationships Olin has established a variety of programs and resources that are intended to promote short-term and long-term opportunities for staying physically active.
Residence Hall Gym
In the lower level of East Hall, we have a small gym for all students.   East Hall has a gym with several cardio machines and a weight machine that has upper and lower body exercises in addition to free weights.  Across from the gym we have our recreation equipment room home to the Bike Share, Unicycle Collection, Punching Bag area, and a ton of outdoor recreation equipment.
Club Sports and Competitive Teams 
Olin has two competitive sports teams, the Olin Soccer team and the Olin Ultimate team. These teams have regular practices, tournaments and games. In addition, Olin students regularly participate in certain Babson and Wellesley club teams, including Babson's rugby team. Olin runners regularly participate in training runs and races including the Boston Marathon.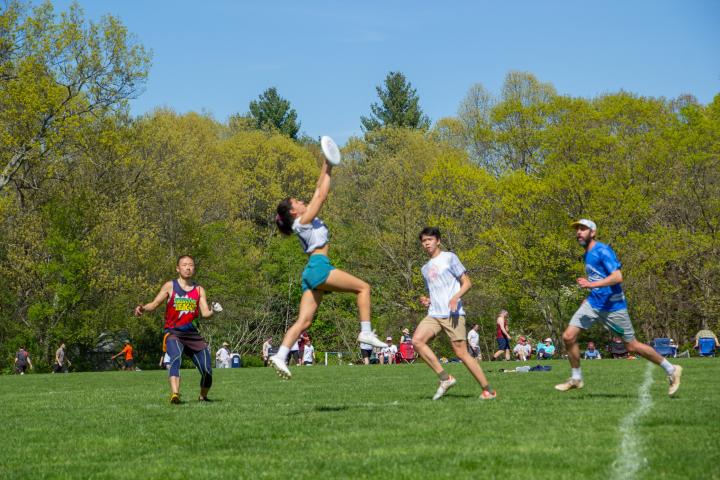 Intramural Sports and Babson Facilities
Olin enjoys a unique relationship with Babson and Wellesley that includes access to Babson's athletic facilities and Babson's and Wellesley's intramural leagues. Babson's athletic facilities include indoor and outdoor basketball courts, an indoor swimming pool, an indoor track, an indoor ice skating rink, exercise classes, cardio equipment, free weights, weight machines and other exercise equipment.
---