Learn about the many options for giving and choose the most meaningful method for you.
---
Annual Giving to the Olin Fund
Donating to the Olin Fund gives us flexibility to meet essential needs.
The Olin Fund provides unrestricted, immediate-use dollars that support Olin's innovative curriculum, dedicated faculty, and meaningful programming that makes our student experience unique.
Olin's 50% scholarship and tuition alone do not cover the full cost of an Olin education. Along with special funds, grants and the endowment draw, the Olin Fund provides a critical source of revenue to help bridge this gap.
In 2020-21, the Olin Fund represented 46% percent of the total philanthropic dollars raised for the College.
An unrestricted annual fund gift provides Olin with powerful financial flexibility to meet core commitments and support new initiatives, ensuring that we can continue to be an innovative leader of engineering education for the next generation and that we can make engineering accessible for everyone. Simply put your generous gift will go to where it is needed most.
Investments in the Olin Fund are more than useful and practical contributions. In the form of unrestricted funds, they also reflect donors' belief in the validity of our goals—and their faith in our ability to carry it forward with efficient applications and strategic expertise.
When you make an unrestricted investment in Olin, your support goes directly to where the need is greatest—from enabling a student to clear a financial hurdle blocking enrollment to attracting and recruiting faculty from the top echelons of their fields. It's a bold and powerful commitment—and one that we implement with the utmost care
To keep an Olin education affordable, each student receives a half-tuition scholarship based on merit, and need-based aid is available for students who qualify. This unique approach to helping students make their college educations affordable allows them to graduate unencumbered by debt, freeing them to devote themselves to furthering their educations or to engineering projects that can bring about technical, social, economic and political change
Financial circumstances should not present a barrier to an Olin education. In keeping with the school's mission, students for whom finances are a concern can be awarded need-based scholarships. These need-based scholarships provide critical funds for qualified, talented students who would be otherwise unable to finance their college education.
In particular, a named scholarship is a strong and meaningful way to support an Olin student. The name given to the scholarship is associated with the recipient student throughout his or her Olin career—and often beyond—taking on a special meaning to the student and his or her family, friends and teachers.
Financial circumstances should not be a barrier to an Olin education. Olin offers need-based financial assistance for U.S. citizens and eligible non-citizens through federal, state and institutional programs; and a generous private gift has allowed Olin to provide some need-based financial assistance to qualified international applicants. 
The Olin Innovation Fund was created in 2010 to support curricular innovation initiatives at Olin College of Engineering—in particular, those that align with the National Academy of Engineering's Grand Challenges. It is also used to experiment with and improve the Olin curriculum through the development of assessment tools that track and measure key achievements.
The fund supports faculty in publishing results and sharing lessons for igniting innovation with peers at other institutions.These efforts are invaluable in encouraging cultural transformation at other schools and catalyzing fundamental change in engineering education as a whole.
In the few short years since its inception, the Olin Innovation Fund has supported some impressive successes; for example, the complete redesign of the foundation courses in linear algebra and differential equations, a hallmark of undergraduate engineering programs and often a source of discouragement for first-year engineering students. Other initiatives for which the fund has provided resources include investigations into the role that gender plays in engineering education; effectively integrating humanities courses into an engineering curriculum; and emphasizing the importance of strong writing skills in STEM contexts.
The Olin Innovation Fund is at the heart of the school's mission to transform engineering education. Your annual gift to the Innovation Fund will directly support our initiatives to bring the Olin Revolution from our campus to schools and other institutions across the country and around the world, building connections with thought leaders, industry influencers and future partners of all kinds.
The Alumni Merit Scholarship Fund was founded by Olin alumni to return the Olin merit scholarship to 100 percent. Currently the Olin merit scholarship offers half annual tuition charges to all admitted students.  As of November 30, 2021, the fund has grown to $1,070,826 through the generous support of alumni and other donors. 
In 2022, the fund awarded $250 to each 8th semester senior completing their degree. As this fund grows, the amount awarded to each student will likewise grow.
Donations are welcome from all and can be made here.  
Endowed Chairs
Note: For the chairs described below, the donor's name may be linked to this chair in perpetuity, or the chair may be named for another person who the donor wishes to honor.
Presidential Endowed Chair
Dedicated with an endowment of $5 million.
All future Olin Presidents will hold this chair while in office. Funds allocated from earnings on the endowment principal will allow the President to designate seed funding for new educational innovations and initiatives at Olin and to leverage opportunities to strengthen academic and other college programs.
Provost Endowed Chair
Dedicated with an endowment of $4 million.
All future Olin Provosts will hold this chair while in office. Funds allocated from earnings on the endowment principal will allow the Provost to capitalize on unique opportunities to strengthen the Olin offer; for example, to recruit a highly desirable faculty member who becomes available when there is no budgeted position open.
Entrepreneurship Endowed Chair
Dedicated with an endowment of $3 million.
This chair will be used to recruit a senior faculty leader whose primary focus would be on the entrepreneurship curriculum at Olin. The new faculty position will accelerate the school's integration of entrepreneurship and entrepreneurial thinking as part of the undergraduate engineering program, to enhance the national and international leadership Olin is cultivating in this area.
Engineering Education Innovation Endowed Chairs
Dedicated with an endowment of $3 million.
These chairs will be awarded to faculty at Olin who are globally recognized leaders in transforming engineering education. Funding will support Olin faculty members' growth and the breadth of their experience by enabling the hiring of an additional faculty member. This serves to provide the faculty holding these chairs greater opportunity to collaborate with their peers at other schools and in other professional contexts—collaborations which lead to lasting cultural and educational changes at their respective institution.
Engineering Education Innovation Professors
Dedicated with a funding of either a one-time donation of $1.5 million or an annual donation of $150,000 for ten years or more. The donor's name may be linked to this professorship for this ten-year period, or the chair may be named for another person the donor wishes to honor.
These professorships will be awarded predominantly to existing Olin faculty in recognition of their past record of engineering education innovation. Funding will build Olin's faculty capacity temporarily (i.e., for ten years) through hiring an additional faculty member hence providing the individuals holding these professorships with more time to collaborate with faculty at other institutions. These collaborations in turn will lead to cultural and educational changes beyond Olin.
Faculty Development Fellowships
These are awarded by the Dean of Faculty to enable Olin College of Engineering faculty to pursue innovative engineering research, engage in new academic ventures or explore the development of innovative new components in curricula.
The Aaron Hoover Memorial Endowed Fund was established in 2021 to support Women of Color engineers at Olin College and to honor the memory of beloved Olin faculty member Dr. Aaron M. Hoover.
Olin wishes to raise funds to annually support a number of students and to create an infrastructure of ongoing community support for Hoover Scholars. This support network will include mentorship from faculty, alumni and peers, and will support Hoover Scholars' pursuit of creative endeavors that may or may not relate to engineering.
"It is our hope that the Fund will provide support to students in a way that embodies Aaron's core values. Aaron thought it was critically important to be versatile as an engineer, and for engineering to be informed by a broad set of experiences that include art, culture, community, exposure to diverse perspectives, and emotional exploration and growth.

Aaron was committed to the process of recognizing his privilege and using his privilege to advocate for voices that are not typically heard or acknowledged. Aaron was also a systems thinker, who understood that real change occurs when you account for the whole system and address students' social-emotional needs in addition to their academic and financial needs.

In creating this program, we believe that Aaron's legacy will not only benefit Women of Color engineers at Olin College, but also the institution as a whole." – Robin Li
About Aaron Hoover
Aaron Hoover, professor of mechanical engineering at Olin from 2011-2020, survived for 20 months with glioblastoma multiforme (grade 4) and died on December 30, 2020 at age 42. A brilliant and deeply loved member of the Olin community, Aaron was instrumental in shaping a generation of bright young Olin engineers. He loved his work, finding deep satisfaction in the process of education as much as in the product. A sign in his lab bore these characteristic instructions to students: "1. Be excellent to each other. 2. Take the reins. 3. Kick ass. 4. Deliver value. 5. Have fun."
Aaron Hoover held many interests outside of engineering. He was a builder, maker and woodworker, and was passionate about fitness and cycling. In his professional life, he sought to understand how the principles underlying biological systems can yield insights that improve engineered systems. His career began with bio-inspired robotic locomotion and evolved to engage the nature of learning itself.
Aaron read widely, spoke several languages and maintained a critical focus on the human side of engineering and design, teaching Olin's foundational Principles of Engineering course every year. He was particularly interested in the intersections of creativity, craft, and design. He is remembered by his colleagues for so many things, including his generosity, teamwork and peer mentorship.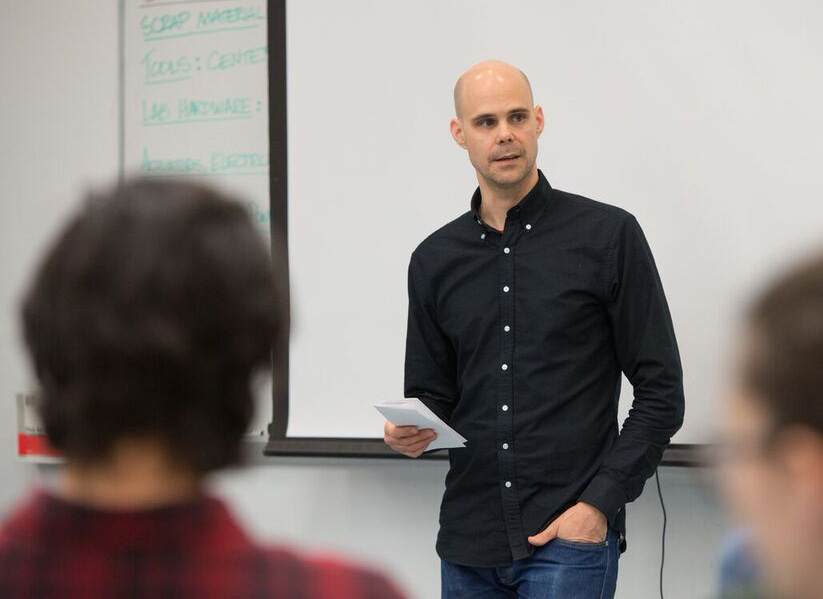 The Richard K. Miller Presidential Endowed Scholarship Fund will provide need-based financial aid to students at Olin, with a preference for students who are the first in their immediate families to attend college. Gifts to this fund support Olin's commitment to ensuring that finances never stand in the way of the transformational experience of an Olin education.
"I hope this scholarship will make it possible for students to dream much larger dreams than they would have before, to make a difference in the world with their lives…I hope this will make it possible for students to realize that it doesn't matter how you grew up or how much money your family had, that no matter who you are if you have the right ideas and the right determination you can make an impact on the world." – Rick Miller
| GIVING LEVELS |   |
| --- | --- |
| $250,000 | Capstone Level |
| $150,000 | Design Thinking Level |
| $100,000 | Entrepreneurial Thinking Level |
| $75,000 | QEA Level |
| $50,000 | Sustainable Design Level |
| $25,000 | PIE Level |
| $10,000 | ModSim Level |
| $5,000 | UOCD Level |
| $2500 | Design Nature Level |
Olin is founded on a belief that financial circumstances should never be a barrier to education. Every Olin student receives a half-tuition scholarship based on merit, with need-based aid available for students who qualify. With the support of generous donors, we are able to keep an Olin education affordable for every student.
Funding a named scholarship is a meaningful way to make lifelong impact on an Olin student. Named scholarships provide critical funds for qualified, talented students who would not be able to finance their college education otherwise.
To learn more about Financial Aid and Scholarships, contact Anne-Marie Dorning at Anne-marie.dorning@olin.edu.
Capital gifts allow Olin to complete key campus building projects. Gifts to the Olin endowment create revenue that is imperative to the implementation of our initiatives, strengthens the future of the College and makes long-term planning possible. 
To learn more about Capital and Endowed Giving, contact Lauren K. Taaffe, Vice President and Chief of Staff at 781.292.2297 or ltaaffe@olin.edu.
---
Leadership Donor Societies
There are many ways to create your own legacy at Olin by making a planned gift. Legacy gifts include bequests, charitable gift annuities, donations of retirement plan assets, and the inclusion of Olin College in your will.
Allocation of estate assets is one of the most important plans many people will ever make. These decisions can have an enormous impact not only on one's heirs but also on the ongoing and future success of organizations that can benefit from this personally meaningful support.
President's Circle recognizes generosity at the following annual giving levels starting at $10,000.
$100,000 or more: Visionary
$50,000-99,999: Innovator
$25,000-49,999: Entrepreneur
$10,000-24,999: Investor
Recognizes donors who have given a minimum of $1,000,000 since Olin was founded.
Phoenix Society membership recognizes generosity at annual giving levels between $1,500 and $9,999. Olin alumni, please click the following link to find out how alumni gifts can qualify for the First Decade Society (see details below).
$5,000 to $9,999: 1997 Society
$2,500 to $4,999: Oval Society
$1,500 to $2,499: Advocate
To qualify for First Decade Phoenix Society membership, pledges from alumni must be at the following annual levels:
| Post-Graduation Year | Donation |
| --- | --- |
| 1 | $100 |
| 2 | $200 |
| 3 | $300 |
| 4 | $400 |
| 5 (Reunion Year Gift) | $500 |
| 6 | $700 |
| 7 | $900 |
| 8 | $1,100 |
| 9 | $1,300 |
| 10 (Reunion Year Gift) | $1,500 |
The Continuum Club celebrates and recognizes Olin's most loyal donors—those alumni, parents and friends who have made a gift, at any level, for any purpose, for three or more consecutive years.
---
Support Olin as an Alum
To learn more about how you can support your alma mater, click the link below.
Support as an Alum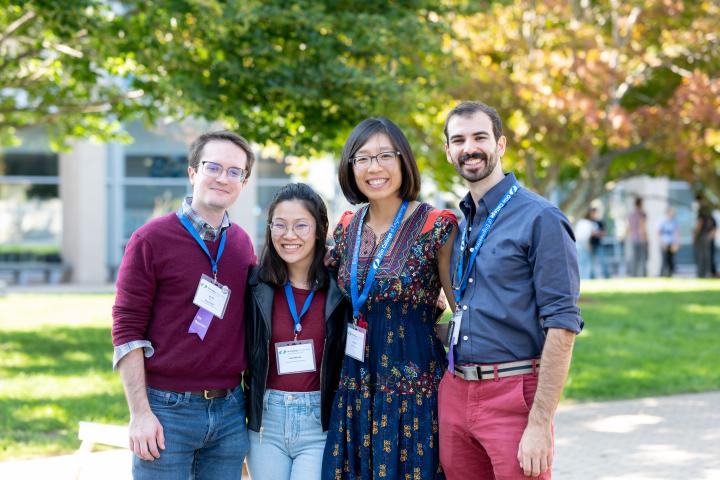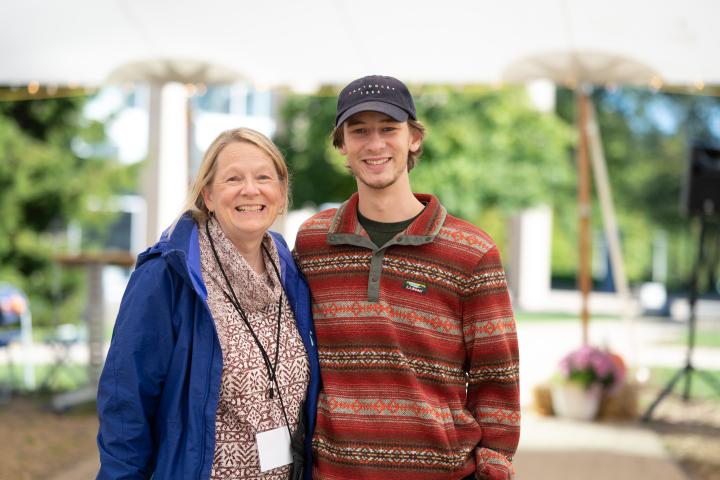 ---
---
Other Areas to Support
Student Teams Fundraising
Olin project teams are among the most popular and best loved student activities on the Olin campus. 
You can directly support teams and other special campus initiatives by visiting our crowdfunding pages.
---
Visionary Giving
Olin College was founded through the vision and generosity of the F.W. Olin Foundation.  
You can become a visionary supporter of Olin's mission with a transformational gift to the College.  
To learn more about Visionary Giving, contact:

Lauren K. Taaffe, Vice President and Chief of Staff at 781.292.2297 or ltaaffe@olin.edu

Anne-Marie Dorning, Vice President of Marketing and Communication at 781-292-2258 or Anne-Marie.Dorning@olin.edu
---
External Programs and Partnerships
The Office of External Programs and Partnerships is dedicated to developing new academic partnerships, supporting industry and non-profit collaborations, expanding experiential opportunities in the curriculum, and enhancing alumni engagement.
Olin corporate partners benefit from collaborative, purposeful and value-driven relationships with Olin's community of talented students and faculty. 
Opportunities include participating in our newly launched Premier Recruitment Partner program, sponsoring a Senior Capstone Program in Engineering (SCOPE) project, supporting the Olin Innovation Fund, or funding faculty-led research.
To discuss corporate partnerships and opportunities, contact:

Jason Woodard, Dean of External Programs and Partnerships at 781-292-2521 or Jason.Woodard@olin.edu.