Admission + Financial Aid
Seeking creative, curious individuals ready to change the world
Our students form the dynamic core of our 24-7 hub of collaboration and experimentation. They are passionate innovators, relentless problem solvers and endlessly entrepreneurial in their drive to learn, make, and do.
If that sounds like you, come join us. 
---
Committed to Affordability
We know that the price of a college education is out of reach for many students who would be a great fit for the Olin community. That's why we're committed to making the Olin experience more affordable and accessible.
The merit-based Olin Tuition Scholarship is currently valued at more than $115,000, and covers half of the annual tuition charges for eight semesters of full-time study for all admitted Olin students. We're also committed to meeting each student's full demonstrated need, ensuring that finances won't stand in the way of your education.
If Olin is the place for you to realize your potential and achieve your dreams, we can help you make it happen.
Learn more about Cost + Aid.
---
Applying to Olin
Olin College prepares students to become exemplary engineering innovators who recognize needs, design solutions and engage in creative enterprises for the good of the world. As such, we practice a holistic admission process, reviewing applications for both academic achievement and potential as well as personal qualities that would make the applicant a good fit for the Olin education and community. We look for high achievers who have demonstrated course rigor, academic mastery and strong test scores, but we also look for evidence of characteristics we see in our current students such as creativity, initiative, empathy, entrepreneurship, teamwork, passion, integrity and determination. Your extracurricular profile (including work and family commitments), your essays, and your recommendation letters help us get to know you and are carefully considered when reviewing applicants for admission.
If you're considering applying to Olin, we encourage you to challenge yourself as much as possible by enrolling in the most rigorous courses available at your high school, and to build a strong foundation in calculus and physics.
We are looking for bold, entrepreneurial risk-takers!
Learn more.
---
Enrolling the Class of 2028
We will enroll top students from all over the world for the Class of 2028. As always, we look for a multidimensional student body, representing a broad range of cultural, economic and geographic backgrounds.

You may apply to Olin using the Common Application. We require you to submit the application, including Olin-specific questions, and application fee by January 4, 2024.

Please let us help you learn everything you need to know about our one-of-a-kind admission process, including important dates and deadlines and our admission requirements.
Learn more about our application process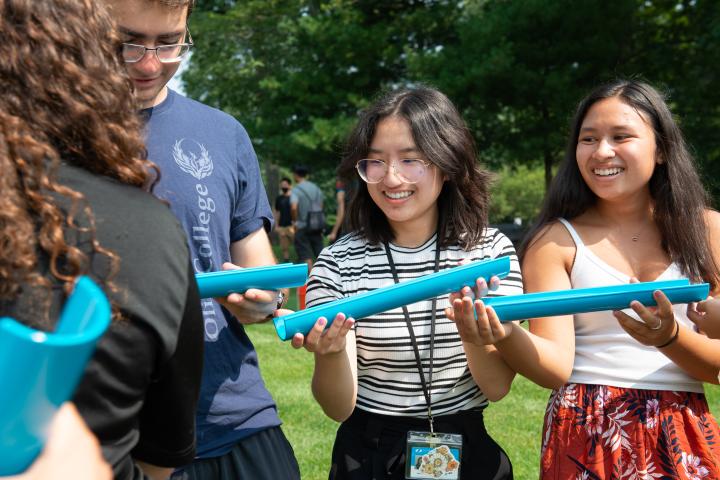 ---
Clery Act Disclosure Report
In compliance with the Jeanne Clery Disclosure of Campus Security Policy and Campus Crime Statistics Act, Franklin W. Olin College of Engineering publishes and makes available to any prospective student or employee upon request a copy of the College's annual security report. An online copy of the report is available on our website in the Public Safety section; a paper copy may be obtained by contacting the Olin College Department of Public Safety at 781-239-5555.
Nondiscrimination Statement
In accordance with its own values and with federal and state regulations, Franklin W. Olin College of Engineering does not discriminate on the basis of race, color, creed, national or ethnic origin, gender, religion, disability, age, sexual orientation, disabled veteran status, veteran of the Vietnam Era status, marital or citizenship status (except in those special circumstances permitted or mandated by law). This nondiscrimination policy encompasses the operation of the College's educational programs and activities including admission policies, scholarship program, athletic and other College-administered programs. It also encompasses the employment of College personnel and contracting by the College for goods and services. 
---