Dr. Michael Sorrell, Visionary President of Paul Quinn College, will be Olin College's 2022 Commencement Speaker
March 2, 2022
Dr. Michael Sorrell, President of Paul Quinn College, will address the Class of 2022 at Olin College's seventeenth Commencement on May 15, 2022.
Dr. Michael Sorrell will be Olin College's 2022 Commencement Speaker on May 15, 2022.
Dr. Sorrell leads one of the most innovative small colleges in America.
Commencement Event Info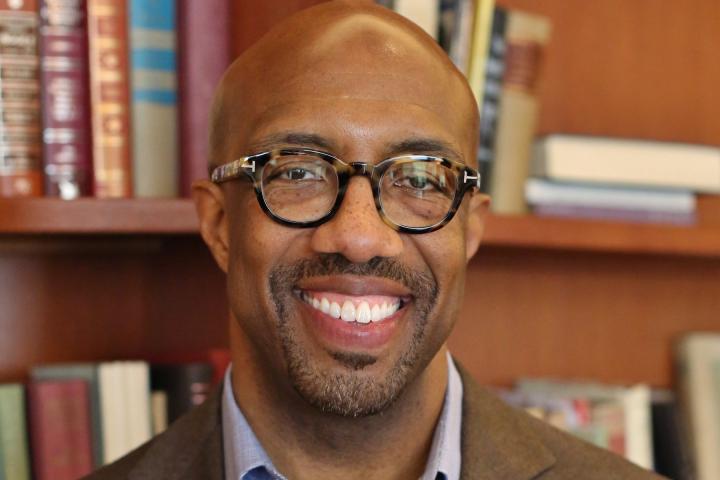 Sorrell is the longest-serving President in the history of Paul Quinn College, one of the 105 historically Black colleges and universities (HBCU) in the United States. During his 15 years of leadership, Paul Quinn has become nationally celebrated for its ability to expand the boundaries of higher education to better serve the needs of under-resourced students and their communities.
"We are honored to have Dr. Sorrell join us as Olin's 2022 Commencement speaker," said Olin President Dr. Gilda A. Barabino.

"Dr. Sorrell's leadership of Paul Quinn College is deeply inspiring. His dedication to the PQC community and to overcoming the conventional models of higher education make him a powerful example to Olin graduates of how a person can improve the lives and systems of the people and communities around them."
Since assuming the presidency, Sorrell has transformed what was then an institution on the verge of closing into one of the most innovative small colleges in America.
One of PQC's most well-known initiatives under Sorrell's leadership is the partnership with PepsiCo to transform the college's former football field into the two-acre WE Over ME organic farm. This project created a team of individuals and organizations fighting to end food insecurity and injustice in the United States. Located in a federally recognized food desert, the Farm has produced and provided more than 30,000 pounds of organic produce since its inception in March 2010, and no less than 10% of this produce has been donated to neighborhood charitable organizations.
Sorrell is also credited with creating the Urban Work College model at Paul Quinn, which provided the framework for numerous accomplishments including: reducing the cost of attendance, reducing student loan debt; providing every residential student with an internship; and helping ensure that 80% of graduates have jobs at Commencement.
Paul Quinn has received HBCU of the Year, HBCU Student Government Association of the Year, and HBCU Business Program of the Year awards.
Sorrell is one of the most celebrated college presidents in America. President George W. Bush and the George W. Bush Presidential Center awarded him the Bush Institute Trailblazer Citation. He has been named one of the World's 50 Greatest Leaders by Fortune Magazine; is the only three-time recipient of the HBCU Male President of the Year Award (2018, 2016 and 2012); won Education Dive's Higher Education's President of the Year award; and Time Magazine listed him as one of the "31 People Changing the South."
Sorrell received his J.D. and M.A. in Public Policy from Duke University and his Ed.D. from the University of Pennsylvania. He graduated from Oberlin College with a B.A. in Government.
---