Hello Oliners of the future!
My name is Chef Kevin Comellas and I am the General Manager/Executive Chef with Rebecca's Culinary Group at Olin College. I wanted to take the time to welcome you to our little family with a blog about what it is we do as the caretakers of the Olin Dining Program and what makes our relationship with the college so special.
First, I will tell you a little more about myself and my team so you know where our heads are at and how passionate we are about our craft. I come from a background of fine dining and have worked in some of the top restaurants in the Boston/MA area, including L'espalier, Plum Island Grille, Phat Cats Bistro and West Bridge. I also graduated top of my class at Johnson & Wales University with a bachelor's degree in Culinary Arts and Foodservice Management. My management team consists of Assistant General Manager, Himanshu Dubey, Café Manager, Ricardo Batista and Sous Chef, Justin Lyonnais. Himanshu has a long history in the catering world as has worked as a manager for many prestigious catering companies including East Meets West and Gourmet Caterers, two of the largest high-end caterers in Boston. Ricardo Batista has worked his way up from a dishwasher back in 2008 all the way to his current role managing the daily operations of our program. Justin Lyonnais has been working with me since my first Sous Chef position at Phat Cats Bistro back in 2010 and is an extension of my culinary knowledge and passion. The rest of our team consists of many people that have been with Olin for more than 10 years, making up what we like to call a very close-knit family. Many of our staff are related, which makes our team even more fun, upbeat and driven towards the same mission. As you can see, it is clear we have a tight group that is driven to provide culinary excellence.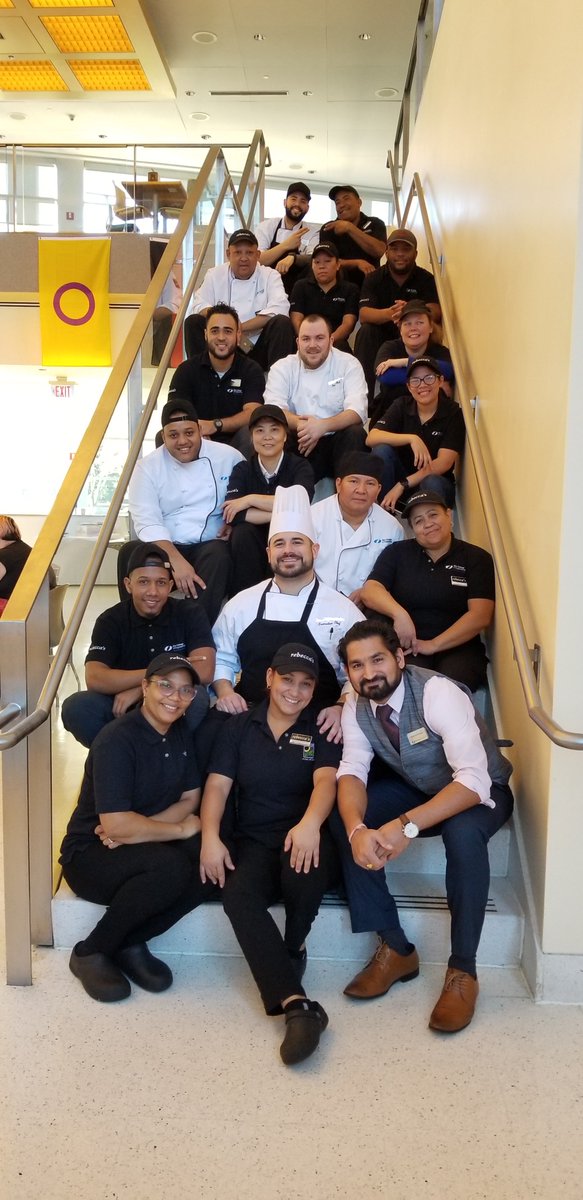 Olin's dedicated, talented, and fun dining team!
I wanted to talk about what makes our dining program so special, and trust me, there's a lot to cover! From a high-level perspective we are a boutique foodservice provider that oversees all food-related operations on campus and then some. We take care of all catering, special events, campus-wide events and the day-to-day of serving food to faculty, students and staff in the dining hall. We are an all scratch-made kitchen that takes its roots in creative, trendy, healthy cuisine that is executed with the utmost care. We take to work with us the mantra that we would never serve anyone a meal that we would not serve our own family.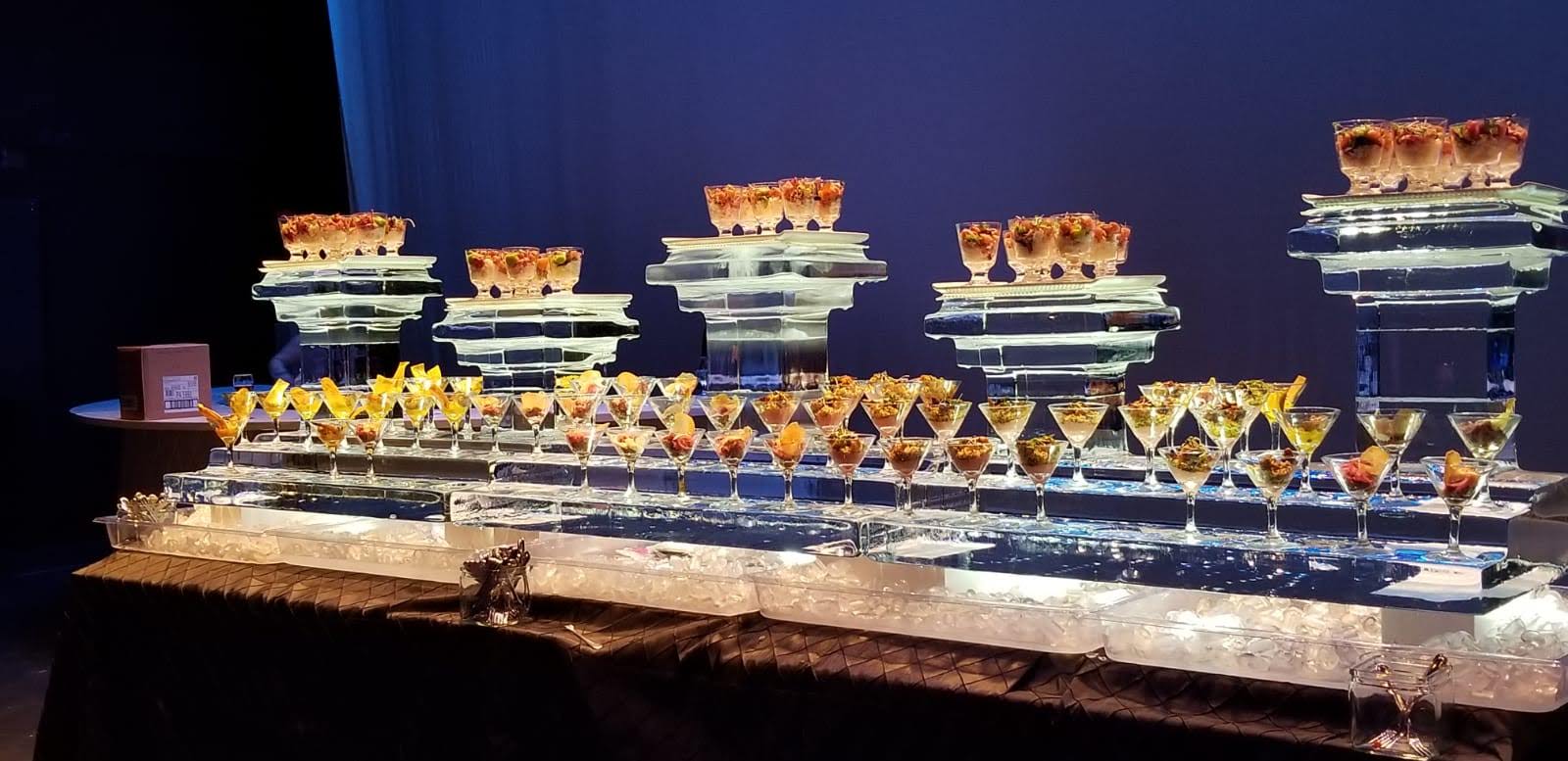 Getting fancy with Olin catering
Olin students all utilize the same meal plan, which is an unlimited "all-you-care-to-eat" program that allows you to enjoy anything and everything we are serving during a meal period to your heart's content. Our dining hall consists of several stations that provide ever-changing options throughout the semester. We offer 112 different entrée menus, pizza made from imported Italian hand-stretched pizza dough, a custom deli with panini press, sushi made from scratch, many build-your-own stations, Chipotle-style burrito bar, summer rolls made-to-order, Fenway Fridays, restaurant-style plated bistro entrees, soups made from scratch, homemade desserts, a fresh and creative salad bar, a smoothie bar, fun breakfast and brunch options (biscuits and gravy, crepes, quiche, bagel pizzas, breakfast enchiladas, etc.) and an entire meatless lunch period.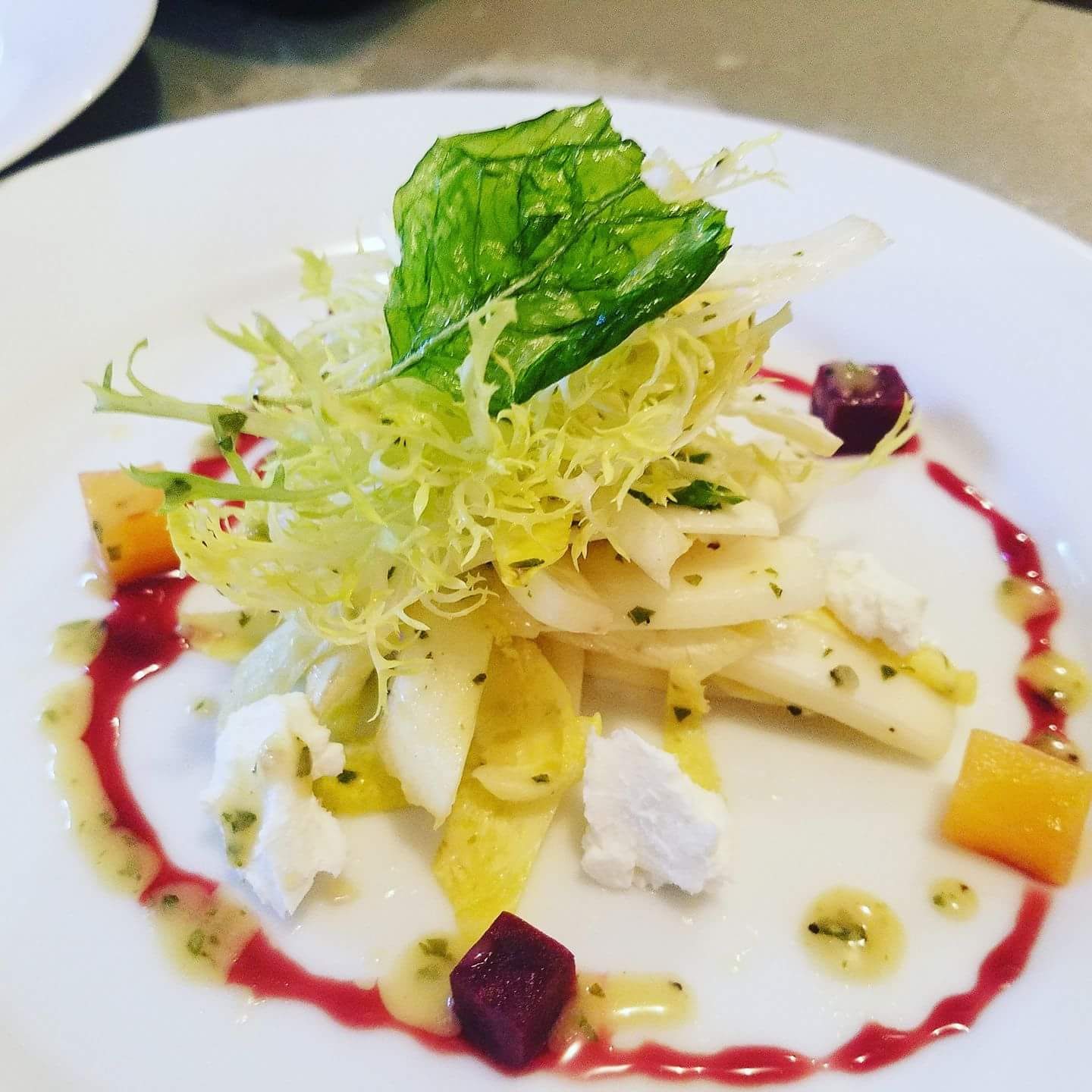 Looks good enough to eat...
Meatless Tuesday has been something we are quite proud of and has allowed us to reduce carbon emission quantifiably to the equivalent of more than 20 roadtrips to Sacramento and back. On those days we offer alternative pizza options (portabella pizza, watermelon pizza, etc.), culturally themed build-your-own bowls, Latin and Indian vegetarian street foods, and a Sweet Greens-style tossed salad station. We have worked very hard to make it a creative and fun event every week so that we can all do our part to push the sustainability efforts of our program. We also compost post-consumer and pre-consumer through the Cero program, which has eliminated 50-60 tons per year out of the waste stream and into usable topsoil for local farmers in the Metro Boston area. We also use reusable to-go containers known as Ozzi boxes that allow us to eliminate the need for disposable clamshell boxes. All of our disposable ware is compostable and can be placed right in our compost bins. We also utilize bulk oil systems to eliminate the need for plastic jugs, filter our oil daily to extend oil life and convert all of our used oil into biofuel. We donate any viable leftover food that cannot be repurposed to a local program known as Food for Free that converts our food into compartmented TV dinners that can be microwaved for hardworking families in need. We utilize all local purveyors and are part of a local fisherman support purchasing program through the distributor Red's Best. We purchase local fish at locked-in prices that allow fishermen to make livable wages on volatile commodities that fluctuate heavily in the market. Sustainability is a major priority for the Olin Dining Program that we take very seriously.
We also take a lot of pride in how we are able to accommodate nearly any allergy/dietary restriction. When creating our menus, we always take into consideration as many potential allergy concerns as possible and write our menus to inherently address them. For example, when we make Indian cuisine, we often use coconut milk to add creamy texture instead of cream, yogurt or ghee. This is not 100% authentic but achieves a close facsimile that can be enjoyed by more diners. We take into consideration how inclusive each of our menus can be and are always sure to pair concepts in a way that opens up as many options as possible. In terms of more serious allergens, or when cross contamination can be a bigger concern, we take a more individual approach with each diner. We conduct meetings with the diners and their families if necessary to come up with the best strategy possible to provide delicious and nutritious offerings for each person. We are also able to provide additional options upon request such as gluten free pizzas, gluten free buns/pasta and alternative milk choices. We take pride in being able to successfully serve every person that comes through our doors.  
The last thing I wanted to touch upon is our efforts in pushing community togetherness. We take pride in holding as many culturally-themed/holiday events as we can possibly fit in our schedule. We have celebrated many events including Holi, Diwali, Dominican Independence Day, Lunar New Year, Songkran, Hispanic Heritage Month, Mardi Gras, Black History Month, Thanksgiving, St. Patrick's Day, Halloween, Easter, Passover, and Cinco de Mayo. We treat these events as opportunities to bring the community together and will often do everything we can to get as many students involved as possible. We will decorate the dining hall and provide music, activities, dancing and special menus that are outside the scope of our normal constraints. We also provide monthly cooking classes and are always open for new ideas for activities and undertakings that anyone in the community might be interested in having our assistance in facilitating.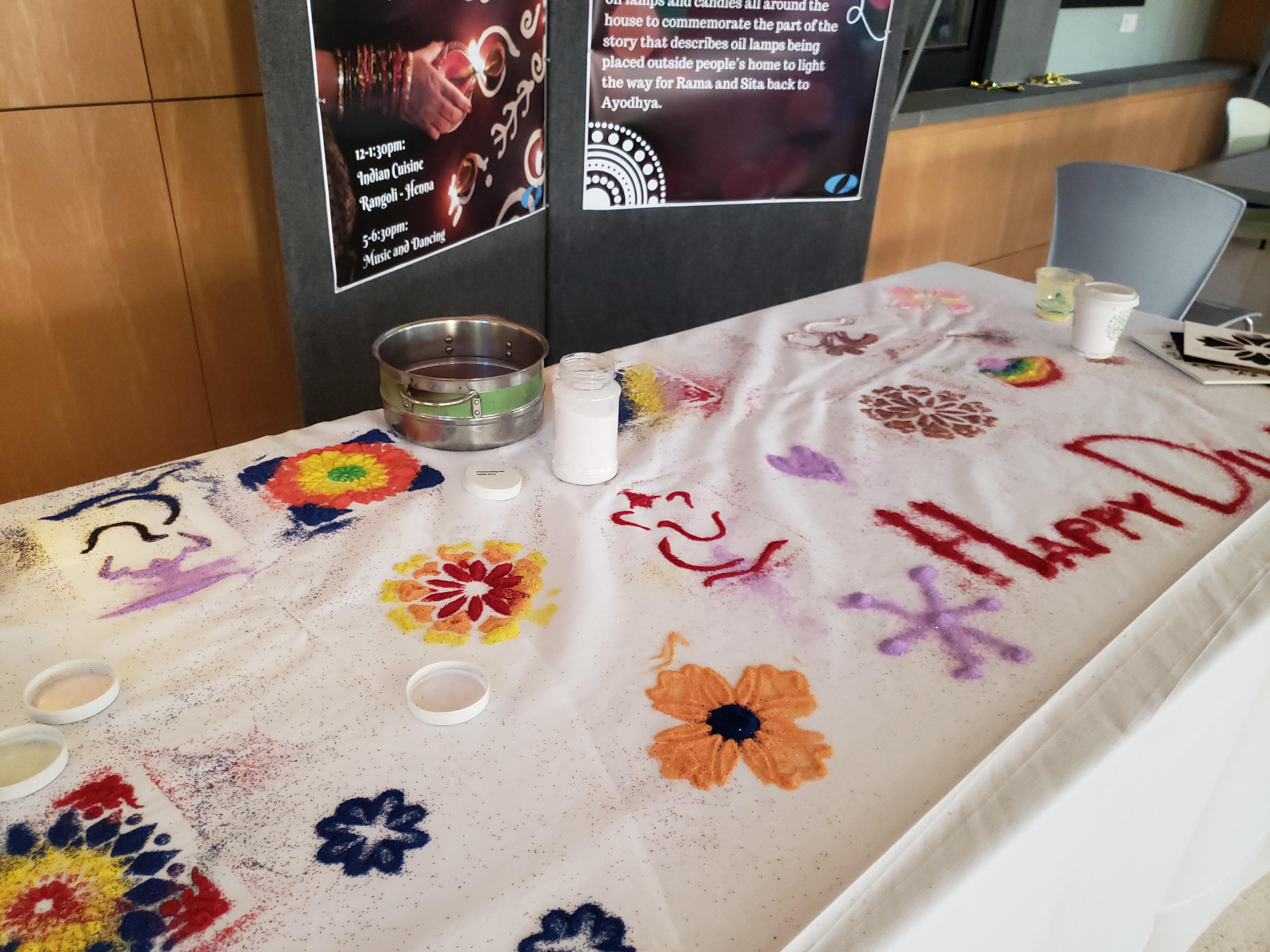 Celebrating Diwali in the dining hall
We love our jobs! This is not work for us and we absolutely love being a part of Oliners' lives in a very crucial way. We are here to feed you, but we are also here to provide a fantastic community experience through food and celebration that rivals larger colleges. Our environmental impact is important and we do our best to be the most ethical dining program we possibly can be. I hope this provided you with a good look into all the hard work we do to provide a wonderful dining experience at Olin College.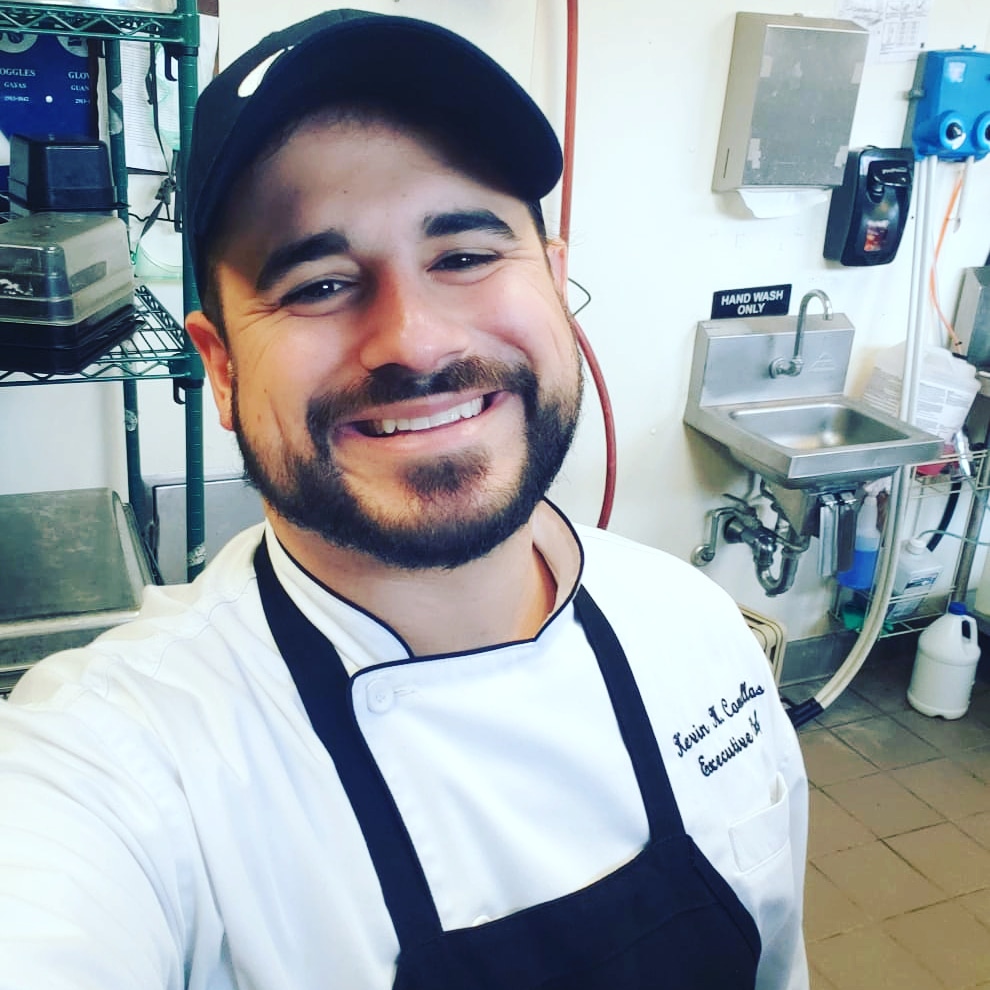 Kevin Comellas is the General Manager/Executive Chef at Olin. He has 15 years of industry experience in fine dining, contract foodservice, butchery and high-end catering and graduated Summa Cum Laude with a Bachelors in Culinary Arts/Foodservice Management. Kevin is passionate about cultural cuisine, music, history and cars.