The One Question We Wish You'd Stop Asking
It all started in 2011, when a student posted on the internet how he obtained 1,000 free college t-shirts. Nowadays there are videos, forums, blog posts, and even email templates on how to score free gear. But before you jump on the bandwagon, we're here to ask you one thing: "Please stop!"
We understand why it might be tempting to politely ask for a t-shirt. After all, it's a way to connect with the school, and who doesn't love free stuff?
The thing is, admission offices around the world are inundated with requests for free gear daily. Our inboxes are clogged with the same cookie-cutter emails feigning interest. These requests take up a good amount of time and resources to process. Since we read every single email we get, this makes it harder to sort through and reply to questions from students with genuine interest.
If you are truly interested in a school, spamming the admission office inbox for free gear is not the best way to demonstrate interest. To let a college know they are at the top of your list, or to get answers to questions you may have, check out the list of ideas in Krystal and Director of Admission Susan's recent blog, "Dos and Don'ts of Demonstrated Interest."
When it comes to actually crafting that email asking your questions, here are some tips to help you out:
Do a little research on the college you are interested in before asking questions. For example, an email from a prospective student that says, "I'm really interested in your college and I'm planning on majoring in history…Can you tell me what history classes you have?" when the college receiving the question is an engineering college that doesn't offer history as a major, isn't necessarily the best use of your time OR the admission staff's time. A related but much more relevant question could be, "I see that your engineering programs have a strong emphasis on arts, humanities, and social sciences in addition to technical skills. I'm really interested in history…How might I be able to pursue this interest as an engineering student at your school?" That will enable us to have a real conversation, rather than just reply to say that we don't have a history major.
Avoid asking questions that can be found on the website like, "What is the application deadline?" College admission offices usually have a ton of information on their website, and most likely, the answer to basic questions about admission requirements and deadlines are probably on their website somewhere. Of course, we are always happy to answer any questions a prospective student has, so if you can't find the answer to your question, email us! But answers that aren't a matter of simply restating what can be easily found on the website will be a more productive use of everyone's time and will ultimately provide more valuable insight to you as a student. Basically, try not to ask us what a website can answer. Ask us what only we as humans and admission professionals can answer!
Reach out directly to your admission counselor! Admission websites usually list their counselors and which territory (what part of the country/world) they cover. Emailing your admission counselor directly with your questions is another great way to get your questions answered, and it provides an opportunity for your counselor to get to know you before they read your application.
Admission offices love getting emails from interested students, so don't hesitate to reach out to them with your questions, as long as you have genuine interest in them! The bottom line is, the less time counselors need to weed through "gimme a t-shirt" emails, the more time they will have to answer your questions!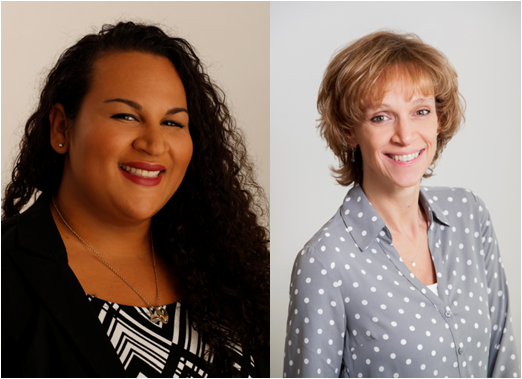 Krystal Burgos (left) is Olin's Assistant Director for Admission Systems and Operations.
 
Stephanie Hill (right) is Olin's Assistant to the Dean of Admission and Financial Aid, CRM and Campus Visit Administrator.