September 24, 2020
Olin students aren't exactly known for taking it easy when the to-do list is done. This rings true even in the slower-speed COVID-19 climate, which has some students, like senior Amy Phung, taking classes remotely from home.
Amy is taking courses virtually this semester from her family's home in Los Angeles, while devoting her spare time to researching a newfound passion: deep sea robotics. This spring, she joined a SEA Semester and, as part of the Global Ocean program, she spent six weeks in Woods Hole, Mass., learning about New Zealand history, the chemistry and biology of the world's oceans, and about ocean conservation efforts. She then set sail with classmates on a tall ship research vessel visiting various ports in New Zealand and collecting ocean data.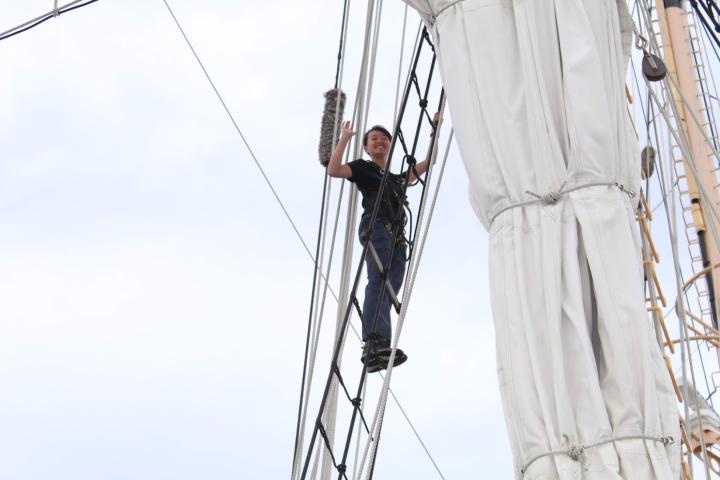 During her time at Olin, Amy has been studying robotics. "It's great fun to do projects like making a robot that follows me around," she says, "but I wanted to find an application to apply robotics to that had a purpose." Her goal with the SEA Semester was to find inspiration. "I wanted to go out into the world and see ways that my work could be most useful."
Aboard the ship, Amy found the inspiration she was looking for. "We don't fully understand climate change's effects on the oceans, and need more data to better understand and mitigate our impact on them," she says. With her shipmates, Amy dove into the scientific process of how ocean data is gathered and reported, working on collecting specific data that indicated the health of an area of ocean using instruments on board.
At first, Amy wasn't sure how collecting data was related to engineering, and to her passion for robotics. But she came to see that through engineering, one can not only aggregate and organize data, but also engineer solutions to the problem of imprecise measurement collection methods. On board, she learned about different sensor measurement methods, and was able to get a sense of how robotic data collection works in the ocean space.
When COVID hit hard in March, Amy'sship was off the coast of New Zealand, and what was supposed to be their second-to-last port stop became their last. "Although unexpected, having more time at home emerged as a silver lining to the situation and it helped me with finishing the research I had started on board," says Amy. This research compares data collected from three tools that are used to measure chlorophyll-a concentrations off the coast of New Zealand. Accurately measuring this furthers the understanding of how ocean processes affect life, including on a microscopic scale, and the human impact on it.
This data is collected by fluorometers on board robotic floats that drift along with the currents, flow-through fluorometers on oceangoing vessels, and satellites. "Each method has pros and cons, and I wanted to compare reported data and sync it to the time it was collected. Is one reporting higher? How is the data quality?" she says. Amy will be virtually presenting her paper comparing the data captured by these tools in October at the Global OCEANS 2020 Conference.
The SEA Semester experience has opened the door to an opportunity with the Woods Hole Oceanographic Institution: advancing the robotic collection of different kinds of ocean material. This summer, Amy was able to connect her skills in robotics with her new passion, while working with the institution on the calibration of deep sea robot arms that collect biological and geological samples from the sea floor. Now, Amy is continuing this work while preparing to present her paper from the SEA Semester. She's also looking forward to diving into her senior Capstone project with Monterey Bay Aquarium Research Institute, where she'll be working at intersection of virtual reality and deep sea vehicles.
---