April 14, 2020
Michael Heyns '13 and Mariah Dunn Moon '13, both currently working at Microsoft, are partnering with the Olin SCOPE team, AI + Inclusion: The Future of City Navigation, this semester.
Inclusive design is a methodology that enables and supports the full range of human diversity. However, when cities aim to incorporate inclusive design, people with visual disabilities can be overlooked.
Building on the foundational insights, research and prototype made by last year's SCOPE team, the Microsoft team is leveraging open data sets and Microsoft Cognitive Services to address some of the challenges these individuals face when navigating in a city.
Michael and Mariah answer a few questions about what it's been like to partner with Olin as SCOPE sponsors.
"I've thoroughly enjoyed working with Olin as a SCOPE sponsor and alumnus, both because it provides a fun way to remain connected with Olin and because the energy that the students bring to this problem space is inspiring."
- Michael Heyns '13 (L) and Mariah Dunn Moon '13 (R)
See More: Olin SCOPE Team Explore Ocean Depths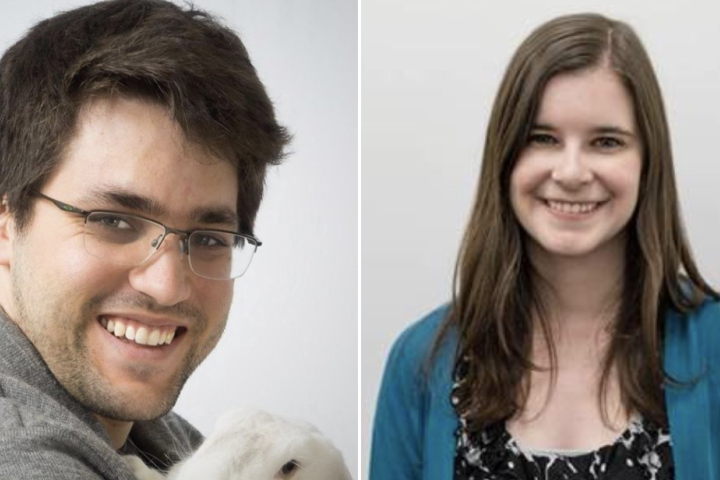 How did your connection between Olin and Microsoft begin? 
Michael: I know that there's a strong, almost pervasive interest at Olin around topics with potential for social good, and I saw an opportunity to help facilitate a project in that domain through Microsoft's AI for Good initiative. A project in the AI and Inclusion space felt like a natural fit given Olin students' optimism and drive to improve the world - for one's own definition of 'improve' and 'the world.' Credit to my Olin alumna wife for that phrase (thanks for that too, Olin). Yay Brittany!
What has the experience been for you to connect with Olin this way as an alumnus?
Michael: I've thoroughly enjoyed working with Olin as a SCOPE sponsor and alumnus, both because it provides a fun way to remain connected with Olin and because the energy that the students bring to this problem space is inspiring.
Mariah: It has been a great experience getting to know the Olin students through the SCOPE project. I was very impressed to see that many students had taken a web accessibility class, in partnership with Perkins School for the Blind. Many students came in knowing about accessibility design principles such as adding Alt Text to images, adding headings and landmarks to websites etc. It is great to see that Olin is building these kinds of partnerships and building accessibility into the curriculum. 
Describe the way SCOPE has been beneficial to your company.
Michael: This year's project is a continuation of work completed by an Olin SCOPE team last year and has provided value in a few key areas. Microsoft is always looking for opportunities to help raise accessibility awareness in engineering, and SCOPE provides an opportunity to reinforce this value early in the careers of a group of engineers. SCOPE allows us, as a sponsor, to leverage engaging and impactful projects to develop awareness and skills critical to important principles, such as inclusive design. SCOPE is also an opportunity to connect with different communities to learn more about their needs.
Through the Microsoft SCOPE project, we've had opportunities to learn more about how individuals with disabilities interact with cities in their daily lives, where pain points exist, and how technology and local government can help. Specific to this project, we've also been able to use SCOPE to showcase non-traditional applications of city/government-curated data to solutions that can foster more inclusive interactions with cities for people with disabilities. For Microsoft, this project is in many respects a technology-demonstrator, illustrating the value that open-data initiatives by city/local governments can bring to the support of more inclusive experiences.
Mariah: Some of my team attended the midyear report last year. It gave them visibility into how AI is being used to make a more inclusive environment in smart cities. 
What has it been like to work with current Olin students through SCOPE? 
Mariah: It is great to see the enthusiasm around building an inclusive environment for people of all abilities, both for the project and at Olin. I am really glad to see that Olin in promoting this type of culture on campus and as a Scope Project.
Michael: Having been through SCOPE myself, I do see that as helping to frame projects with goals that align with Olin's model for problem-solving. It has been encouraging to see just how little has changed in the energy and collaborative spirit that goes into projects since my time in the program, and as a sponsor we've been excited by the level of thoughtfulness in our project space.
On a personal level, I've also thoroughly enjoyed working with the SCOPE teams, and find myself often looking forward to our Wednesday syncs, which add a ton of fun and rewarding variety to my weeks.
Why should other alumni become involved with SCOPE/get their companies involved with SCOPE?
Michael: There are so many reasons for companies to get involved with SCOPE, and even more for alumni to facilitate these engagements. Incubation projects are not always easy to stand up (whether a function of resources or business priorities) and SCOPE provides a great opportunity to make these projects happen outside typical business processes. Not only do you get to work with a team of passionate, capable engineers who are comfortable thinking outside the box and working with different user groups to validate concepts, you also have an opportunity to reconnect with Olin and help build relationships beyond the SCOPE program. SCOPE also draws external eyes to your products and systems; the feedback from students regarding other elements of projects (e.g., software/tools, access to resources, planning and communication processes, etc.) can be of great value outside the direct goals of the project.
If you would like to explore a partnership between your organization and Olin's Senior Capstone Program in Engineering (SCOPE), please contact Ruth Levine, Director of Business Development, at ruth.levine@olin.edu.
---