By Students, For Students: Olin Entrepreneurs Launch Green Line Ventures
January 12, 2021
Six Olin, Babson and Wellesley students have launched Green Line Ventures (GLV), a student fund that, in partnership with 500 Startups managing partner Tim Chae, is designed to fund Babson, Olin and Wellesley (BOW) student and alumni-founded startups. 
Duncan Mazza '22 and Pranavi Boyalakuntla '22, the two Olin founding partners of GLV, are eager to work with their peers across the three college campuses to give fellow students a leg up earlier in their careers as entrepreneurs.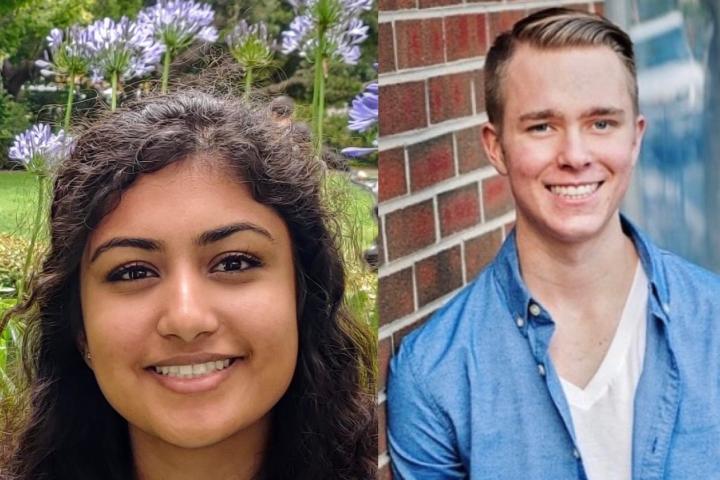 Both students have held leadership positions in Catalyst, Olin's entrepreneurship club and incubator. Duncan and Pranavi are excited to be part of the founding effort to create an opportunity for students to reach beyond their own college entrepreneurship groups and connect with a wider community across three college campuses. While there are dedicated sources of funding for entrepreneurs from BOW schools – like Parcel B for Olin startups – there isn't dedicated funding for BOW as a whole. "We saw an opportunity to meet an unfilled need," says Navi.
Both Navi and Duncan have nurtured an entrepreneurial spirit that precedes their Olin days. Through an internship at the Dassault Systemes FABLAB in high school, Navi became more interested in technology innovation and entrepreneurship. Once Navi arrived at Olin, she noted that joining the Catalyst board as a first year and mentorship from Olin faculty further sparked her interest. Navi was further inspired when she joined previously 8-person startup, Promaxo, as an intern and watched it grow to 13 employees during her time there.
In the summer between sophomore and junior year of high school, Duncan attended his first business camp. His interest eventually grew to involvement with the competitive DECA high school program. He, too, joined Catalyst as a first year and sees the founding of GLV as another outlet to grow as an entrepreneur. "Why do you build something? How do you know it's going to be successful?", says Duncan. "Diving into these networks, creating connections and improving skills now, as a student, will help later when determining whether something is going to be a success."
GLV has not made any investments yet; that is a phase that Duncan and Navi see coming in the spring. For now, they are focusing on growing the GLV network of current BOW students and recent alums and building more events that bring this community together and provide networking resources.
---