Studying Abroad During a Pandemic: An Interview with Julia Benton '22
February 4, 2022
Julia Benton (she/her, Class of '22) studied theater abroad in London during the Fall 2021 semester. Braving a pandemic and all its uncertainty, she finally got a chance to go to the UK. Here are some highlights from an interview conducted by fellow Oliner Vedaant Kuchhal '24, where Julia shares her experiences.
---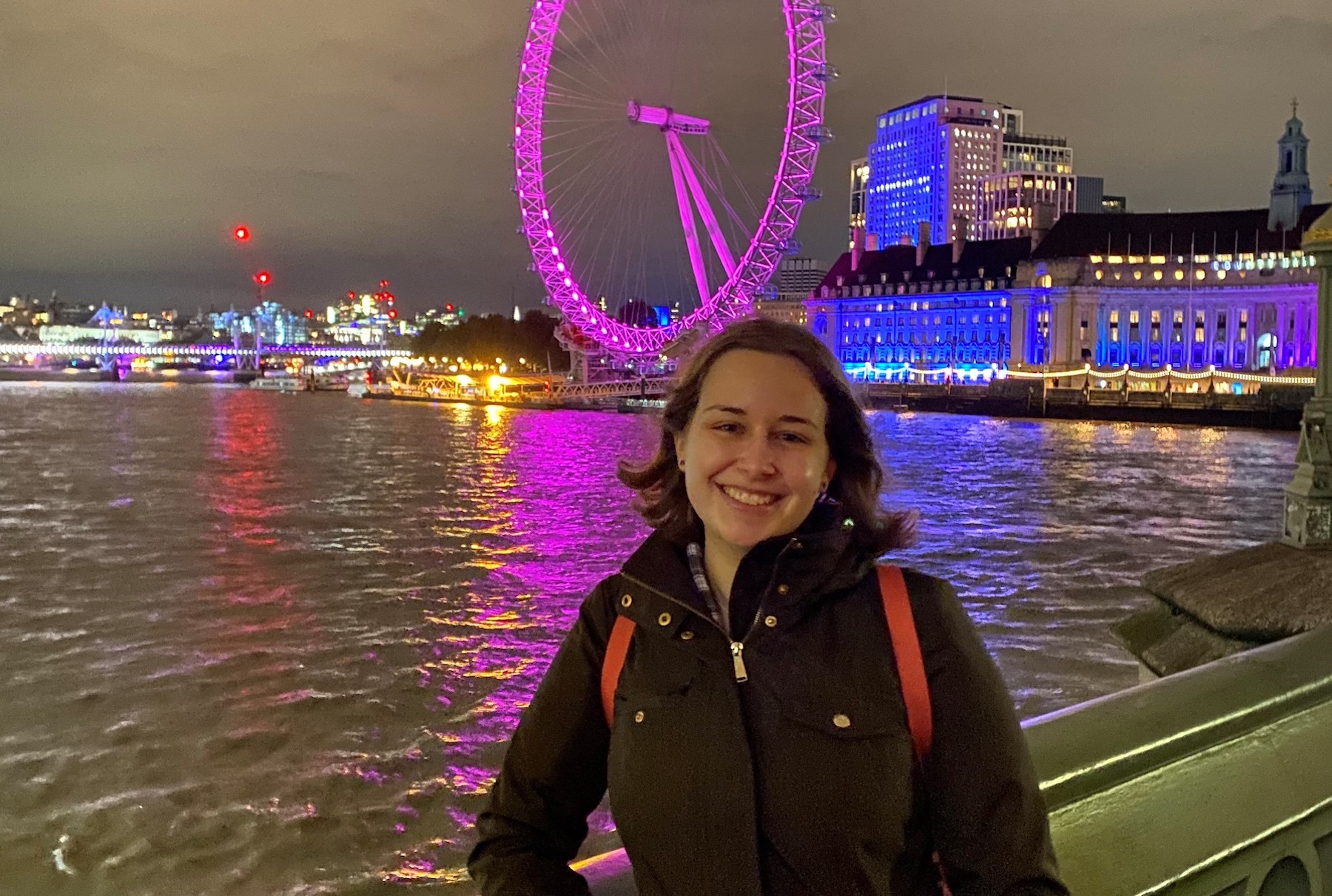 What have you been up to in London while studying abroad - which school are you in, which classes are you taking?
I'm at a school called the Theater Academy of London which is hosted by FSU (Florida State University). My classmates are mostly FSU students, along with some students from other schools. I live off-campus, which kind of stinks because I don't live with my classmates, but I live with fashion majors and business majors, which is cool because I've been able to meet a wide range of people from other programs.
I'm most excited about my stage combat class because it's a pretty unique class and I really enjoy it. I feel cool and powerful using a sword. I don't think I'm going into the field of acting when I graduate, but I always want to keep theater in my life because I love performing and watching theater. I think I'm a theater kid at heart, which I tried to forget about while at Olin in order to fit in with the engineers, but it's really nice to rediscover that within myself.
What does a day in the life of Julia Benton typically look like?
Let's see. I usually have class pretty early in the morning. I take the bus to class, which takes about 25 minutes, and I quite like the bus ride because I get to people watch, read a book or do something else during that time.
I cook breakfast in my kitchen. We each have a single room and our own bathroom, but I share a kitchen with my seven other flatmates. There's this coffee shop chain called Pret. It's very prevalent here in London, so often after class I will get a hot chocolate - they have a subscription service where you can get up to five drinks a day. 
I have a good friend who I'm living with and we often find something to do together like seeing someplace new in London or stopping by the London Eye or Tower Bridge. Usually, I'm just trying to find something new to eat. 
In the evenings I very frequently go to see a show. I have seen a lot a lot a lot of theater.  I chose to study in London because the West End is here and there are so many shows. We're required to go see a show together every week for one of my courses, so that's awesome and it's paid for with a student group ticket.
Otherwise, I think about what I'm going to do after I graduate. I'm surrounded here by students who want to become actors and designers, and it's interesting to talk to them and think about what my own career path could be. Sometimes, I spend my nights looking up new things happening in London to do the next day or over the weekend. There are so many pop-up events happening all the time. 
I try to call friends and family to keep up with them, and so that they know that I'm doing okay. I also check my Olin email all the time to feel partially connected, and have missed Olin while I've been here.
What is the difference in workload here, compared to what you're doing at Olin?
It feels similar to Olin in that a lot of it is group work and people supporting each other which is nice, though I am often working with a partner and realize some students don't have the unique teaming skills that someone from Olin does. I only have classes once a week so I'm expected to do a lot of things on my own time. The professors are awesome, but the work is more independent. 
The theater students are nice. I was scared because I hadn't been around liberal arts students in a long time, but I found them very personable even though I'm not from their school or in their major.
What has been your most favorite and least favorite part about studying abroad?
My least favorite part of studying abroad has been being away from friends and family. I feel really disconnected over here. With the pandemic and not having been on campus for so long, I have a fear of missing out and just a longing. Even though I tried to establish a weekly call with my friends, they get busy because there are different time zones and different priorities. I'm introverted and haven't made many friends here because I've been doing more solo exploration, which I'm not unhappy about. I got to see a lot of theater shows by myself and go places by myself, which I've really enjoyed, but it's definitely different.
I am really, really sad to leave. My time in London has gone by quickly and opened me up to the possibility of not staying in the US when I'm older, which used to be a very foreign concept. I have never lived outside of the US or traveled much, so it's been really empowering and exciting to see different ways of living. Another pro is that I've been having so much fun doing theater for a whole semester. Having a semester to really explore what the liberal arts and theater mean to me has been an awesome opportunity.
Yeah, that's amazing! Why did you decide to go to London?
I didn't know where the heck I wanted to go abroad and was feeling pretty overwhelmed. Because of COVID, Olin's International Programs Office recommended some countries like Ireland or England. Originally, I wanted to study psychology in Austria or somewhere else, but decided I could study psychology anywhere, and thought 'can you study theater anywhere as cool as London?' So, I think I eventually chose London based on my interest for my course of study… and I really like Harry Potter.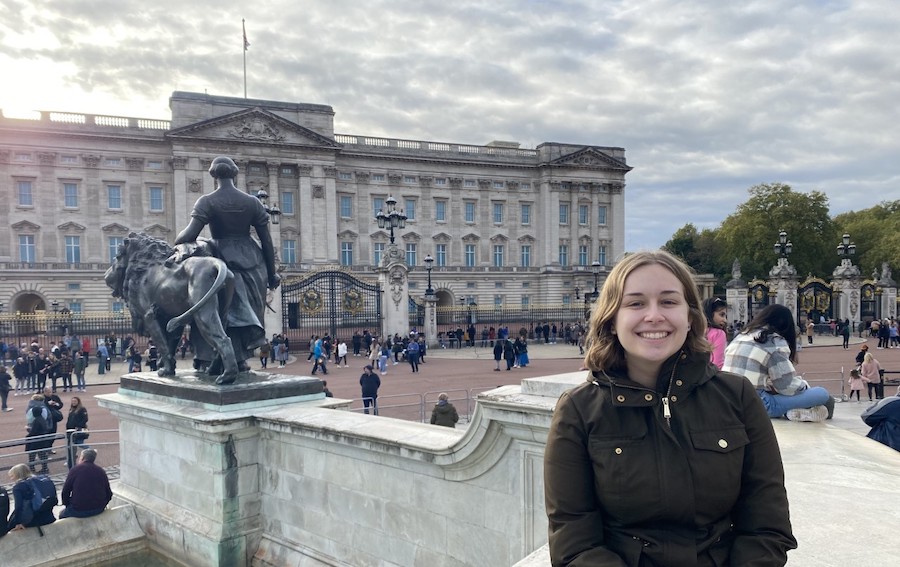 So what was the process of applying like? When did you start? When did you enroll?
I was thinking about going abroad before I came to Olin. Most people go junior year, so I started thinking about it more seriously at the end of my sophomore year. I met with Courtney (Olin's International Programs Director) and she wisely advised me to consider either what I want to study or where I want to study. I spent some time Googling programs and imagining what my life would look like in them, and researched details like 'will I be living with a host family or with students?' I think considering all of the factors contributing to what daily life would be like was important.
The application process took me longer than anticipated -  I wish I had known not to procrastinate and leave it all to the last minute. I met with a lot of representatives for different abroad programs, whom Courtney was able to connect me with. I preferred talking with someone rather than reading about a program on a page. I would ask them specific questions like, 'Is it hard for an engineering student to jump into a theater program?' or 'What is your mental health support like?'. I spoke to a lot of my program-specific people right before I left, which was nice as many questions came up days before leaving home and I really appreciated how responsive they were.
I also had to think about how going abroad fit into my Olin graduation plan. I made sure that I got the foundational requirements out of the way early in my time at Olin so that I could have the flexibility to go abroad later. Theater is my AHS (Arts, Humanities, Social Science) concentration, which is what most people do for their study abroad. I also had to make sure that credits from my time in London transferred back to Olin correctly.
 I really wanted to achieve my dream of going abroad and was scared it wouldn't happen, but I held out hope and kept trying even after my first semester applying was canceled (Spring 2021). 
The COVID situation - how has that been? Has it affected your experience living alone in a city?
I'm more hesitant to go out and am not allowed to bring people into my dorm. So I think, unfortunately, that has hindered my socialization quite a bit. Thankfully, none of my classes have had to go remote. 
I am glad I'm in a country where healthcare is pretty accessible in terms of being able to find a doctor. They call them GPs (General Practitioners) here. I also really appreciate that there are two program coordinators who I can text anytime about anything related to living in London. Being able to ask, 'Where can I get my prescriptions refilled?' or 'I'm feeling really sick today, is there a doctor I can go see?' is very, very nice. 
I feel silly saying this, but keeping track of all the things that I have to do takes up a lot of brain space. What I'm going to make for dinner and cleaning - when it's all dependent on you, feels like there's a lot more going on. It's a little stressful, but I think it's an important preview of what's going to happen when I graduate. I had to gauge how I felt about being in a city by myself. I feel relatively safe here, but it's just as important to realize that it's not this bubble of Olin's campus. I feel like managing all of this has made me more inspired to try things independently after I graduate. This has been an empowering experience.
Let me see - I think the last question I have is: what was the most surprising part of being in London?
I think the most surprising part of being in London has been how much I've done outside of academics. The word 'study' is included in 'study abroad', but I'm really impressed with how many different things I have done in my semester here that I usually wouldn't at Olin- the places i've traveled, the new things i've done and opportunities i've had to make friends and to go places with them. I had imagined being abroad would be all about academics and it's been more than that, which I'm really happy about. 
I've also been able to travel a lot more than anticipated. My program offers free excursions like meals together or going to certain events and day trips that I really enjoyed. I saw Stonehenge and went to this place called the Peak District where I did some rock rappelling which was really fun.  I went to Scotland for my fall break and got to see a different kind of life. Trying new things that push me out of my comfort zone has been really very cool. 
Some of my friends who didn't go abroad were like, "Oh, I can travel to another country any time in my life. I don't want to be bogged down by having to take classes," but that wasn't really my experience. I think it's pretty great to live here while still being a student and not having a lot of responsibilities. And you're with other people your age who are also trying to figure out what they want to do with their lives. I'm glad that I didn't choose to stay at Olin for another semester just because I thought my time abroad would be another academic semester, because it felt different than that. 
I am also surprised by how quickly the time has gone. I feel like I built my own little life for myself here, it wasn't just me being stuck in a dorm as a student.
"It was my own discovery of what Julia in London is like."
---