Hello again folks! It's been a minute since I've written any posts, and I'm very happy to say that I've been brought back from the dead to talk to you all about...wait for it...WEATHER!!!
Not the concept of weather itself, as I'm pretty sure most of you don't need me to teach you about that, but the massive culture shock surrounding the fact that there are multiple types of weather. And coming from a girl who was born and raised in Los Angeles, CA, that shock was like 1500V (get it? Electricity joke? No? Yeah okay, I'll stop now).
But before all that, let me introduce myself. For those of you who don't know me, my name is Prisha, and I'm a second-year ECE (Electrical & Computer Engineering) student at Olin who loves robots with everything in her being, and I'm going to talk to you about my transition from sunny SoCal to sometimes sunny, mostly not, Needham, MA.
I was scrolling through my Snapchat memories earlier to find inspiration for this piece, and I saw that the first picture I ever took at Olin was of the trees in August. The caption of said picture was: "SO MUCH GREEN WHAT." I know. Cheesy. But that was honestly my first impression of the place. Surrounded by nature, a clear view of the stars at night, a forest literally right behind the school? It was beautiful.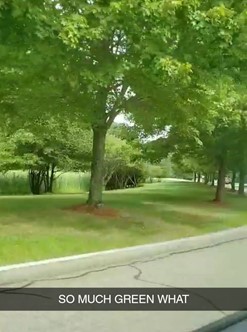 I thought you might want some proof...
Fast forward to around this time last year. October. The air started to get chillier, and the trees started to change color. It was autumn. Like, for real. I had never witnessed trees changing color in my life, so it was pretty magical. From late September to mid-November, that was life. Bright trees, fall vibes, and sweater weather. It was the prime time to walk around in a hoodie and jeans. Going for walks in this weather was, without a doubt, one of the peaks of my Olin experience so far.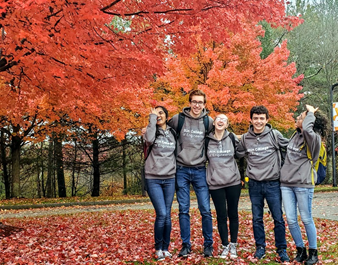 When I sent this picture to my mom, she thought it was edited. Does this not look absolutely amazing???
The transition from fall to winter was subtle at first. A few leaves would fall, the average temperature would drop by a degree or two, until BAM. You wake up one morning and see snow. Or one afternoon. The first time it snowed last winter, I was doing independent work in class, and as soon as my friend (also from California) and I saw the first few flakes fall from the sky, we BOLTED out of class and down three flights of stairs to try to catch a few minutes of our first snow-perience. Which, in hindsight, wasn't the best idea. Because we were dressed in t-shirts and jeans. And snow is cold. Live and learn, I guess?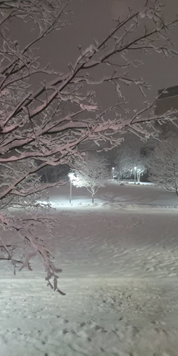 This was the view from outside my window one night in December. I know.
Learning how to deal with real winter weather honestly didn't take as long as I thought it would. My paranoid parents made sure to buy me a massive puffy winter coat and snow boots the minute our flight landed in Boston; they were so convinced I'd die of hypothermia or something. How many times did I use them, you ask? I used the coat a few times, but the snow boots? Not once.
Personally, other than a beanie and some gloves, I liked to wear a bunch of layers while outside in the winter. That way, if I went indoors at any point, I could take off a layer or two and still be comfortable. It wasn't all or nothing. A winter coat is definitely a good thing to have for the days you don't feel like layering, or if it gets exceptionally cold, but overall? Layers do the trick perfectly. I invested in thin thermals, which was probably the best purchase of my life. Any time I went out, I would slip the thermals on underneath whatever outfit I was wearing and would be nice and toasty all day. Especially in February. February was that weird transition between beautiful snow and spring. The ground was covered in more ice and slush than snow, it was extra cold, and just generally unpleasant. 18/10 recommend buying thermals if you're planning on living in New England in February.
This might all seem like a lot now, but I promise, it's a lot easier to transition to the weather at Olin than it sounds. And that's coming from someone raised on the corner of Palm Tree Avenue and Beachville Road. I'm genuinely super grateful to be going to a college where I get the opportunity to experience things like snow, and leaves changing color. It adds to the general human experience :)
I'm signing off for now, but feel free to reach out to me if you have more questions about the weather, or Olin in general! Talk again soon!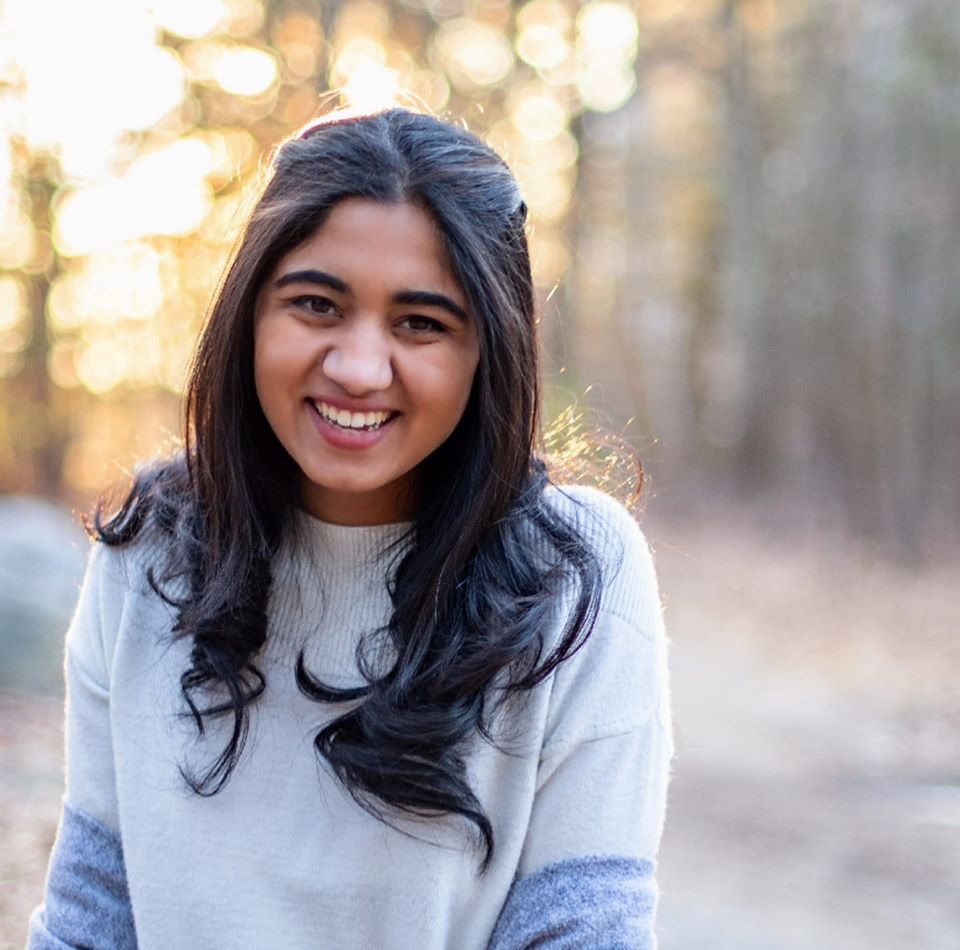 Prisha Sadhwani (pronouns she/hers) is a second-year from Los Angeles, CA, majoring in Electrical and Computer Engineering.