Hey there! I'm Laurel, a rising sophomore (class of 2023) from Pescadero, California. I haven't entirely made up my mind yet, but I'm likely majoring in Mechanical Engineering.
My favorite place on campus is the lounge on the first floor of West Hall, the first- and second-year residence hall. West Hall 1, as we call it, was my friends' go-to hangout spot last year, serving as everything from a study space to a mini movie theatre to a concert hall to a Nerf battleground (yes, one of the cabinets is full of Nerf-related gear).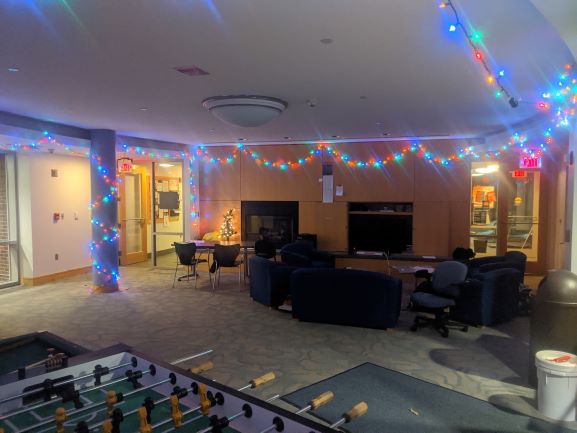 The West Hall 1 lounge
The lounge has comfy couches, armchairs, and coffee tables for hanging out and watching something on the TV, as well as a normal-height table and taller chairs for doing homework, and foosball and bumper pool tables for breaks. My roommate even brought her beanbag down from our room to add to the comfy furniture collection. West Hall 1 is also right next to the kitchen, which means easy access for baking dessert or making popcorn for movie nights. My friends and I spent so much time in the lounge that we ended up decorating it with lights when it got too dark after 5 pm, and one friend even brought in two Google Home Minis so we could have a stereo sound system.
West Hall 1's flexibility and openness made it the perfect space to transform as we moved through the day. On a typical Friday afternoon, I would do my homework at the tall table, maybe joined by a couple of others. My friends filtered in and out as project teams met, laundry needed moving, or they just felt like moving around. The lounge's central location meant other students walked by on their way to their rooms, always saying hello, often striking up a conversation. Sometimes they'd join the homework fun, asking for help on a homework assignment or giving advice about how dense a reading is. By 6 or 7, most of the group would have arrived for dinner, so we'd set out for a harrowing two-minute journey down the hall, across the path, and up the stairs to the dining hall. After an always-delicious meal, we returned ready to either do more homework or decide what to watch. On Fridays we usually chose to decide what to watch.
Some special nights when a friend and I had more energy, we would tell the group what we wanted to watch before fetching ingredients and supplies for possibly the easiest fancy-looking dessert you can make: jam-filled chocolate lava cakes with hand-whipped cream. The recipe was simple, we'd figured out which mugs could be put in the oven, and the result was delicious – an instant hit. Because the lounge and kitchen were separated by only a few feet, it was easy to bake the cakes while the movie was getting set up or just starting. Once the mugs were delivered and the kitchen was clean, we could all relax and enjoy the movie. On a snowy night the lounge was the picture of coziness – movie playing, warm chocolate cake in hand, friends around you, blanket keeping away the inevitable draft, colorful lights around the perimeter lending a soft glow, snow outside…
West Hall 1, like any place at Olin, changes as its users change. Olin lets us customize spaces, and that customization makes the spaces feel like home. What I love about West Hall 1 is not just the room itself but the people who make it their own. Sure, there are things we complain about (the doors that lead directly outside, the light that buzzes sometimes, the lack of power outlets in useful places), but in the end the lounge is our space to make as cozy, studious, or game-filled as we want. I'm sad to be living so far from West Hall 1 next year (ok, it's only a few flights of stairs, but still), but the fourth floor lounge is almost identical, and I can't wait to curl up in front of a movie, mug full of cake in hand, in West Hall 4.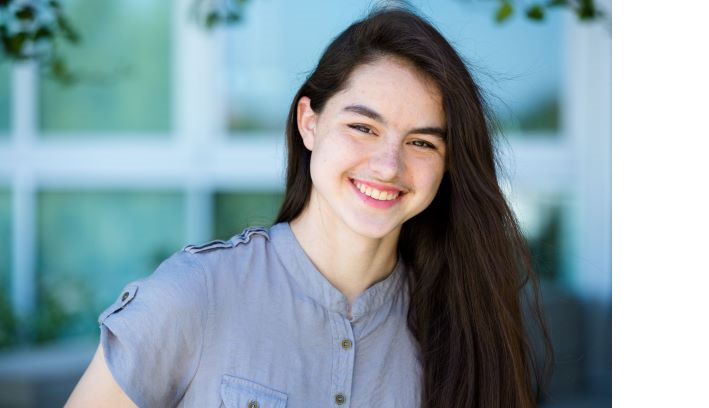 Laurel Rodriguez Mitton is a rising sophomore from Pescadero, California.
---
Molten Chocolate Cake with Raspberry Filling
Link to the original chocolate cake recipe: https://www.foodandwine.com/recipes/molten-chocolate-cake-raspberry-filling (full recipe below).
I double the recipe because there are usually 8 people who want cakes, skip the fresh berries, and switch out or skip the jam depending on what's available. It's also much easier to eat in the mug it's cooked in, since we eat them on couches and don't want to get chocolate on them, so we put powdered sugar and whipped cream in the mug once they're cool instead of taking them out. Be careful with which mugs you put in the oven – we've used microwave safe ceramic mugs and it worked out, but keep an eye on them to be safe.
Ingredients
1 stick unsalted butter, plus melted butter for brushing
1 tablespoon unsweetened cocoa powder
1/4 cup plus 1 tablespoon all-purpose flour
6 ounces dark chocolate (70 percent cacao), chopped
16 fresh raspberries
4 teaspoons seedless raspberry preserves
1/2 cup granulated sugar
3 large eggs, at room temperature
Pinch of salt
Confectioners' sugar for sprinkling
How to Make It
Step 1   
Preheat the oven to 425°. Brush four 6-ounce ramekins with melted butter. In a small bowl, whisk the cocoa powder with 1 tablespoon of the flour; dust the ramekins with the cocoa mixture, tapping out the excess. Transfer the ramekins to a sturdy baking sheet.
Step 2   
In a medium saucepan, melt 1 stick of butter with the chocolate over very low heat, stirring occasionally. Let cool slightly.
Step 3   
In a small bowl, coarsely mash the raspberries with the seedless raspberry preserves.
Step 4   
In a bowl, using an electric mixer, beat the granulated sugar with the eggs and salt at medium-high speed until thick and pale yellow, 3 minutes. Using a rubber spatula, fold in the melted chocolate until no streaks remain. Fold in the 1/4 cup of flour.
Step 5   
Spoon two-thirds of the batter into the prepared ramekins, then spoon the raspberry filling on top. Cover with the remaining chocolate batter. Bake in the center of the oven for 16 minutes, until the tops are cracked but the centers are still slightly jiggly. Transfer the ramekins to a rack and let cool for 5 to 8 minutes.
Step 6   
Run the tip of a small knife around each cake to loosen. Invert a small plate over each cake and, using pot holders, invert again. Carefully lift off the ramekins. Dust the warm cakes with confectioners' sugar and serve immediately.