Hello all - I'm Nathan, a rising sophomore from rural Oregon. A warm welcome to anyone who happens to be from the West Coast or better yet the PNW (Pacific Northwest)! I was originally planning on studying Robotics when coming to Olin, but have since admitted to myself that I really don't know what I want to study. 
The first thing that people tend to say to me when I tell them I go to Olin is something along the lines of: "What was that?" or "Sorry, I don't think I heard you." At that point I usually go into autopilot mode and rattle off a 30-second explanation of how Olin is a super small, special, and awesome engineering school. The point I'm trying to make is that (in my experience) before Olin is recognized for its prestige, achievements, or unique culture, it's recognized for its size. Olin's size (around 330 students total) is usually one of the biggest drawbacks or attractions for incoming students and is something that is regularly on current Oliners' minds.
I personally grappled with the size of Olin, both its student body and campus. There are only five buildings, all a stone's throw away from each other. While this is awesome during the winter months when it is freezing cold or snowy, it can make it hard to be alone and hard to find your own space. Likewise, you are less likely to bump into someone that you've never seen or talked to compared to a larger campus. Learning how to have your own space at Olin probably deserves an entirely different blog post, but I want to share my favorite spot to "disappear" to.
Let me start by saying that I have traveled around the Olin campus a fair amount. I've been on several roofs (yes, I was allowed), the central heating plant, server rooms, various window ledges, stairwells, hidden corners, stockrooms, and storage spaces. I'm by no means claiming to have been to all parts of campus...yet - much of campus is locked to students (for good reason). 
Perhaps the biggest surprise to you will be the fact that my spot isn't a particularly secluded place. This spot is actually in a stairwell...I know most of you are probably thinking gross! and closing this tab. I don't blame you; stairwells always give off a weird feel. However, something is special about the fourth-floor corner ledge of the north wing of West Hall (one of Olin's residence halls).
Unfortunately, I don't have any pictures from up there. However, I do have a picture from another angle.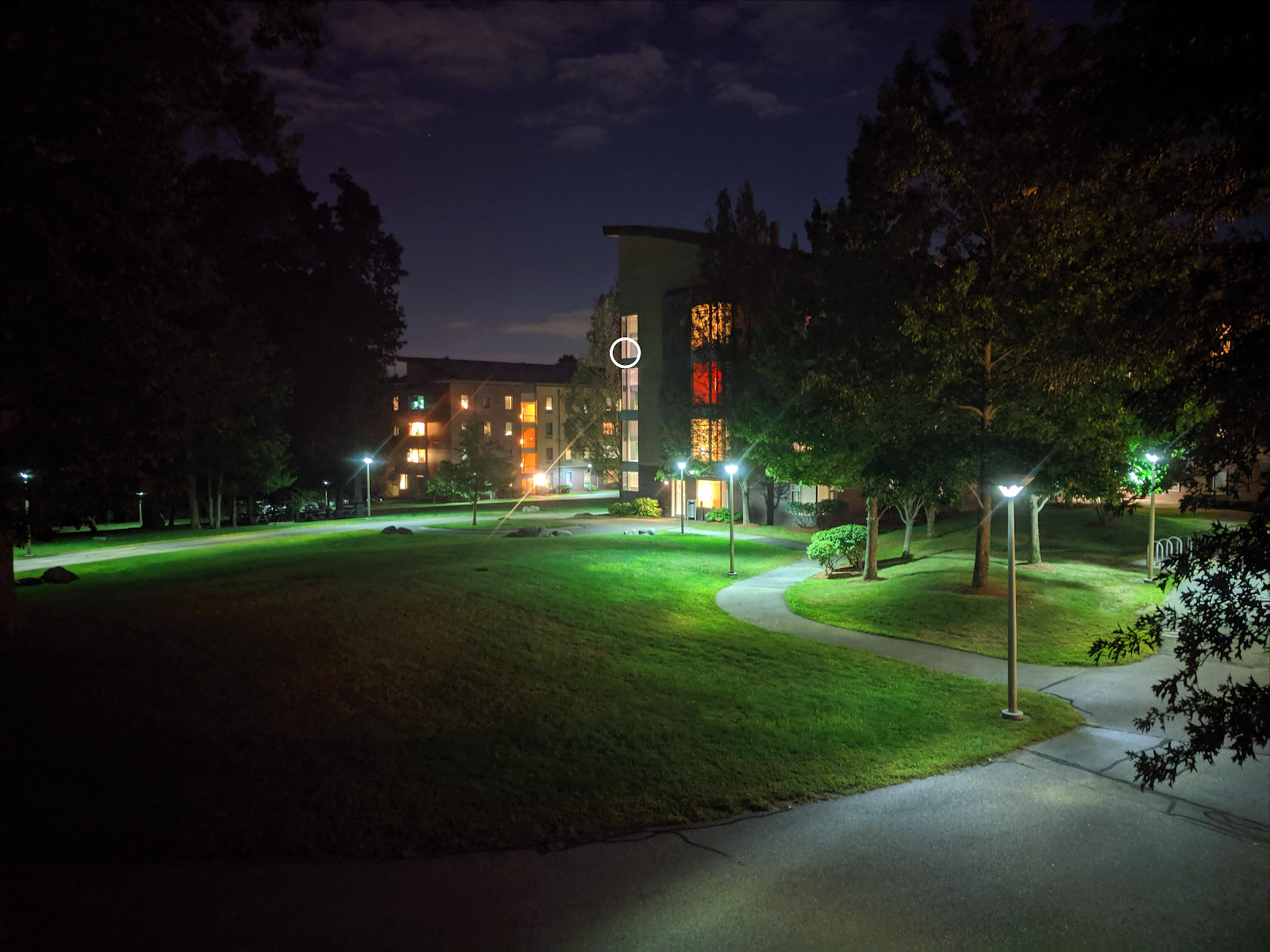 West Hall at night. My favorite spot on campus is circled!
So what's so great about sitting in an average stairwell with white walls, mediocre lighting, and loud echos? Nothing. That's right. It's really not a particularly comfy spot either; you have to hoist yourself up onto the ledge using the railing. I've been greeted by the occasional spider and plenty of dust.
The whole point of the ledge is the view. The most stories that any building at Olin has is four, and the only space you can get to on the fourth floor that has any windows would be the AC (Academic Center). However, there aren't many great private windowed sections of the AC (people can literally see you from the opposite edge of campus). So while this ledge isn't the tallest vantage point on campus, it offers what I think is one of the best views without being extremely visible. It doesn't look very far up in this picture, but I swear on the inside it feels like you're on the edge of a cliff.
So I hope your next question is: Why? Why go sit in this weird place with a tall but weird view?! There are two main reasons: Stairwells actually have some hidden advantages, and sometimes it's nice to see what is going on around you on campus without being involved.
Stairwells are by nature a somewhat transient space, something you move through but never think about. I argue that this is what gives them their beauty. When in a stairwell, specifically on the fourth floor, you have choices. You could go directly back to your room or you could swing by any or all of the lounges. The other part is that when someone comes by, they don't know where you are going or what you're going to do (privacy can be hard to achieve in a small community). Stairways also tend to be nonjudgmental zones, and people tend to be quite friendly in stairwells - maybe that's because it's insanely awkward if you aren't. Most importantly, the stairwell is somewhere you can go with no expectations for yourself or from anyone else.
Nobody pays much mind to someone sitting in a stairwell. Most people open the door, say hi, and carry on with their business. From just traveling to and from this spot I've met my friends' long-distance partners through Zoom, found someone grieving, students heading to the barbecue pits, people coming back from the gym at 11 pm, and at one point, a hammock. I've learned a lot about some of my classmates just by sitting there and offering a couple words as they pass me by. Outside is a similarly interesting view - people coming back from Babson, going to get food with their friends, coming back from Parcel B (a woodsy area), people finessing their way through the Babson gate, etc. 
For those of you who made it this far, I hope you don't think I'm crazy. I enjoyed many evenings sitting on my ledge whether I was calling home, hanging with friends, reading for class, or simply thinking.
With that said, I encourage you to take the stairs everywhere at Olin. Not only do we all need the exercise, but you never know who or what you'll find.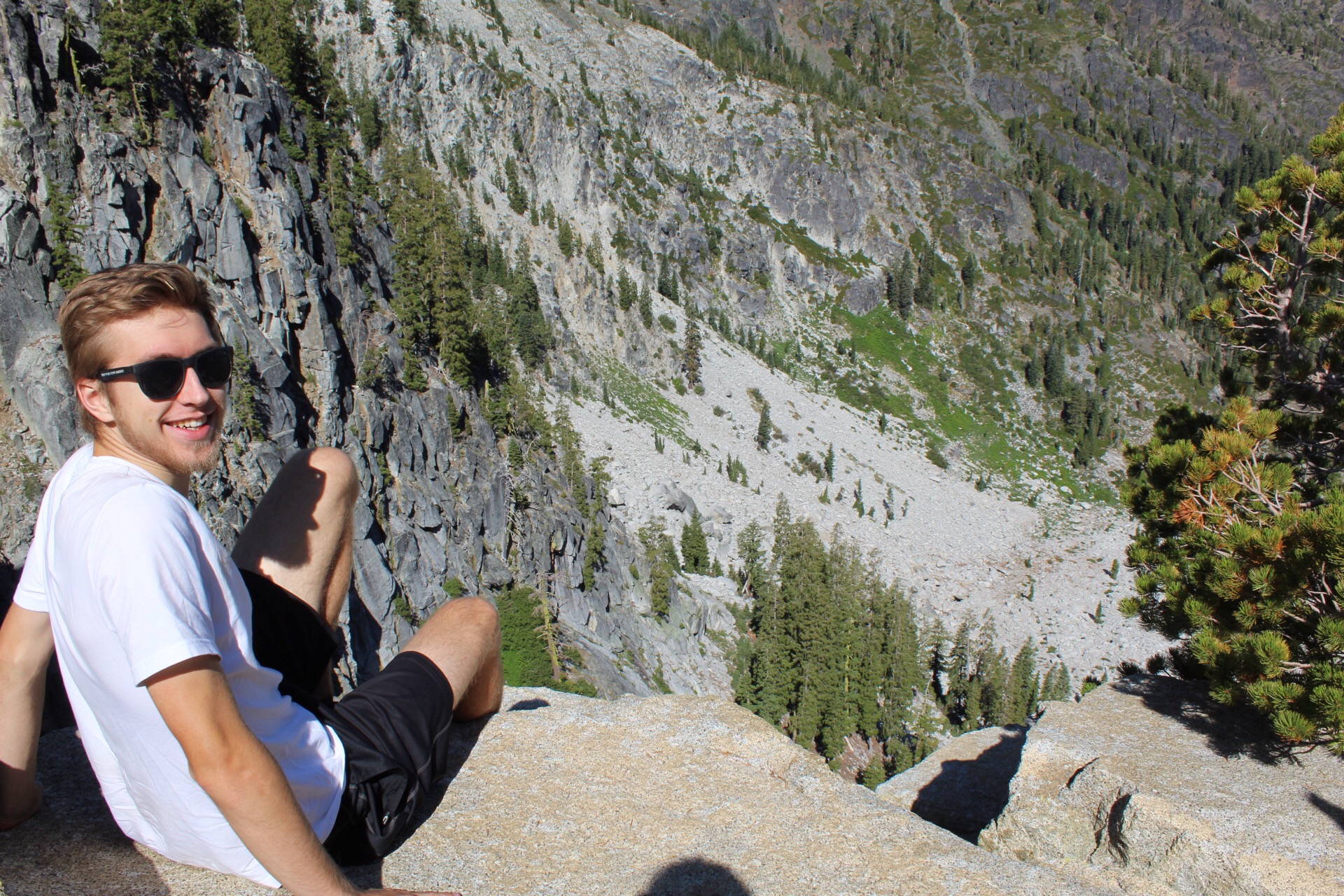 Nathan Faber (pronouns he/him) is a rising sophomore at Olin planning on studying Engineering with Robotics. In his spare time he enjoys hiking, biking, juggling, unicycling, baking cheesecakes, and hanging out with friends!