Hello and welcome to another edition of Couch to Campus! I am excited to share a little bit about the Olin Shop in this blog. The Olin Shop is truly the center of the Olin curriculum for a lot of our students, and we always get a ton of questions on tours about this amazing space. 
So what makes the Olin Shop so special and unique compared to a lot of other shops or makerspaces? The Olin Shop is very different from a traditional, production-focused facility; rather it is where all of our students design, build, and (often) iterate all of their cool projects. The mission of the Shop is focusing on student growth and development and on integrating the College's fabrication resources within the curriculum in an impactful manner. This means aligning our work closely with Olin courses and always thinking of new ways to increase accessibility of equipment and spaces and establishing a culture of safety, inclusion, and stewardship within the Olin community.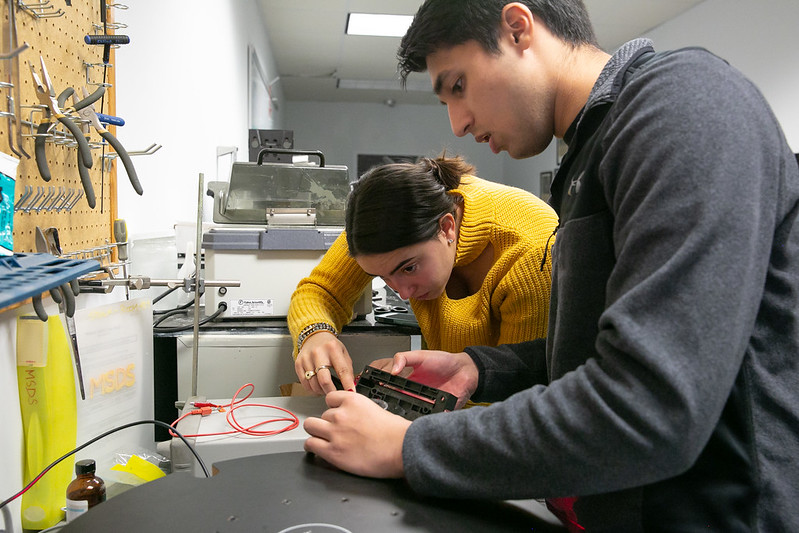 The culture of the Shop is all about safety, inclusion, and stewardship
We also have an amazing team of people in the Olin Shop. There are 18 students working for the Shop that help us with training, maintenance, answering questions, and just about anything else throughout the semester. There are 3 staff members in addition to myself who are able to help with anything and everything as resources for our students: Lucas is the woodshop instructor, Nate is our welding instructor, and Bruce is the master of everything. Summers are an excellent time for us to do deep dives into Shop improvements with a small group of students – that can be anything from rewriting a training document, building a 3D printing farm, and building out a whole new wood shop! This summer is a little bit different as we are working online, but our students are still thinking of different ways to improve the Shop. 
There are formal and informal ways that Olin students interact with the Shop. All students are trained on the "green" machines (band saw, belt sander, and drill press) within the first two weeks of arriving on campus. This training also includes a safety orientation and is the gateway to learn other tools in the Shop. It is up to you to decide what else you would like to get trained on after completing this training. We encourage personal projects, and a lot of our students use the Shop for extracurricular activities like Baja or Formula (two project teams here at Olin) or Dungeons & Dragons dice. Or just because they have always wanted to use the wood lathe or learn to weld. We try to have a very low barrier for our students to use the Shop. Any and all skill levels are welcome.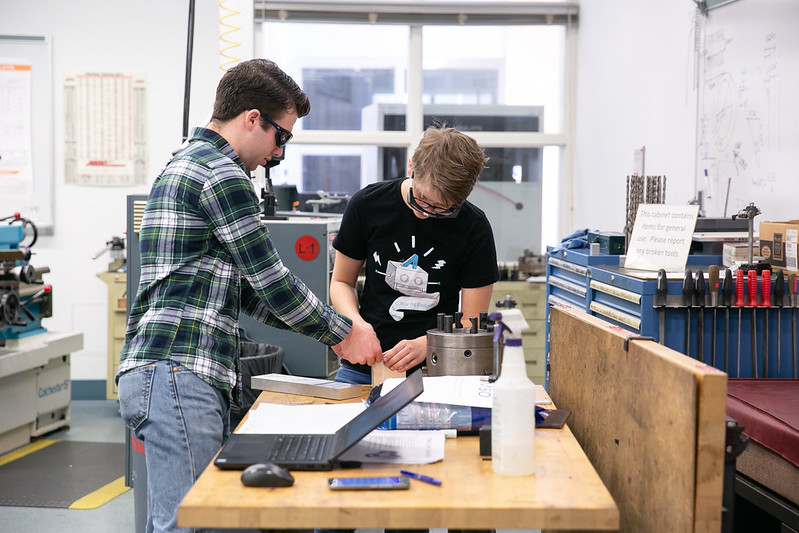 Students start getting trained on Shop machines during their first two weeks on campus
We essentially have a full spectrum of what you want and need for an engineering school (including a water jet, several CNC mills, MIG/TIG welding, woodworking tools, and more) - all available for our students to use. Training is offered à-la-carte, so if you are interested in a tool, you can get trained on it - no questions asked. Picking projects in classes that have a fabrication component will allow you to explore and build skills in the Shop easily. Or, take "Mechanical Prototyping" with me in the spring semester where we explore the fundamentals of designing and building things that move. 
So, how much does it cost to use the Shop or get trained? It is completely free to our students! We don't charge for time on our machines, and we have plenty of stock available for coursework. For personal projects that are not related to courses, we ask that you use scrap materials or buy your own, but there are no fees or memberships to use the tools.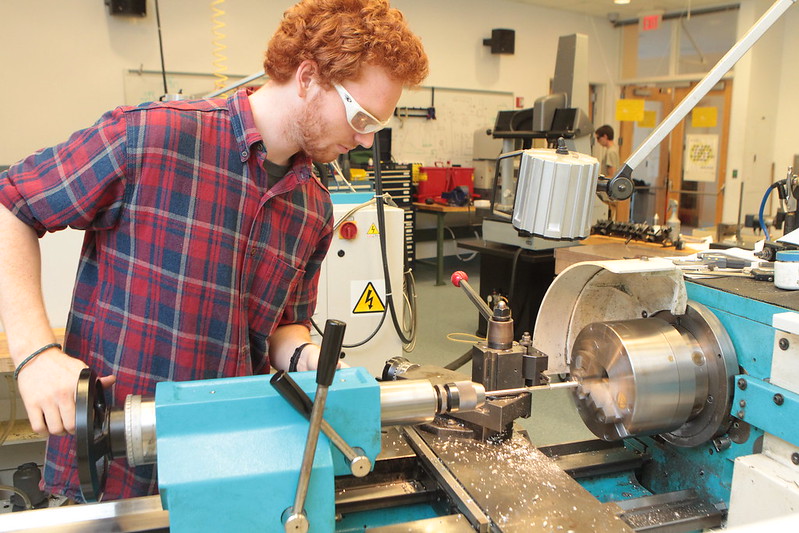 The Shop is free for students to use for both school and personal projects
My advice for anybody interested in makerspaces or shops is the following: Come in with an open mind and be willing to ask questions, listen, and learn. You may have gotten some training or used some of the tools before, but every space does things slightly differently. Just remember that you were once new to welding or using the CNC mill. Our goal at the Shop is to make it an inclusive and diverse space for everyone, and we are proud to be a community of thinkers, makers, innovators, entrepreneurs, engineers, artists, and so many more. And if you're new to fabrication, don't worry. We are here to teach you everything and anything in a safe manner. 
While we haven't been able to work with our students face-to-face over the last couple of months, we are trying to figure out how to operate our Shop and Lab spaces in these times to keep everyone safe. I hope this blog gave you some insight into the Olin Shop. We are excited to meet you!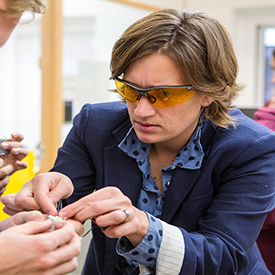 Daniela Faas is an Assistant Professor of the Practice and the Director of Fabrication and Laboratory Operations at Olin College of Engineering. Her background is in Mechanical Engineering and Human-Computer Interaction, and her research has focused mostly around Virtual Reality applications and figuring out how people design things through prototyping.