On Friday, the Admission and Financial Aid team arrived to a sticky note on the door of our office. It read: "Thank you for all you do, Admissions staff!" As it turns out, a group of Olin students had spent time the night before writing stickies of gratitude and posting them all around campus. This was a wonderful way to start the day and an apt mirror of the gratitude which has overwhelmed me as we prepare to release our first round of decisions: the invitations to Candidates' Weekends.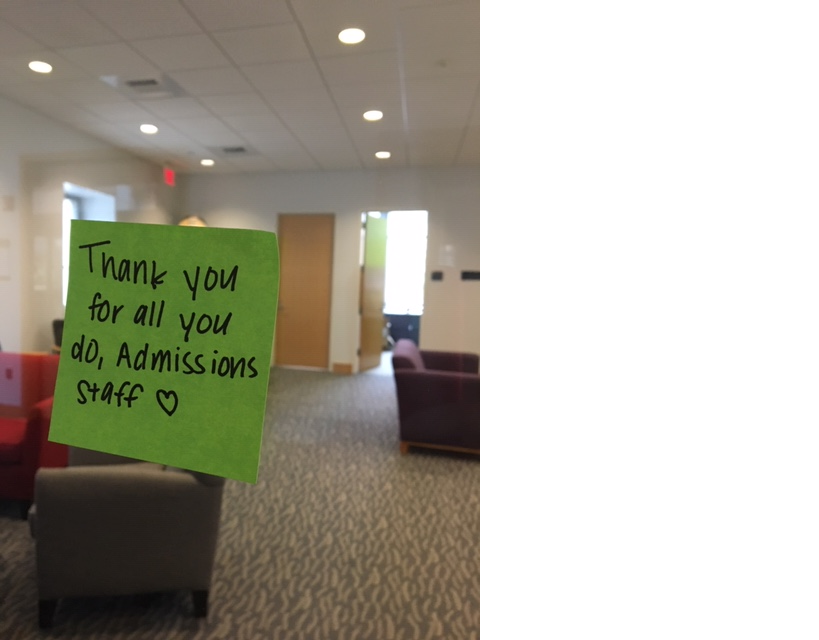 I am grateful for my team for all their efforts to recruit a most excellent applicant pool. I am grateful for all the faculty and staff who participate in reading applications. I am grateful for the admission committee who holed up in a conference room with me for many hours to make our final decisions. But most of all, I am grateful for our applicants.
Applying to college is an act of vulnerability. You are sending your stories, your hopes, your fears, your successes and your failures out into the world for review by a set of strangers. Your application is your emissary, the representative of you that these strangers will read and ponder and then ultimately judge in order to determine if a path to a particular institution will be open to you. You are sending yourself to us. You are making yourself vulnerable. And I truly believe that to make oneself vulnerable is an act of bravery. As Brené Brown says, "The definition of vulnerability is uncertainty, risk and emotional exposure. But vulnerability is not weakness; it's our most accurate measure of courage."
So yes, indeed I am grateful for all the wonderful people I've met through applications or in an information session or an interview. I'm grateful you put yourself out there. Know you were heard and seen. Our applicant pool was filled with far more wonderful humans than we will meet at Candidates' Weekends. If you are not invited to Candidates' Weekends, it is not a judgment on your worth or your future success but the unfortunate consequence of our tiny size. To invoke Dr. Seuss, "Kid, you'll move mountains."
We are lucky to work in admission and lucky to be a part of your stories. Thank you for showing us your world.