For over 20 years, Olin College has been educating the next generation of engineering innovators who recognize needs, design solutions and engage in creative enterprises for the good of the world. Olin is also dedicated to continual discovery and development of effective learning approaches and environments, and to co-developing educational transformation with collaborators around the globe.
Now, as Olin heads into its third decade, we are preparing to take on new challenges under the leadership of Gilda A. Barabino Ph.D.
Please join us on May 5, 2022, as we celebrate the inauguration of Gilda A. Barabino Ph.D. as the second president of Olin College of Engineering.
Featuring an esteemed group of inaugural speakers and storytellers, the ceremony will begin with the time-honored Academic Procession and culminate in President Barabino's formal investiture. 
The Inauguration ceremony will be livestreamed. Watch below on this page.
If you experience any trouble with the player, you can also watch on Olin's YouTube channel. 
Olin's Block Party celebration will immediately follow the inaugural ceremony. The Oval will be filled with games, food, music and people! Elisa Hamilton and the Student Art Team will also unveil a work of community art designed to celebrate the Inauguration. 
NOTE: There will be no dining hall lunch service. Lunch is at the Block Party. 
This Olin Candidates' Week favorite is back for Inauguration!
Storytellers on the Oval will include:
President Gilda Barabino
Michael Costello '18
Professor Amon Millner
Assistant Dean of Student Affairs Adva Waranyuwat
Milo Wiston '23
Board Chair Beverly Wyse P'15. 
Alumni panelists will share their companies' origin stories and how they started businesses that create a sustainable future for all. Panelists will include:
Jeff Satwicz '06 (Big Belly)
Erika Boeing '10 (Accelerate Wind)
Nikhil Gupta '13 (Determinant Materials) 
James Regulinski '13 (Carbon Collective)
Kevin Simon '12 (Khethworks)
NOTE: Masks will be required in Norden Auditorium for the Alumni Panel. 
The Inauguration ceremony will be livestreamed. Watch below on this page.
If you experience any trouble with the player, you can also watch on Olin's YouTube channel. 
Watch the Inauguration Ceremony at 9:30 a.m. (EST) on Thursday, May 5.
---
Watch the Alumni Panel at 2:30 p.m. (EST) on Thursday, May 5.
Health & Safety
COVID-19. As of today, Olin College has a mask advisory in place. This means we strongly recommend that everyone on campus wears a mask in all indoor public areas. 
For inauguration, guests should bring masks with them, and we strongly recommend that guests wear masks in all indoor areas they visit while on campus. We will have extra masks available for guests. 
Olin will continue to actively monitor public health conditions and local and state guidelines to ensure we are all prepared to celebrate safely together. Updated information will be shared and posted here as it becomes available. 
Updated information can be found here.
Get to Know President Barabino
Throughout her career, Dr. Gilda A. Barabino has been a passionate advocate for the need to reduce barriers in engineering education for women and underrepresented students of color. Barabino was the first black woman to earn a Ph.D. in chemical engineering from Rice University and only the fifth black woman in the country to earn a doctorate in the field. She is a noted researcher with areas of focus on sickle cell disease, cellular and tissue engineering, and race/ethnicity and gender in science and engineering.
She is frequently sought after to speak on STEM education and research and diversity in higher education. Barabino was recently elected as president of the American Association for the Advancement of Science, the world's largest interdisciplinary scientific society. She is also an active member of the National Academy of Engineering and the National Academy of Medicine and chairs the National Academics of Science, Engineering and Medicine's Committee on Women in Science, Engineering and Medicine.
As the second president in Olin's history, Barabino is leading the College into the next chapter as it continues its mission to transform engineering education around the world. Learn more about Dr. Barabino.
---
President Barabino in the Community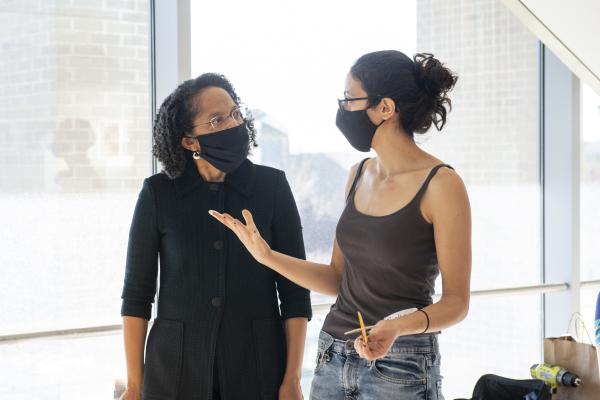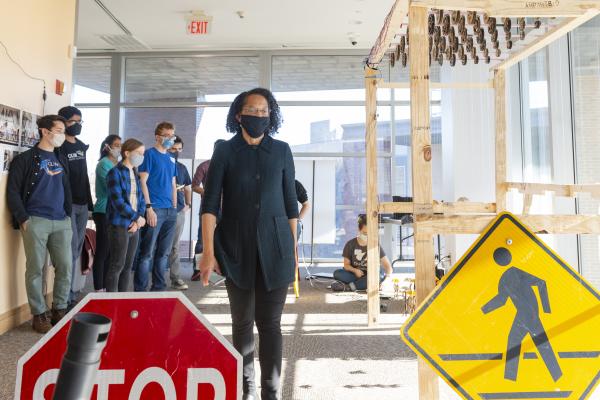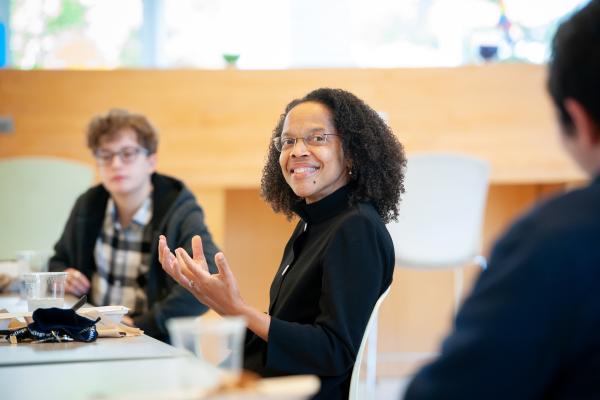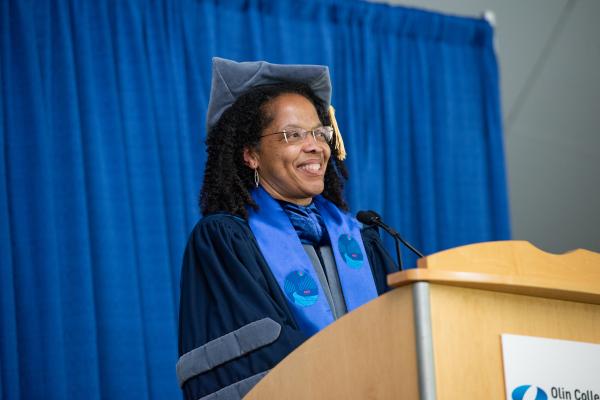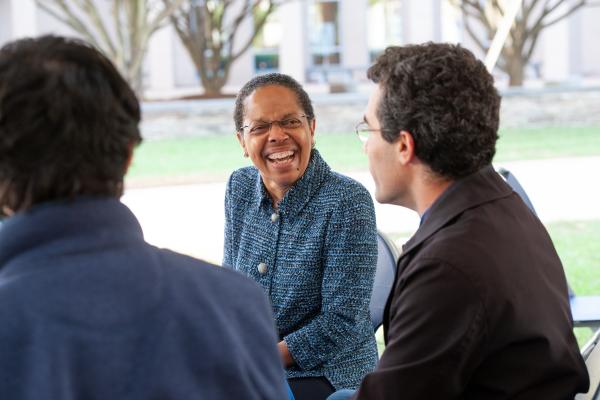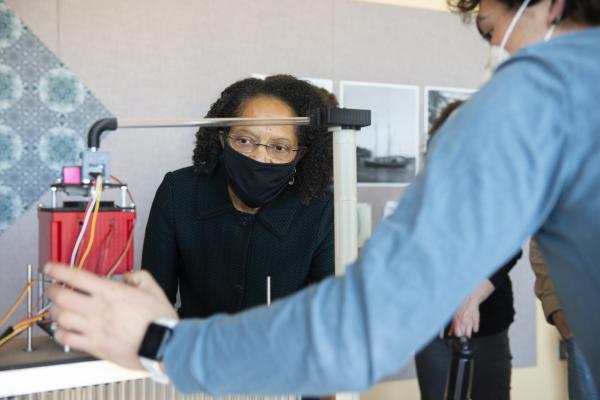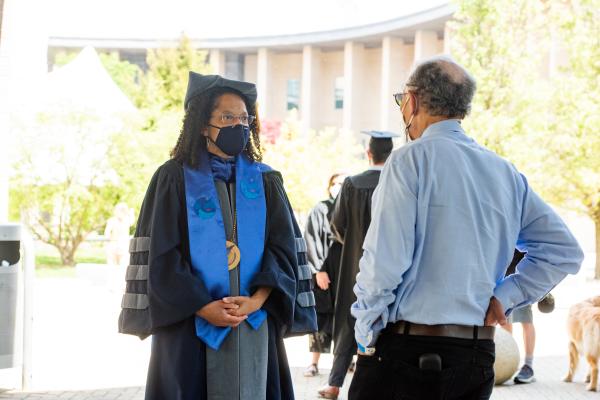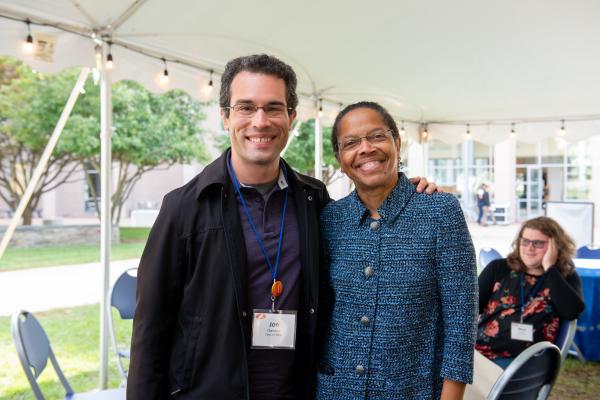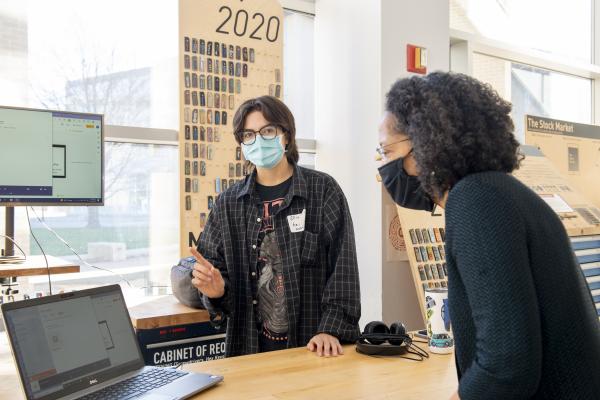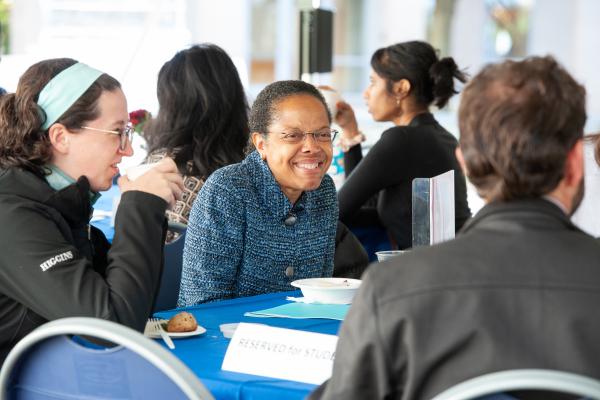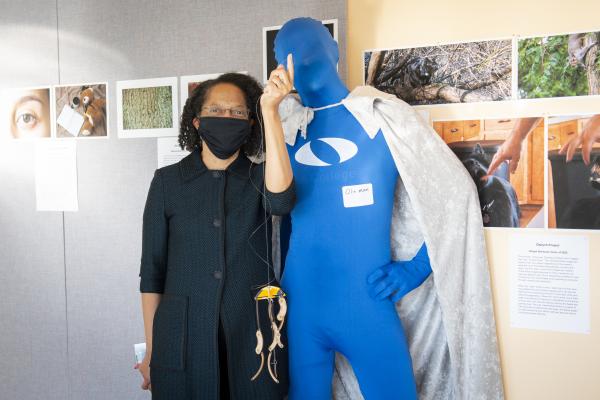 Well Wishes from the Olin Community + Beyond
President Gilda (that just sounds right, doesn't it?) –
Welcome to Olin. We're so excited to have you lead us into our future. Thank you for jumping in and wading through this endeavor together with us.
Tim Ferguson Sauder, Faculty
---
Congratulations, Gilda! And thank you!
I am so proud to have you as Olin's President, so honored that you chose us to be a part of your journey, so excited to see where you will lead us, so grateful that I get to learn from you firsthand. I can't wait to finally celebrate your arrival in the way it deserves: loudly and joyfully, all together.
Congratulations on your inauguration and thank you for leading us through so many adventures yet to come.
Alison Wood, Faculty
---
Dear Gilda,
It's about time the celebration begins! You stepped in and are leading us through hardships and historic challenges and now it is time to rejoice in your role as President of Olin! Normally, inauguration happens on the promise of great leadership and vision, and, yes, things have gotten a little flipped around. But this just means that we have had the privilege of witnessing and participating in your energy and passion for this work for quite some time now - it's not a promise anymore, we know how great you are!
Everyone who spends even a little bit of time with you leaves feeling energized, refreshed, restored and ready. We are truly fortunate as a community, and I am extremely grateful to get to celebrate you!
Adva Waranyuwat, Staff
---
Salutations President Gilda,
Thank you for taking the reins of Olin College. You serve as our gifted leader at that precise moment in history when we need your gifts and skillset the most. We shall be holding onto our hats as you help springboard Olin College of Engineering to the next level! Godspeed!
Jon Holverson, P'25
---
President Barabino,
We are excited to join the community in celebration of your commitment and vision for Olin. Thank you for guiding the institution forward with your thoughtful leadership at this unprecedented and challenging time. The future is brighter with the values and principles being shared by Olin's talented educators and students. 
Lisa B Eisenbud, P'22
---
Dear Dr Barabino, President Barabino, Gilda!
You survived your inaugural year! Congratulations to you and the Olin Community! You have demonstrated wisdom and grace under fire. I look forward to watching the next evolution of talent under your leadership and dedication. With sincere gratitude and jubilation for each extraordinary step you took to get here! And while I can't be there in person, I'll raise a glass and salute: hip hip hooray today - power to the girls who dare to be curious and bold! I look forward to meeting you at this year's commencement.
Chris Grabowski, P'22
---
Gilda,
From the first time I met you, it was clear that you and Olin were a great match. The path from that moment to the present offered unexpected challenges--an unprecedented start for a college president. The pandemic didn't keep you from holding fast to the direction and growth you saw for the college and for higher ed in general. It did delay us in properly recognizing your arrival. Now the day has finally come to celebrate and "officially" welcome you to Olin College. Looking forward to the party!
Jessica McCarthy, Presidential Search Committee Member
---
Without a doubt, Olin College is very fortunate to have your strong leadership. Clearly, your expertise will take Olin to new levels. A warm congratulations to you from our family on your inauguration day.
Francisco (Kiko) and Cybele Botran, P'22
---
Congratulations President Barabino!
I wish that I could be there to celebrate the inauguration of your presidency. Sending you positive energy, warm thoughts, and wishing you all the best in your presidency.
Dr. Princess I. Imoukhuede, Hunter and Dorothy Simpson Endowed Professor and Chair, UW Bioengineering
---
Dear President Barabino,
Congratulations!!! Sorry I can't make it in person, but I will be celebrating with all of you virtually from California. I admire your leadership and am so grateful we have you as the new president of Olin!
Sincerely,
Mandy Korpusik '13
---
Thank you for working on behalf of marginalized communities to ensure better representation in engineering. Building a better world requires that all of us use our gifts to enact positive change.
Kelley Nicholson-Flynn, P'23
---
Dear President Barabino!!
I look forward to celebrating your inauguration! Congratulations! I am so excited that you are back in the Boston area. Olin is so lucky to have you!
Joyce Wong, Colleague of President Barabino
---
Gilda,
Wow! Almost two years for us to inaugurate you – how very Olinesque. It has been a pleasure to have you as our President and to see how you kept Olin moving forward through the pandemic while developing the new Strategic Plan. I look forward to working with you on the Plan and to having you at the helm of Olin for many years. Congratulations on your achievements to date and best wishes for continued successes.
Bill Norden, Board of Trustee
---
This is a great day for Olin, and I am thrilled that you are here to lead us forward. Although inauguration day feels like the first step, your impact is already deeply felt and makes this day even more meaningful for all of us. I can't wait to see where you take us, and where Olin can go!
Jessica Townsend, Faculty
---
Gilda,
It is such a pleasure to work with someone as hardworking, kind and bold as you, Gilda. I am honored to be on your team, and look forward to many years to come!
Whitney Lohmeyer, Faculty
---
Dear President Barabino,
A hearty congratulations on a well deserved honor. What an accomplishment - Olin will soar even higher under your leadership!!!
Dr. Christine S. Grant, Professor of Chemical and Biomolecular Engineering: NC State University
---
Congratulations!
I'm so excited for you and for the Olin students and community to have you as their leader. I have not met you in person, but I have had the good fortune of hearing you speak on several occasions. The stories you tell and Vision you share are so inspiring that I'm often left with goosebumps. It is an amazing feeling to know that my daughter is under your care. I look forward to the day we can meet in person.
Lori Armstrong, P'25
---
Dear Gilda,
I am glad to be your EA at this exciting time for Olin, and you, personally. Your kindness, honesty, integrity, and intelligence will serve all of us well--thank you.
CONGRATULATIONS!
Katherine, Staff
---
Dear President Barabino,
On behalf of President David Fithian and the entire Clark University community, congratulations on your new role and best wishes for what will most assuredly be a tenure of amazing successes and highlights for you and for Olin College. I am looking forward to your upcoming inauguration.
Paul D. Cotnoir, Dean, The Becker School of Design & Technology, Clark University
---
Here's to another exciting time in your life, Gilda! Thank you for leading us with such clarity into the next stage of Olin's life. You've been both thoughtful and bold in laying out, then implementing a transformational vision during--of all times--a worldwide pandemic! You've done so not only with courage, transparency, and humility, but also with great authenticity.
Congratulations! Sending all good wishes your way...
Diana Dabby, Faculty
---
President Barabino,
Our heartfelt congratulations to you. These are pivotal times and the timing of your presidency presented many new challenges and amazing opportunities for the current and future Olin community. Thank you and in admiration of your leadership.
Mark and Vivien Usui, Parent '23
---
Dear Gilda,
You are a superstar! Every transition has its challenges but add a pandemic, loss of revenue, remote learning, cost cutting, and, and …. It becomes a Herculean task. You've shown how it can be done firmly yet gracious, forcefully yet gentle and decisively yet inclusive. I'm proud to be serving along side of you. Best wishes.
Nina Saberi, Board of Trustee
---
Dear Gilda,
We are so lucky to have you as our second President. You represent the intersection of what's possible and our aspirations. We can't wait to be your partners in elevating Olin's place in the world.
Jeannie Diefenderfer, Board of Trustee
---
Congratulations Dr. Gilda!
Your leadership has inspired the Board and it seems, the whole community with your vision for the future! I feel fortunate to be your partner on this journey. The world is and will continue to be a better place because of the changes you inspire.
I wish you joy and every success.
Beverly Wyse, Chair, Board of Trustees, P'15
---
Dear President Barabino,
You have brought a wonderful, strong, and positive energy to Olin, and we are so lucky to have you leading our institution! The only good thing about having a delayed inauguration event is that we can have a deeper, more meaningful celebration, as we already truly know just how special and powerful you are.
Thank you for your leadership thus far and for the years to come!
Enjoy this special day, Gilda!
Sarah Spence Adams, Faculty
---
Dear Gilda,
The warmest of welcome greetings to you as Olin's second President. We received you with (virtual) open arms and JOY. I cannot wait to see where you will lead Olin to on our next journey. I know it will be spectacular! Best wishes to you, Gilda Barabino, Olin College President!
Linda Canavan, Olin College Registrar
---
Dear Gilda -
Your powerful voice and willingness to take risks is inspiring! So thrilled to have you leading Olin's next exciting chapter, and so excited to celebrate with you at inauguration.
Gillian Epstein, Faculty
---
Salute to President Barabino,
Sorry Fran and I will miss the installation since we are not able to be there for the joyous event in May. We wish you and Olin happy success.
Daniel and Frances Berg, Friend, colleague, admirer, supporter
---
Gilda,
I am so thrilled to see this day come and so grateful for the leadership you are providing to our community (and to our wider world!) Wishing you every joy for an amazing celebration!
Lynn Andrea Stein, faculty
---
Gilda,
It has been so amazing getting to know you since your arrival at Olin. We are lucky to have you as our leader and I am excited and inspired by your vision for our future. I am looking forward to working with you to make that vision a reality.
Bruce, Board of Trustee
---
President Barabino –
What a way to start your career at Olin - a full blown global pandemic and a school shut to its staff, faculty, and students. You managed that all so well and successfully led everyone through it. Olin is in wonderful hands and ready for its next chapter. I am so happy you are here to lead us all and look forward to a long and successful collaboration.
Rich, Board of Trustee
---
Gilda,
So excited to have you at the helm, leading us to the next incarnation of olin. olin has always been a place of innovation in education. innovation inherently has risk. and that risk is harder when you have something great to lose. it takes a bold leader to guide the team through to that balance. to continue to push our comfort zone and not allow us to be complacent with the status quo. incredibly few leaders can do that, which is why we are so fortunate to have found you and tricked you into joining us :)
Welcome! And thank you for joining our family.
-Chee, Board of Trustee
---
Dear Gilda,
Oh, finally this day has arrived! The day, when I can say yet one more time, "Welcome, Dear Gilda!" The thrill of you leading our institution is palpable for me. There is much that I want to share with you personally... for now, for this beautiful day, I just want to share my excitement, joy, and hopefulness for a limitless future that we will be building together. Welcome, Dear Gilda! ❤
With love (oh, yes! I said it! With love!!!),
Zhenya Zastavker | Olin College Faculty
---
So happy that you are leading Olin! My one regret is that the pandemic prevented me having a chance to see you in your role in person. I have kept up with Olin news, and have found you contributions to Olin and engineering education to be inspirational. Aiden speaks highly of you. 
Dr.

Claudia Clopton

| Parent '21
---
Congratulations, President Barabino!!!
Thank you for your gracious invitation to attend your inauguration as the second president of the Olin College of Engineering. I would love to attend but cannot travel as yet due to illness.
I am wishing you every good wish for your presidency. Looking forward to seeing your chapter in print soon.
With Admiration,
Caroline 

Turner, Professor Emerita
---
Congratulations President Dr. Barabino!!!
So proud of all of your accomplishments and your vision. I Praise The Lord for your leadership. I was privileged to serve on the Parent Board while our daughter, Breauna, was at Olin and am excited that she serves on your staff now for DEI. I look forward to meeting you and chatting with you and getting a picture with you. Thanks for embracing Diversity, Equity, Inclusion, and Belonging especially for STEM fields.
Brenda Campbell | Parent '14
---
Leave a message for President Barabino using the form below.