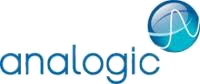 High Capacity Wireless CT Data Link
Analogic produces custom medical imaging systems for other companies to incorporate into their CT and MRI scanners. The Analogic-Olin SCOPE team worked on the wireless data transfer between the rotating gantry and the stationary frame of a CT scanner.  
In the medical imaging field, the more detailed information captured, the better the final image and the better the doctors can see and diagnose. As the number of elements in 2-D CT detector arrays and rotation speed both increase in order to support faster scan times and higher resolution, newer scanners will produce more data at higher rates, and demand a higher throughput on the wireless image data link that the team investigated. The team's goal was to increase the data transfer rate using the same basic antenna design as in the current system.
Faculty Advisor
Siddhartan Govindasamy
Team Members
Jared Kirschner 
Eric Kolker 
Philip Loh 
Nathaniel Ting 
Teodora Vidolova