November 15, 2021
Growing up in Dorchester, Chase Joyner '21 first gained exposure to computer science in the sixth grade through a tool called Scratch. Created at MIT, this high-level visual programming language uses block-based coding to help introduce young learners to computing.
"I became really invested in the idea of programming, but the charter school I attended didn't have many STEM classes," remembers Joyner. "A teacher recommended that I take some supplemental programs through MIT to foster my interests."
Joyner ended up enrolling in the MIT Science of Baseball Program (MSBP), which targeted urban minorities by using baseball as a tool to learn science and math. He also was accepted into the MIT Saturday Engineering and Enrichment (SEED) Academy Program, a five-and-a-half-year science and engineering program for students from Boston, Cambridge, and Lawrence, MA.
This STEM programming encouraged Joyner to pursue his passions for engineering, and he entered Olin with a focus on coding and software development. His adviser was Amon Millner, associate professor of computing and innovation, and director of the Extending Access to STEM Empowerment (EASE) Lab, which develops novel tools and practices for young learners (particularly from areas with fewer resources, including money, time, and enrichment programming) to have hands-on STEM experiences.
"Extending access to STEM empowerment is core to me as a being because I had a lot of experience in communities that have been disempowered prior to arriving at Olin."
- Amon Millner
See More: Millner Makes STEM Accessible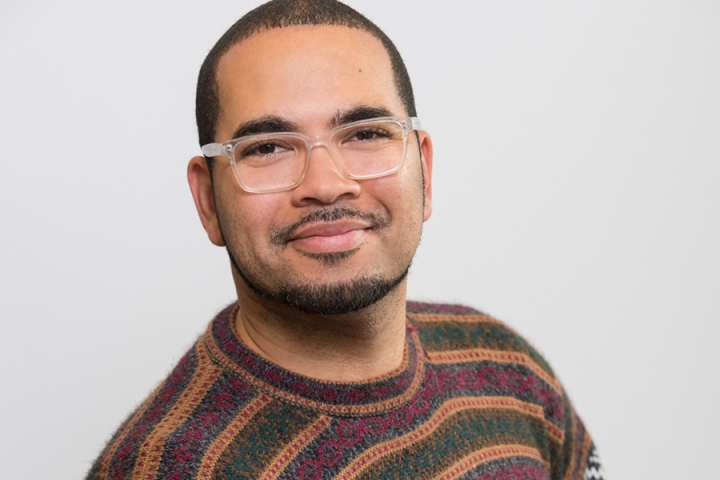 "Extending access to STEM empowerment is core to me as a being because I had a lot of experience in communities that have been disempowered prior to arriving at Olin," says Millner.
In fact, Millner was on the MIT team that created Scratch while he was pursuing his PhD there, something that he and Joyner bonded over, in addition to their experience as Black men in engineering.
EASE operates a little differently from the typical college laboratory. Rather than primarily presenting students with research that Millner is interested in, EASE serves as an incubator for ideas, connecting students with projects and resources to make their own ideas into realities.
"At EASE, we encourage students to find spaces where STEM hasn't necessarily been a part of the conversation historically and try to find ways to introduce these concepts through activities these young learners already enjoy," says Millner.
One example is a National Science Foundation-funded project to identify connections between dance and hip hop music that can speak to interesting aspects of STEM.
"Students can spawn different projects off of this main idea, such as how dance moves are popularized through social media platforms through recommendation engines for what it thinks a user will like based on their demographic information," says Millner. "How does that change based on ethnicity, and how does that work with people's identities?"
Coding for Kids
Another powerful example that has come out of EASE and its innovative collaborators is Unruly Splats, an educational technology game for K–8 kids that combines physical activity with coding. Founder Bryanne Leeming, who was a Babson MBA student at the time, was introduced to coding in the 4th grade through a computer programming tool and realized that this early exposure prepared her to feel confident in technology and ultimately start her career in the industry. She connected with EASE and Millner looking for resources on how to turn her ideas into reality.
"Unruly took key assets of a computer-based tool like Scratch and integrated it with a physical product called a Splat," explains Joyner, who began working with the company as an EASE Lab employee his sophomore year. 
Splats are large, Bluetooth-based floor buttons that can connect to a mobile device like an iPad or Chromebook through an app. Students then code the rules to create and play games like duck-duck-goose and obstacle courses, making the Splats light up and make sounds.
Unruly Splats can be found in elementary, middle, and high schools all around the country, being played in classes from science to physical education.
"The game integrates coding into real life, and we're able to bring this technology right into kids' schools," says Joyner. "There are still a lot of schools that haven't fully integrated STEM into their academics yet, so this kind of product helps us bridge that gap, particularly for students in underserved communities."
Now a junior software developer and data analyst for Unruly Studios, Joyner works on the development side of the company, putting the knowledge he gained at Olin to use in the real world.
"Olin is not your conventional college, and EASE isn't your conventional lab," says Joyner. "At EASE, you can go in and make up your own rules and do your own thing, just like Unruly did. EASE has all resources—from high-tech tools and laser cutters to LEGOs and board games—to spark your ideas."
Millner and his work in EASE Lab relates closely to Olin's concept of equity in engineering.
"I joined Olin in part because they support a broad definition of engineering that is compatible with the way I think: Engineering is best served by having the most minds, perspectives, and experiences at the table," says Millner. "At EASE, we're trying to create wayfinders to engineering so that students from marginalized communities have opportunities to explore their innate curiosities and make their way into an industry where they can change the world."
---