April 28, 2022
On April 18, seven undergraduate students from the Olin Collegiate Amateur Radio Club (OCARC) volunteered to work at the 2022 Boston Marathon. Using their skills and interest in ham radio, the group assisted operations staff with key communications at the famous road race.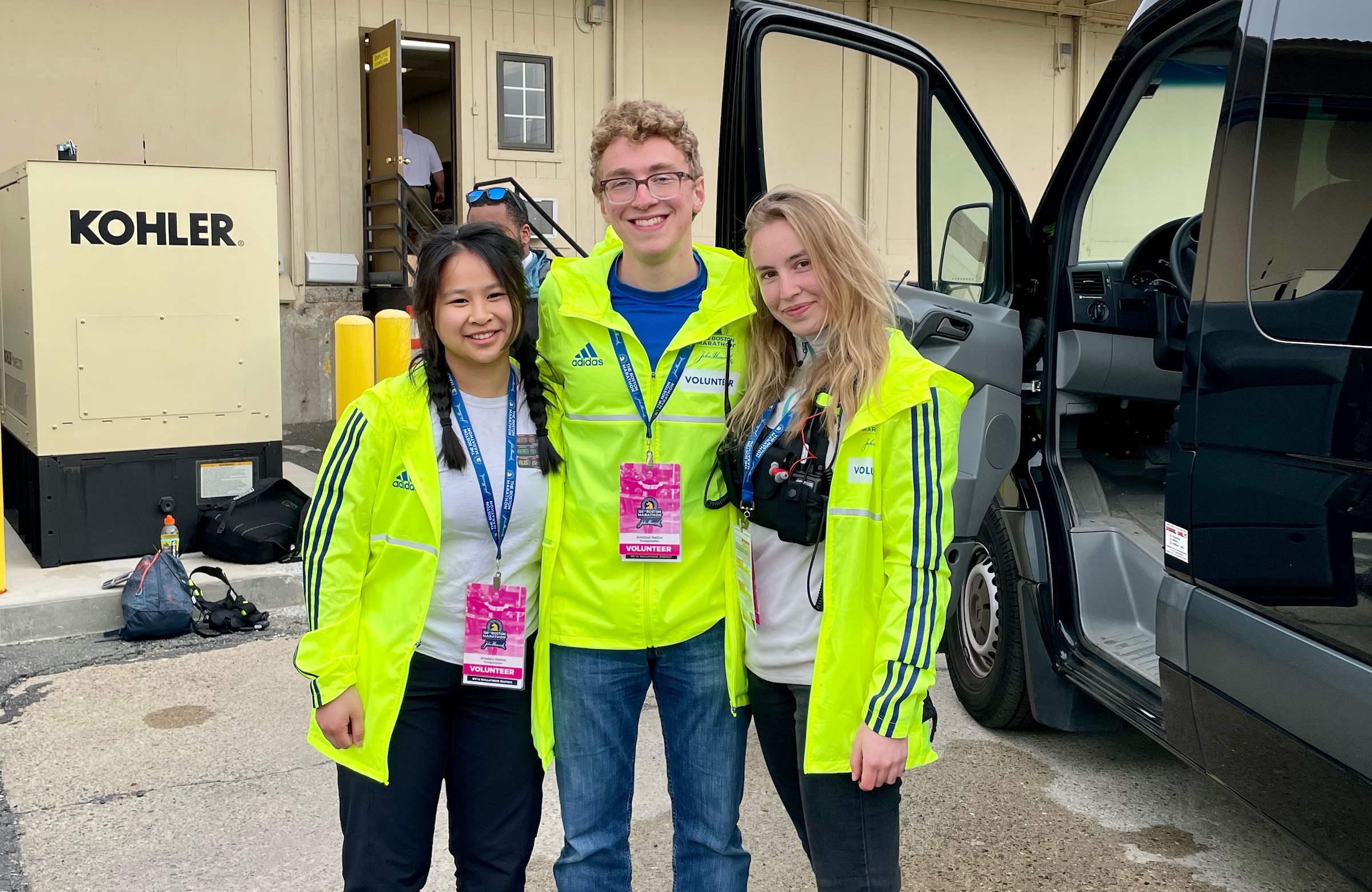 Gia-Uyen Tran '25, CJ Hilty '24 and Ally Bell '24 pose in front of their assigned transportation van before the race.
Zachary Sherman '23, Brooke Moss '25, Sparsh Bansal '22, Phillip Post '25, Ally Bell '24, CJ Hilty '24 and Gia-Uyen Tran '25 worked at a variety of locations on the race route and helped out with different functions (medical, hydration and transportation) during this year's Patriots' Day event.
We recently spoke to five of the Oliners who shared first-hand accounts of their experience and where they were stationed during the race.
See all five student accounts below. 
Zachary '23 - Medical station:
"As a radio volunteer at a medical station, I reported how many patients our station treated each hour and relayed van requests for runners who could not finish the race."
Sparsh '22 - Finish line:
"I was responsible for doing radio communications for directing medical teams at the finish line to maintain an appropriate availability of medical help to finishing runners. This involved positioning medical volunteers, triaging emergencies, and removing bottlenecks in the flow of runners from the finish line to their families."
Phillip '25 - Finish line: 
"My assignment was with the medical director, east of the finish line portion of the Boston Marathon. This meant ensuring that all of the medical teams in half of the finish line section were properly supplied, and never overwhelmed with runners. The hardest part was negotiating with wave after wave of thousands of runners coming in at a time. My skills as a HAM radio operator were put to the test throughout the day when I had to organize multiple medical teams into areas where they were needed and properly hear supply requests through radio interference.
Overall, my favorite part was the Boston community coming together for such an amazing event. It was an honor to be a part of it."
Brooke '25 - Hydration station:
"My position as a radio volunteer at a hydration station involved reporting information about our supplies, keeping tabs on and reporting course conditions, and requesting medical assistance for runners."
Gia-Uyen '25 - Babson:
"As a transportation volunteer, I was stationed in a medical bus that picked up runners that did not finish the marathon. I was responsible for providing updates on the location of our bus, keeping track of runners we helped, and requesting medical supplies."