Watch: Two Student Teams Present Final Projects from Impact-Centered Olin Courses [Video]
May 5, 2023
Members of the Olin College faculty + staff were recently invited to the Crescent Room in the Campus Center to watch two student teams present their final projects for the impact-centered Olin courses: Environmental Consulting at Olin (ECO) and Change at Olin.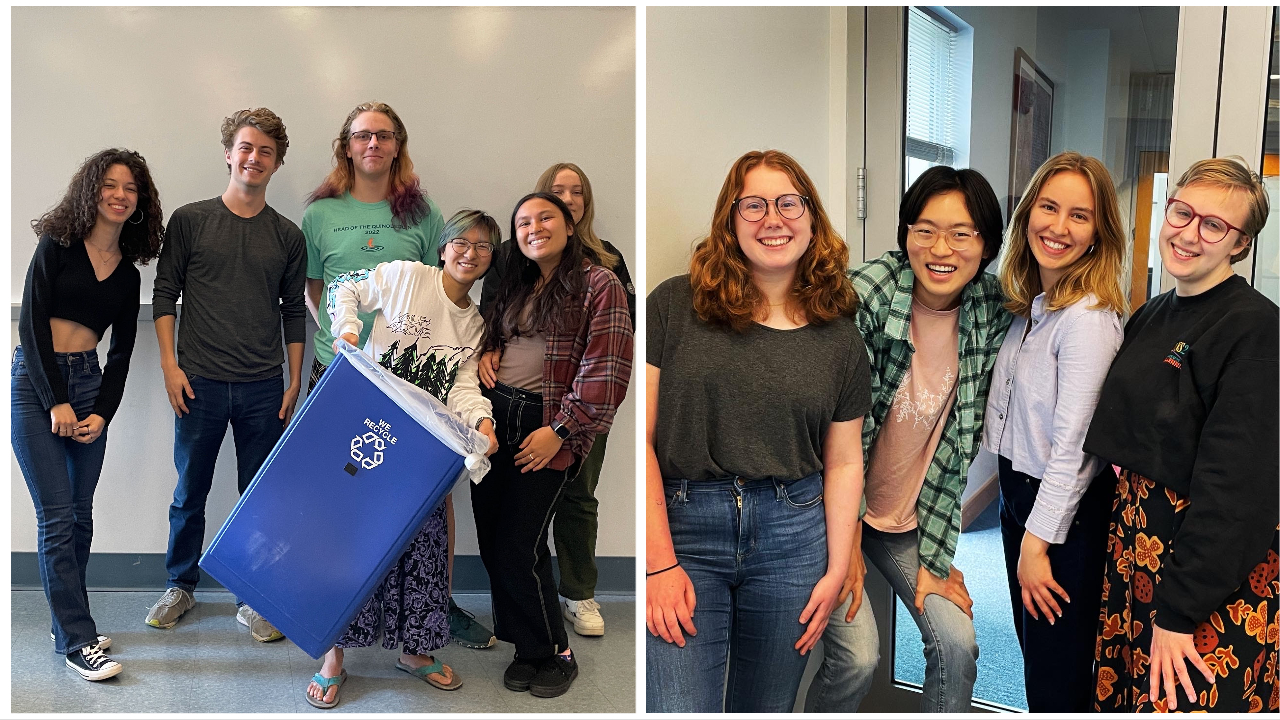 (L to R): Students from the Environmental Consulting at Olin (ECO) course pose for a photo. ECO Team member, Camden Droz '26 was out on the day the photo was taken. On the right, the team from Change at Olin are pictured after giving their presentation.
---
Utilizing our 2022-2027 Strategic Plan as grounding and a guide, Olin is working to advance the vision of Engineering for Everyone through impact-centered education. In practice, this means developing new educational approaches, and working with organizations and people to create positive transformation not only inside Olin, but outside as well.
Making the world a better place - through doing.
Two examples of this doing and engaging of Olin students to create authentic impact are the Olin courses: Environmental Consulting at Olin (ECO) and Change at Olin - with a good look into both classes taking place last month during student team final presentations in the Campus Center.
Video at bottom of story
Creating a New Centralized Waste Bin Program on Campus
Kelly Stellmacher '25, a sophomore mechanical engineering major, presented first for their team from the Environmental Consulting at Olin (ECO) course, taught by Carrie Nugent, associate professor of computational physics, and Claire Rodgers, associate energy engineer.
The ECO class - launched in Spring 2020, focuses on reducing Olin's greenhouse gas emissions. To do that, this year's cohort of Rizza Anderson '25, Camden Droz '26, Belen Hutchins '26, Kelly Stellmacher '25, Brooke Moss '25, Brooklyn Wakefield '25, and Ike Walker '26, are creating centralized waste bin areas in the Campus Center and in Milas Hall.
With this new program the team is ultimately hoping people will bring their waste and recycling to centralized areas, thereby reducing trash that goes to the incinerator, increasing composting to reduce emissions and creating compost for local farms and also decreasing the time burden on custodians who check individual offices.
"The general plan for these changes is that we're trying to centralize the waste systems in Milas Hall and the Campus Center in order to promote environmental and personal positive changes," says Kelly '25.
In each centralized location, the team's idea is to have a black waist bin, new recycling bins for mixed recycling and cardboard, a yellow E-Waste bin, a blue compost bin, and a small orange battery bin.
"We're separating out the cardboard too, so it can be taken to a separate facility where it's worth a little bit more," says Kelly. 
Before they implement the full system, the students are testing out a "pilot" of the centralized bin idea on only a few campus locations: the third-floor copier room (327) and kitchenette (325) of the Campus Center, and in 235 and the 252 kitchenettes of Milas Hall. Over two weeks, the students plan to add and take away components of the pilot and custodians will not empty bins in a number of offices in the Campus Center and Milas Hall.
The team is also soliciting feedback throughout the pilot to help iterate as they go, working to refine the final design and process. They have QR codes displayed above the bins that link to the team's survey, and they've interviewed employees in and around Milas Hall, custodians and facilities staff, and had a design review with students in the Olin Materials Creation, Consumption, and Impact (MCCI) class.
A good example of this refining took place early, during the initial research stage when the students went through all of the garbage bins in Milas Hall at the end of a regular day. They found instances where bins that were supposed to be recycling had compostable cups and paper towels in them, which led to some ideas on how to make it all work better.
"We're also trying to reduce the amount of contamination by improving the bin locations, improving signage and just improving the clarity of what should go with everything," says Kelly '25. 
The team has an opt-out option specifically for people who might have accessibility restrictions that disable them from taking out their own waste. The students suggest contacting HR if that applies to you.
Watch the video at the bottom of page to learn more about the program and to see what the employee audience overwhelmingly chose as their favorite signage option (e.g. very specific and text-heavy on what you should/shouldn't throw away, or icons that detail it). 
Sharing Insights on Olin's Course Evaluation System
The Change at Olin team of Ally Bell '24, Bill Fan '24, Esme Abbot '24, and Kate Mackowiak '23 interviewed faculty, students, and staff during the academic year about the pains and gains in the current course evaluation system. They then presented their findings and insights to faculty and staff last month.
Ally Bell '24, a junior engineering major, started things off for the team, sharing why the topic of course evaluations was chosen for their class project - a class taught by Mark Somerville, provost and professor of electrical engineering & physics, and Caitrin Lynch, dean of faculty and professor of anthropology.
"We had heard a lot of mixed concerns about course evaluations from different stakeholders. We, I think all wanted to do a project that got at people's well-being, and we wanted to talk about our community members, [for example] how feedback is shared and received among them," says Ally '24.
In exploring and working to better understand the course evaluation system, the students then interviewed five students, twelve faculty members and three administrators.
To better illustrate the insights they gained from those interviews, the team used an engaging storytelling technique in their presentation, sharing a story about "Professor Pat" and a new class they're teaching that surfaced some of the tensions the Change at Olin students discovered in the current course evaluation processes.
For example, while "Professor Pat" thinks the class has been going well - based on direct feedback from students during the course of the class and/or from mid-semester feedback forms, a final project assignment given toward the end of the semester changes the dynamic and the outcome of evaluations.
"Student Sam" feels the final assignment isn't structured well or maybe has a problem with it they feel isn't addressed, and it's the freshest thing on their mind when filling out course evaluations. They concentrate on the experience and neglect to offer feedback on the class as a whole - a class until then Professor Pat had thought went well.
The team then talked about how course evaluations and their impacts don't always remain within the closed sphere of the classroom and the student/professor relationship. While they can be personally beneficial for faculty to gain insight into what went well and what didn't, course evaluations can be used by administrators and deans when giving their annual reviews and when evaluating the viability of the courses themselves.
The Change at Olin students also said they discovered through their research that faculty worry that course evaluations might be impacted by a professor's identity and that students were unknowingly taking that into account and impacting that bias when filling out course evaluations.
Not to mention the team says, course evaluations aren't that effective in getting good, quality information about the course.
"We also heard that course evaluations can be pretty binary. You don't really get a lot of information beyond the course is really going well or it might not be, but there's not a lot of granularity to that feedback," says Kate '23.
Watch the video to see what the Change at Olin team say is the main reason course evaluations aren't working and to learn what they say works well.