Dos And Don'ts Of Demonstrated Interest
As the Thanksgiving holiday approaches, many of you are in the full swing of finishing up your college applications – or maybe not :) In any case, whether you've already completed some early applications or you're still waiting to hit "submit" on your first, we want to talk with you about something called demonstrated interest: what it is, why it matters (or not), and how we think about it at Olin. It's important to note that colleges think about demonstrated interest differently, so you should certainly ask about it at all of the places you're considering. 
The way we like to think about demonstrated interest is probably a little bit like how we were all taught to make friends in preschool. If you think that you'd like to be friends with someone, then you need to let them know how you feel about them. You might ask a potential friend questions about themselves, or you might seek them out at recess to play a game. You could sit next to them at story time or offer to share your snack with them. These actions give you an opportunity to get to know if you have things in common with someone (like maybe you both love Cheez-Its), but they also indicate to the person that you are interested in learning more. Hopefully these actions also encourage them to think about you as a potential friend. 
So if that doesn't sound completely weird to you, let's take this further. Colleges like Olin usually have more qualified applicants than they have spaces in the class. Demonstrated interest helps colleges determine a student's likelihood of enrollment and general fit for the college. Colleges also know that students who WANT to be at their institution probably have views and values that align with the institutional mission. Those students will probably be more involved in campus life, better contributors in the classroom, will graduate successfully, and become supportive alumni in the future. Demonstrations of authentic interest – like attending an information session or participating in an open house program – not only give you the chance to determine whether or not your goals and interests line up with those of a particular institution, but also show the institution that you are interested in the programs they offer. Put another way, you get to know if you both like Cheez-Its.
At Olin, demonstrated interest is but one part of our holistic review process. It is not a requirement, nor is it the main factor in your admission decision. Your demonstrated interest is really as much a benefit to you the student as it is to colleges. By engaging with colleges in various ways, you get to learn more about them, which leads you to make a more informed decision on where to apply and ultimately enroll!
Demonstrated interest is not, however, signing up for every single program a college offers or writing endless emails to the Admission Office (don't try to connect with the Admission counseling staff on their personal LinkedIn accounts, either!). Demonstrated interest is following the official social media accounts of the institutions or asking questions that you really want the answers to. As with so many things in life, more is not always better. 
So how should you demonstrate interest during a pandemic? You can: 
Visit a school's website, join the contact list, and read those emails!
Connect via social media. This not only helps display your interest in a school but also allows you to learn more through photos on Instagram, videos on YouTube and TikTok, Facebook posts, and tweets.
Register and attend a virtual information session, tour, interview, or other program! Even though most campuses are closed to visitors, you can still connect with admission counselors and current students.  
Yes, "Zoom fatigue" is real, but be present! Turn on your camera if you can do so, pay attention, participate, and ask questions. Fully engaging not only shows your interest but will ultimately help you decide whether that college is a good fit for you. It also does not hurt to thank the staff and students who take the time to speak with you!
Apply by the deadline and put thought and care into your application. Research beforehand and know your "Why?" for applying to that college.
Keep in mind, too, that at Olin we have a unique two-phased admission process that concludes with Candidates' Weekends. Being such a small, unique college, Candidates' Weekends give each Candidate the opportunity to learn more about the Olin community, curriculum, and culture by engaging with faculty, staff, alumni, and current students. It is an opportunity for us to learn more about you and for you to learn more about us. Essentially, we're hoping you like Cheez-Its as much as we do!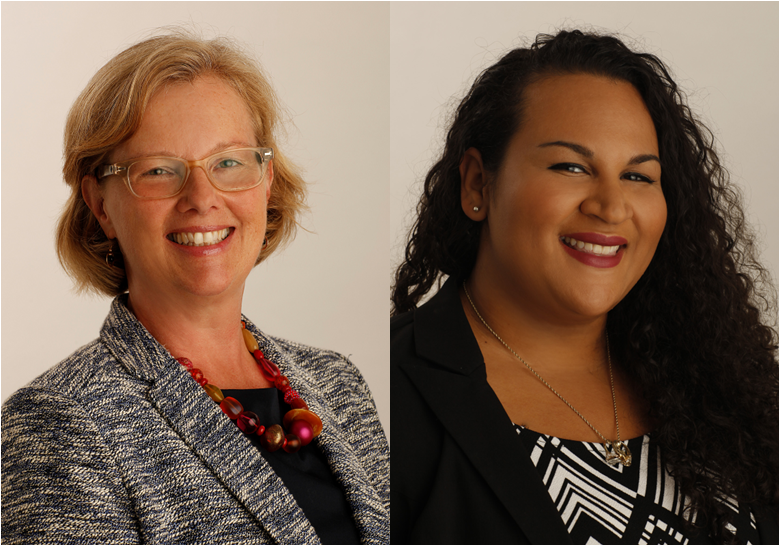 Susan Hartley Brisson (left) is Olin's Director of Admission.
Krystal Burgos (right) is Olin's Assistant Director for Admission Systems and Operations.