Olin Welcomes Prospective Students to Fall Open House
Olin College of Engineering welcomed over 100 high school students and their families for the Fall Open House this week. Prospective students spent the day at Olin participating in hands-on activities, meeting current students, and learning about the admission process.
They took a tour of campus before diving into a hands-on class. Students worked as a team of four to solve logic puzzles. These activities replicated the learning style of Olin's Discrete Math class which teaches students countable math structures and partitioning. One task students collaborated on was a pattern recognition game, where they drew out equations on whiteboards to match cards in a specific layout.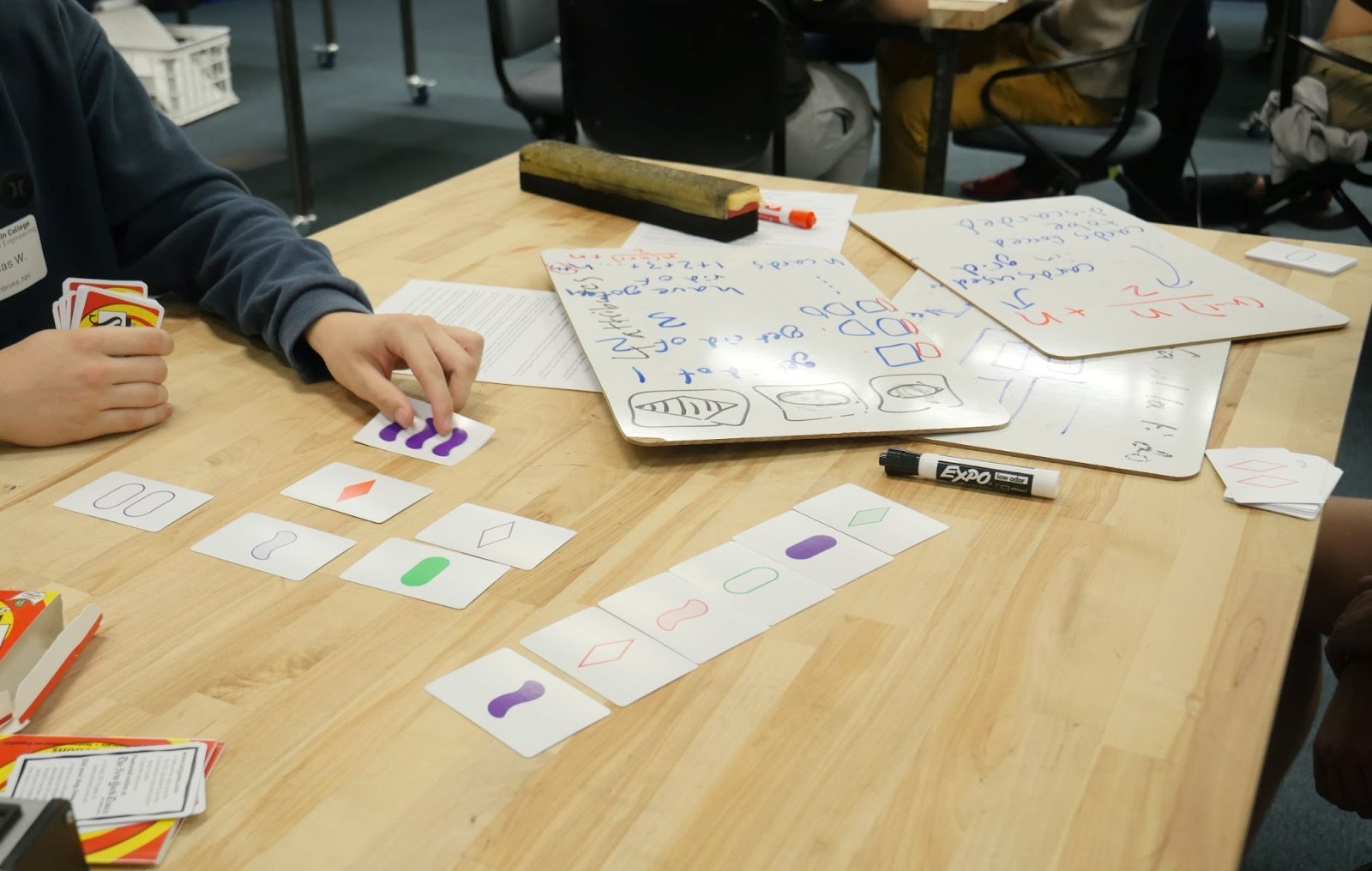 Following the class, students headed outside to explore the various teams and clubs at the Activities Fair. Students from different project teams, including the model aircraft team (Design Build Fly), rocketry, the off-road vehicle team (BAJA), and the electric vehicle team (Formula) all shared their current builds. Members of research groups including RoboGator and RoboFish shared their projects and explained how students can get involved as soon as freshman year. Some high schoolers joined in with the Olin Fire Arts Club outside as they practiced spinning, while others grabbed a hot chocolate from the student-run pop-up coffee shop called ACRONYM. To conclude the day, students and their families were serenaded by students in the Olin Conductorless Orchestra.
As a prospective student last year, I remember coming onto campus and experiencing the warmth of the Olin community. Students, faculty, and staff were always willing to chat and I was able to have a sit-down conversation with one of the professors. When I asked multiple students walking by a question, they were happy to stop and spend a few minutes chatting. After talking to a few prospective students after the Open House this past week, I was happy to find out they had similar encounters. One student explained to me how Olin already felt like home to him as he felt a part of the tight-knit and inviting community. Olin's project-based learning stood out to these students as they noticed the classroom layout where the desks accommodate groups of students. The variety in shop spaces was surprising to some who learned students can get trained in a wide variety of skills from welding to laser cutting.
In the background of the Open House event, current students were on the great lawn enjoying the last few days of summer weather in November. Playing volleyball, they invited some prospective students into the game and played for hours, then laughed together as they watched each other attempt the soapy slip and slide they set up. The Fall Open House was a great time for prospective and current Olin students, but if you missed it, there are many other ways you can check out our campus. You can shadow a student during a visit or reach out to a student admissions ambassador like me at oval@olin.edu to ask questions or chat over Zoom. Can't wait to hear from you!
- Pauline Petersen '26